Jeremy Corbyn defends waiting five days to visit floods: 'I didn't want to get in the way'
Labour leader met angry flood victims in York, telling them they have 'every right to be angry' at the Government's record on flood defence spending
Matt Dathan
Online political reporter
Thursday 31 December 2015 17:33 Comments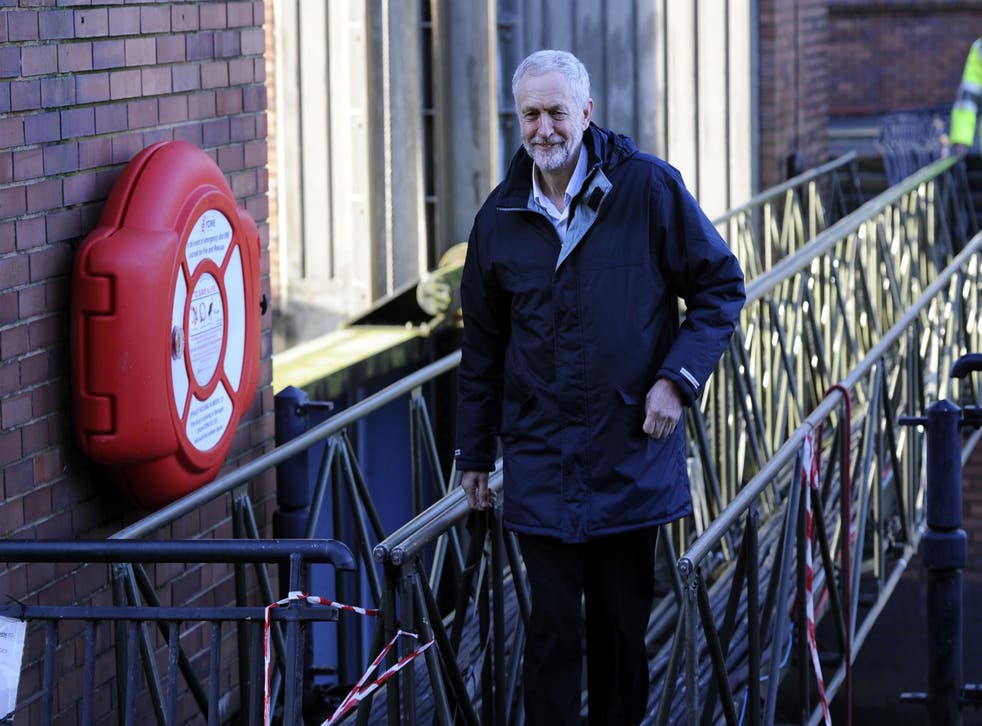 Jeremy Corbyn has defended his decision to wait five days to visit flood-hit areas of northern England, saying he "didn't want to get in the way" at a "critical time" for the emergency services.
The Labour leader was pursued by a large entourage of photographers and reporters as he met angry flood victims in York, who told him they felt "abandoned" by the Government, environmental authorities and local council.
He told a crowd of local residents hit by the floods that they had "every right to be angry" but praised Environment Agency staff for their "superhuman efforts" to protect homes and businesses from the floods.
Instead he turned his ire on the Government, telling them to look again at the cuts it has imposed on the agency and called on David Cameron to increase spending on flood defences.
Ministers have faced criticism for failing to properly fund flood defences in cities that were hit by Storm Frank over the Christmas period and earlier in the day Oxford professor Simon Wren-Lewis accused the Prime Minister and the Chancellor of increasing the "damage and human misery" caused by the floods.
Figures released by the House of Commons library earlier this week showed that the Government had decreased spending on flood defences by 20 per cent since Mr Cameron came to power in 2010, while local authorities in York came under fire after it emerged that the River Foss flood barrier was left open.
Asked why he had only decided to visit on Thursday - five days after the city was first hit by the extreme weather, Mr Corbyn replied: "I didn't want to get in the way of people doing an emergency job at a highly critical time.
"I think to turn up in the midst of all that is distracting engineers."
In Pictures: Floods hit the UK

Show all 17
He was also asked what role Labour would play in combatting future flooding events. He replied saying they will pressurise the Government to fully fund the Environment Agency rather than cutting its budget to ensure adequate funding for flood defences.
Mr Corbyn raised eyebrows for breaking yet another tradition when he arrived in York wearing a pair of brown leather loafers - ignoring the customary wellies usually chosen by politicians visiting flood-hit areas.
He was praised by locals for visiting a council estate, rather than the "posh" streets where they said Mr Cameron had opted for when he visited on Monday.
Lee Moran, a 44-year-old local man who had been made homeless by the floods, told Mr Corbyn: "You are the first person to come up here. Mr (David) Cameron has been, he went to all the posh estates, he didn't come to see the council estates."
The Labour leader was also told by flood victim Azia Carlyle that one of her friends wanted to marry him, to which he replied: "Marry me? I'm already spoken for, I'm really sorry about that."
Mr Corbyn refused to criticise the Environment Agency chairman Sir Philip Dilley, who was in Barbados during the floods. The Labour leader defended his decision not to end his holiday early, saying it was the engineers on teh ground who were the ones dealing with the situation.
Register for free to continue reading
Registration is a free and easy way to support our truly independent journalism
By registering, you will also enjoy limited access to Premium articles, exclusive newsletters, commenting, and virtual events with our leading journalists
Already have an account? sign in
Join our new commenting forum
Join thought-provoking conversations, follow other Independent readers and see their replies