Jeremy Corbyn tells Theresa May to reveal 'dementia tax' rate before election
PM says cap on charge will be announced after election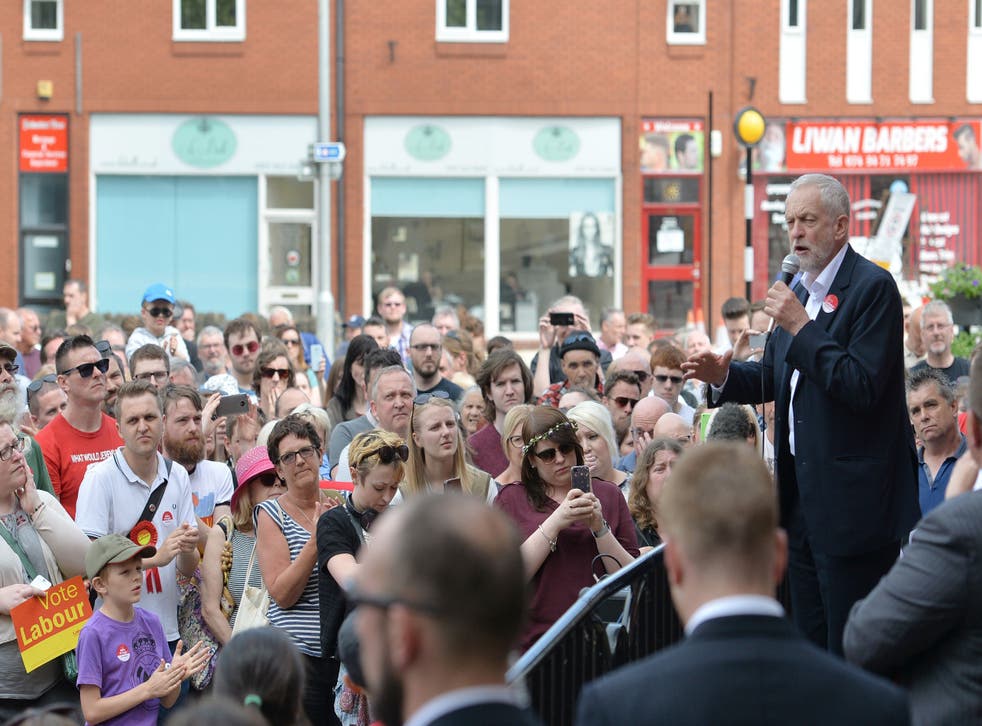 Jeremy Corbyn has called on the Conservatives to clarify the amount people will be charged for social care under the so-called dementia tax policy.
The Conservatives watered down the social care charge earlier in the campaign and said they would impose a cap on payments – but have refused to say what it will be.
On Friday night Theresa May said the party would reveal the level of the cap after the election, following a consultation.
Speaking on Saturday Mr Corbyn said people who were "unlucky enough to get dementia" needed clarity on how much they would be hit by the charge and what it would be – before they cast their votes.
He said: "It is staggering that just six days from polling day millions of pensioners still don't know what's in store for them if they are unlucky enough to get dementia or any other condition that needs care in the home.
"The dementia tax is itself unfair but what's made matters even worse is the way Theresa May announced a cap and then failed to say how much it would be.
"Alongside this, older people face the additional uncertainty of not knowing who will be eligible for a Winter Fuel Payment. The introduction of a means test could mean more than ten million people losing the payment.
"Theresa May's only offer to pensioners is insecurity and cuts. Labour will stand up for older people by maintaining the triple-lock on state pensions, investing £8bn into social care over the next parliament and protecting winter fuel payments and free bus passes."
Labour analysis suggests that if the social care cost cap was set at £100,000 then a person with a house worth the national average of £217,500 and savings of £20,000 would face having 42 per cent of their estate going towards the cost of care.
If the cap was set at the previously proposed £72,000 limit, care costs would wipe out their savings and then result in a 24 per cent charge – £52,000 – on the value of the home.
Lib Dem health spokesman Norman Lamb said: "My message to those thinking of voting for Theresa May is this: don't bet your house on it.
"We already knew vulnerable people would be hit hard by the dementia tax.
"Now it's clear this cruel and ill-advised policy would also put huge pressure on already-stretched local authority budgets."
The Conservatives' social care policy would charge people for their social care after their death, levying a charge on assets over £100,000, including a family home.
After an outcry the party said it would impose a cap on the charges but did not say what the cap would be. Ms May claimed the cap had always been party of the plan and denied a U-turn, though a cap had explicitly been ruled out by the party just days before.
UK General Election 2017

Show all 47
The Prime Minister said during a BBC Question Time special last night: "We are asking people to trust us in the role we want to be voted into. If I look at our manifesto, what our manifesto has done is be open with people about the great challenges that we believe this country faces and that need to be addressed by whoever is in government."
Adding that there would be "hard choices to be made" in addressing social care, she continued: "If we do nothing, our social care system will collapse. We say that we will ensure that people are able to protect more of their savings – the £100,000 – that they will also not have to sell their house during their lifetime to pay for their care bills, but I also wanted a system that was fair across the generations, and I believe this is too."
Join our new commenting forum
Join thought-provoking conversations, follow other Independent readers and see their replies