Jeremy Corbyn dons Santa hat to raise money for refugees after following Syria air strikes debate loss
Journalists and press photographers weren't invited along, but the event was snapped by some eagle-eyed locals
Adam Withnall
Sunday 06 December 2015 18:43 Comments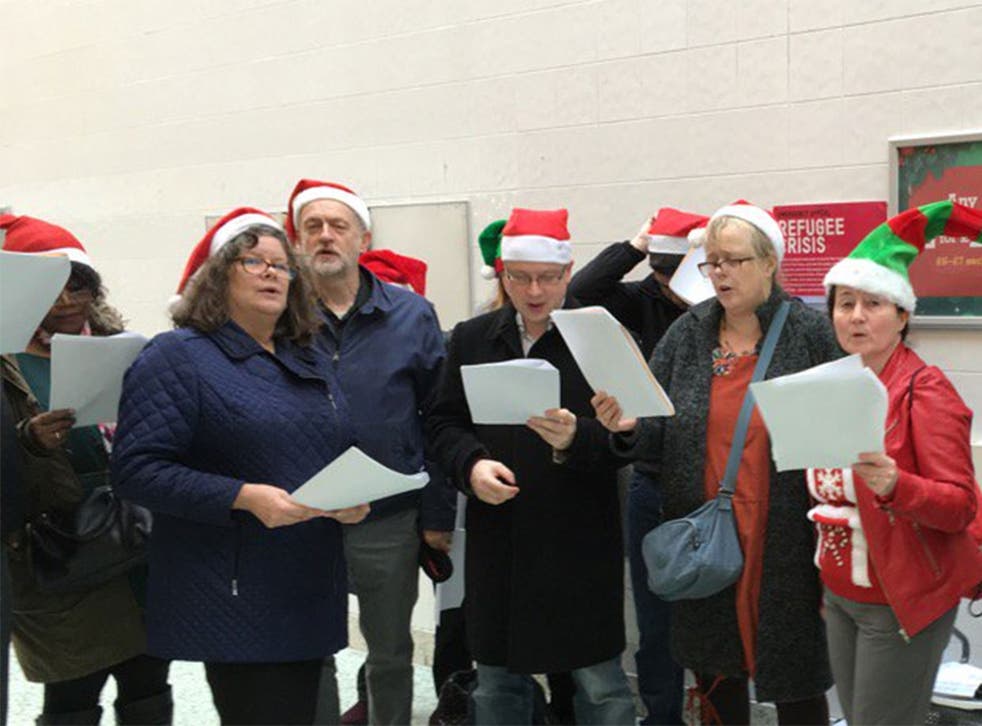 Jeremy Corbyn has had a mixed week as leader of the Labour party, after failing to convince the Commons to vote against air strikes in Syria but winning a major by-election in Oldham.
This weekend he was back out at the coalface as a constituency MP, however, donning a Santa hat and singing Christmas carols while raising money for Oxfam's refugee appeal.
Mr Corbyn joined Labour councillors and activists at the Nag's Head shopping centre in Islington, where they were also met by the Game of Thrones actor Finn Jones for a rendition of Silent Night.
It was apparently an impromptu gathering, with no notice sent out to journalists or press photographers in attendance.
But a handful of eagle-eyed locals (and councillors) photographed the Labour leader shaking a bucket for Oxfam, which has launched an emergency fund to help tackle the refugee crisis.
One of Mr Corbyn's key arguments against air strikes in Syria was that it would worsen the situation for those in the region and actually create more refugees.
And while Oxfam itself has not expressed an official line either for or against air strikes, it issued a joint statement with 10 other NGOs last week saying: "Whatever the rights and wrongs of the decision to bomb [Isis] targets in Syria, a bigger picture is in danger of being eclipsed: the bloodshed in Syria, which has claimed a quarter of a million Syrian lives and caused millions to flee the country."
The most ridiculous claims made about Jeremy Corbyn

Show all 11
On Sunday, Mr Corbyn said he was heading to Paris to lobby world leaders for a legally-binding agreement to tackle climate change.
"It's the poorest who suffer the most [from climate change]," he said. "But in the end, all of us are affected."
Register for free to continue reading
Registration is a free and easy way to support our truly independent journalism
By registering, you will also enjoy limited access to Premium articles, exclusive newsletters, commenting, and virtual events with our leading journalists
Already have an account? sign in
Join our new commenting forum
Join thought-provoking conversations, follow other Independent readers and see their replies