Jeremy Corbyn 'drawing larger crowds than any UK leader since Winston Churchill'
The Labour leader has ended his general election campaign with a string of rallies across the country
Benjamin Kentish
Thursday 08 June 2017 14:21 Comments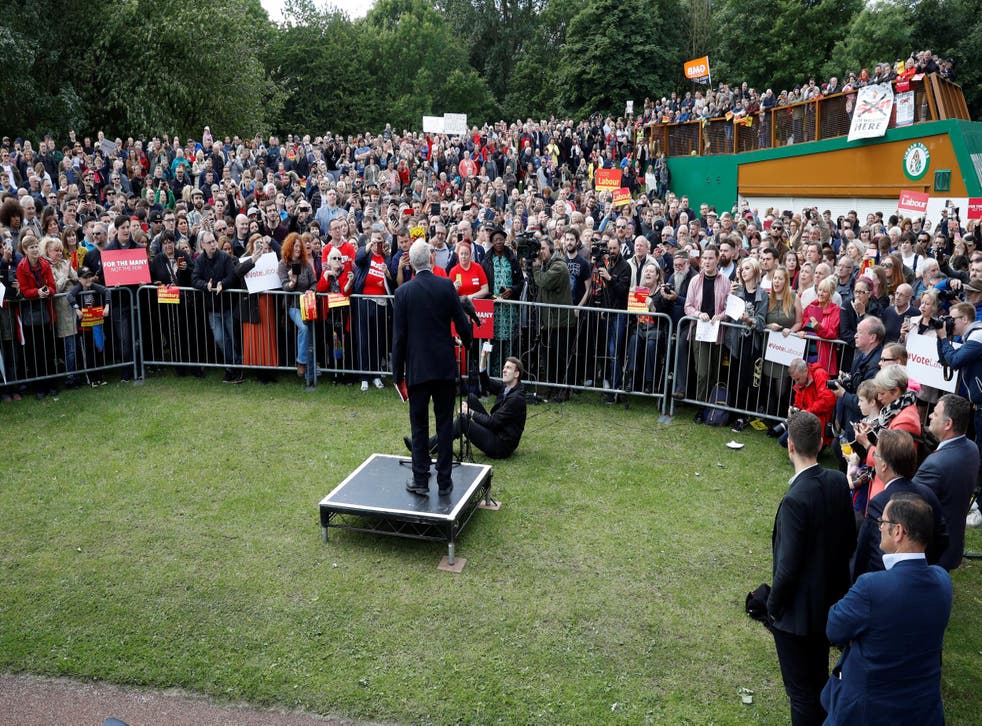 Jeremy Corbyn is attracting bigger crowds to his campaign rallies than any leader since Winston Churchill, it has been claimed.
Channel 4 journalist Michael Crick, who has followed the Labour leader around the country during the general election campaign, said Mr Corbyn had "probably addressed bigger meetings in 2017 than any leader since Churchill".
It comes as Mr Corbyn spent the last day of campaigning before the election addressing six rallies in England, Scotland and Wales.
General Election 2017: The biggest gaffes
He began the day in Glasgow before travelling to Runcorn in Cheshire and then on to Colwyn Bay in north Wales. Returning to London, he spoke to crowds in Watford, Harrow and his own constituency in Islington.
Mr Corbyn often draws hundreds, and sometimes thousands, of people to his rallies.
UK General Election 2017

Show all 47
Professor Anand Menon, a lecturer in European Politics and Foreign Affairs at King's College London, said no other leader had attracted grassroots support in the way Mr Corbyn has.
"He's obviously different and he obviously has this ability to address rallies", he told The Independent. "He's attracted young voters…Among the grassroots in the party he's inspired an energy that wasn't there before.
"I can't think of anyone else who has done it to that extent."
Professor Menon said he thought support for Labour's policies was real but that Mr Corbyn also has his own personal appeal.
"There's absolutely no doubt that they've produced a pretty good manifesto that is enormously popular but I think it's about more than that", he said.
"He's got that uniquely anti-politics element that is his calling card…he's seen as being picked on, he's seen as being attacked unfairly, there's a bit of the underdog about him."
Register for free to continue reading
Registration is a free and easy way to support our truly independent journalism
By registering, you will also enjoy limited access to Premium articles, exclusive newsletters, commenting, and virtual events with our leading journalists
Already have an account? sign in
Join our new commenting forum
Join thought-provoking conversations, follow other Independent readers and see their replies