Jeremy Corbyn eyes 'grey vote' accusing Tories of 'attacking pensioners'
Labour leader, known for his appeal to the young, moves to reassure older voters Labour will protect them from what he termed 'triple whammy of misery' in Conservative manifesto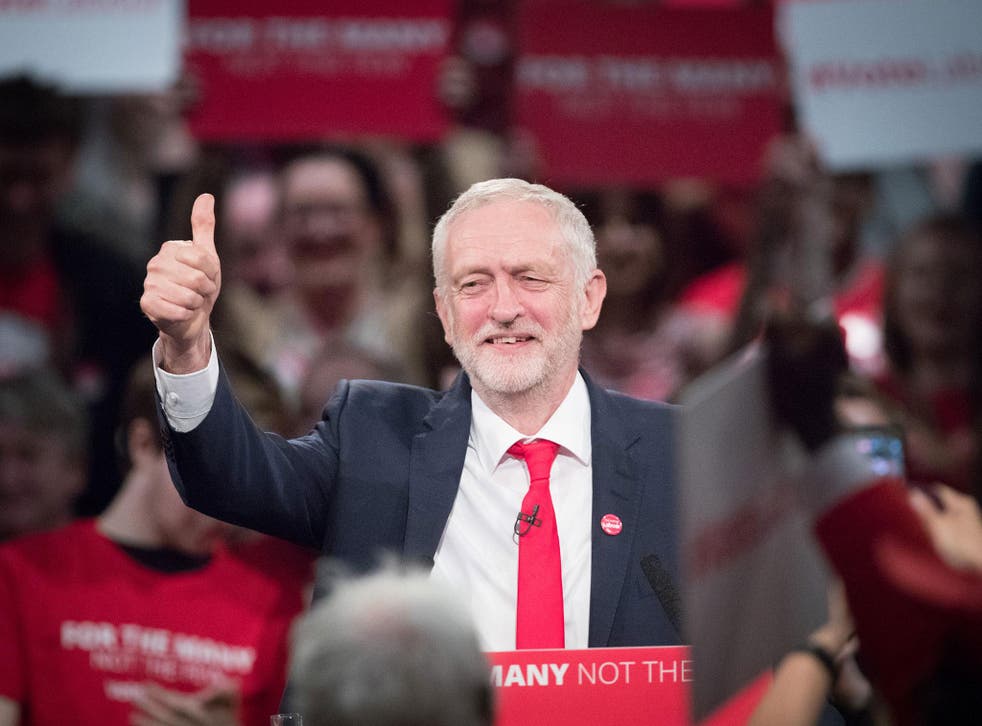 Jeremy Corbyn is eyeing up the "grey vote" after many older Conservatives expressed anger over the Tory manifesto's policies – particularly her plans to shake up social care.
Mr Corbyn pledged to protect pensioners from what Labour has termed the "triple whammy of misery" for over 65s contained within Theresa May's manifesto.
The Prime Minister upset many pensioners when she announced people will have to start paying for more of their own social care, and may only be allowed to pass on £100,000 to their children once costs are met.
She also announced the £300 winter fuel allowance will be means tested and the "triple lock" on pensions will be removed and replaced with a double lock.
Mr Corbyn claims pensioners will be on average £330 a year worse off under the plans laid out in the Conservative manifesto, and has pledged to protect the triple lock, the winter fuel allowance and other pensioner benefits.
The Conservatives have relied heavily on the so-called "grey vote" since they won power from Labour in 2010 and have often been accused of ignoring younger voters at the expense of older ones, while Mr Corbyn is generally known for his appeal to younger people.
But concerned Tory activists have warned that Ms May's radical social care plans risk alienating elderly voters in the party's heartlands who fear they will lose most of their savings if they need long-term social care.
Under the Conservative plan, elderly people requiring care in their own home would have to meet the cost, but would be allowed to keep and pass on £100,000.
UK General Election 2017

Show all 47
The value of their homes would be included in that figure, although the money would not be taken up-front so their homes would not have to be sold until after their death.
Mr Corbyn has accused Ms May of creating a "war between the generations" and of planning an "an attack" on old age pensioners if she wins the general election on 8 June.
He told an audience in Birmingham: "Not satisfied with plunging our social care system into crisis, Theresa May's nasty party has promised more attacks on older people - scrapping the triple-lock on state pensions, removing the winter fuel allowance and asset stripping the ill by forcing those who need social care to pay for it with their homes.
"Labour will protect the winter fuel allowance and triple-lock on state pensions to deliver a secure and dignified retirement for all, and spend an extra £45 billion on the NHS and social care over five years, so that older people can get the care they deserve...society should not be setting the future of our young against security for the old. We have the wealth to offer a decent, secure life for all."
Theresa May wants to change the internet with new regulations
The Prime Minister faced criticism on the doorstep in London from voters who told her the threshold they should be allowed to leave their relatives after paying for social care costs should be higher than £100,000 in the south of England.
One woman in west London told the Prime Minister: "It's a very different scenario if you are up north than it is here."
Ms May defended the policy, which some critics have branded a "dementia tax", saying it was only fair that people with significant assets and savings should pay something towards the spiralling costs of social care with more people living longer.
She told The Times: "It's the first time, I believe, that we have really come forward with that and a plan that both enables old people to have dignity in old age and care that they need. But that is also fair across the generations."
The latest polls show a shift in the direction of the embattled Labour leader, with the Conservatives 13 points ahead according to an Observer/Opinium survey.
Join our new commenting forum
Join thought-provoking conversations, follow other Independent readers and see their replies