Jeremy Corbyn faces fresh calls to shun 'embarrassing' Stop the War Coalition in open letter from Labour members
More than 400 members among 539 people claiming protest group 'stands apart from the Labour movement's values'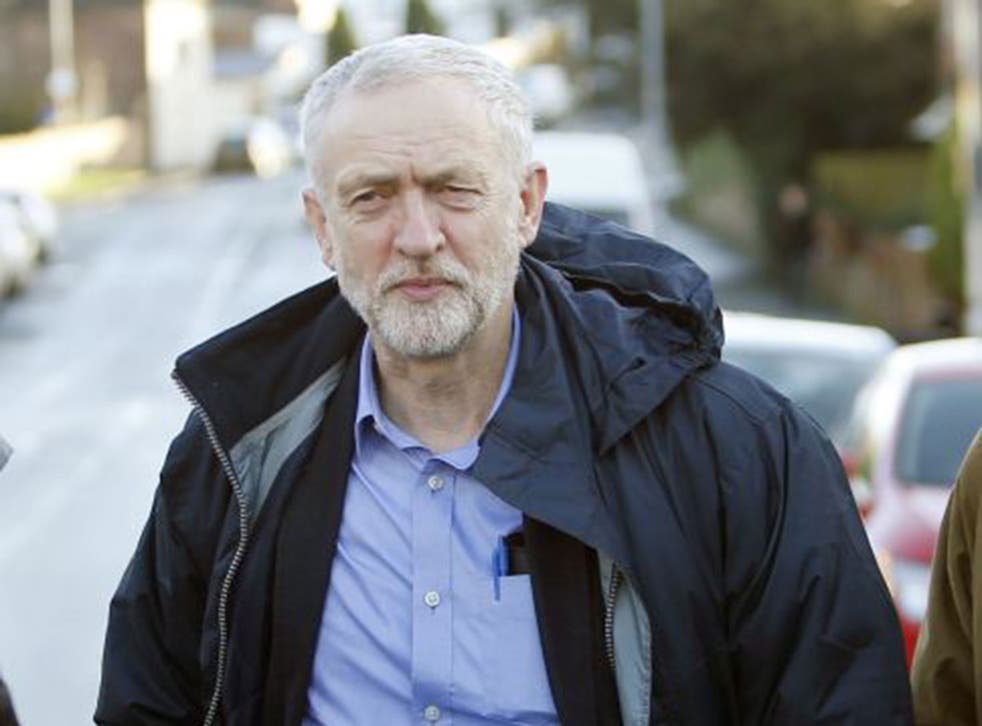 Jeremy Corbyn has been urged not to attend tonight's Stop the War Coalition fundraiser by more than 400 Labour party members who claim the protest group "stands apart from the Labour movement's values of internationalism, anti-fascism and solidarity".
In an open letter to the Labour leader, they say the party's "electoral credibility" is at stake. Mr Corbyn has been urged by a number of senior MPs not to attend tonight's event amid criticism of recent Stop the War publications in the wake of the Paris attacks, and alleged intimidation by its supporters of Labour MPs.
Stop the War has strongly disputed what it called "wild" claims that its supporters "intimidated" MPs in the run-up to and after last week's vote on airstrikes in Syria.
Writing for The Independent today, the historian Tariq Ali, a Stop the War patron, said that recent criticisms of the group, including from former supporters in the Green Party Caroline Lucas and human rights campaigner Peter Tatchell, were part of a "nasty and unpleasant war being waged in England, targeting Jeremy Corbyn".
The open letter, which is signed by 539 people, including 442 Labour members and a number who have recently left the party, has been organised by a group calling itself Labour Internationalists. It describes itself as "a group of UK Labour Party members and supporters who believe that the party is in danger of abandoning its commitment to Internationalism."
It letter accuses Stop the War of "all-but absolving dictators and terrorists of their butchery" in its "rush" to blame the West for ongoing conflict in the Middle East.
Jeremy Corbyn sings happy birthday to woman on Cumbria visit
"This is not an anti-war movement. It is an embarrassing sect belonging to the extreme-left," the letter claims. "We urge you to distance yourself from this organisation. We believe that Labour Party unity, and electoral credibility in the face of a Conservative government that is pursuing a right wing domestic agenda, would be advanced if you pulled out of this event."
Responding to the letter a spokesperson for Mr Corbyn pointed out that a majority of Labour members, of the parliamentary party, and of the Shadow Cabinet had supported the leader's position on airstrikes. "Jeremy Corbyn's view prevailed across the party," the spokesperson said.
Meanwhile, a member of Mr Corbyn's frontbench team has urged him to attend the event – but to use his appearance at to tell the group to stop alleged "intimidation" and threats of de-selection against Labour MPs who voted for airstrikes on Syria.
Shadow Culture Secretary Michael Dugher said Mr Corbyn should use his status as the group's former chairman to "have a quiet word".
Many MPs received what they deemed threatening and abusive emails, including pictures of children killed by airstrikes, and accusations of warmongering in the run-up to and after vote on airstrikes. However, no clear links with either Stop the War, or the Labour-supporting campaign group Momentum have been made.
British jets prepare for air strikes in Syria

Show all 10
Mr Dugher also criticised Momentum, saying he could not "see the point" of the group, which emerged from Mr Corbyn's leadership campaign, and has been accused by some Labour MPs of being a vehicle for hard left "entryists" into the party.
The group is not formally a part of Labour, but its organisers have said it is wholly committed to supporting the party and has no interest in seeking to de-select Labour MPs.
"If it's an extension of the leadership campaign, well, they won the leadership," Mr Dugher said. "The whole point is when you've had a leadership election, all the leadership campaigns have to pack up and come together in the Labour Party. I thought that was obvious."
It has emerged that Momentum faces the prospect of an investigation by the Information Commissioner. The data protection regulator said it had received a complaint, the specific nature of which is not clear. The group has a network of tens of thousands of supporters, according to its organisers.
A spokesperson for Momentum said it had been accused of using data supplied by the Labour party to lobby its MPs. "The allegation is unfounded. No evidence has been provided to support this allegation," the spokesperson said.
Register for free to continue reading
Registration is a free and easy way to support our truly independent journalism
By registering, you will also enjoy limited access to Premium articles, exclusive newsletters, commenting, and virtual events with our leading journalists
Already have an account? sign in
Register for free to continue reading
Registration is a free and easy way to support our truly independent journalism
By registering, you will also enjoy limited access to Premium articles, exclusive newsletters, commenting, and virtual events with our leading journalists
Already have an account? sign in
Join our new commenting forum
Join thought-provoking conversations, follow other Independent readers and see their replies