Jeremy Corbyn has failed to gain labour supporters among the wider electorate, poll reveals
New leader is good for politics, says public
Jane Merrick
,
John Rentoul
Saturday 19 September 2015 21:24 Comments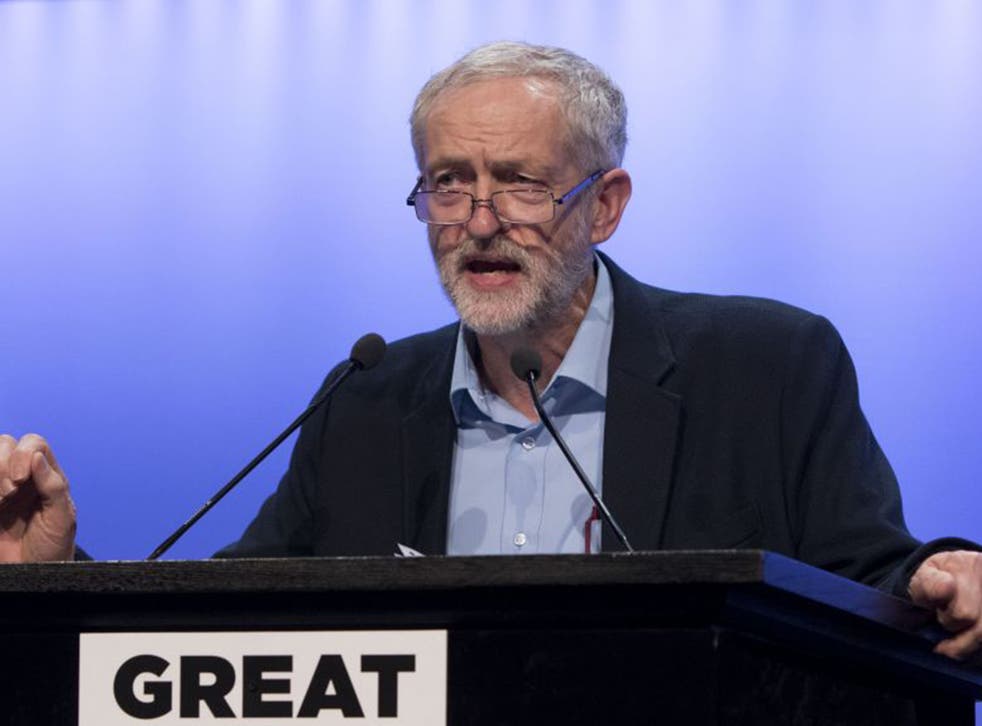 Labour leader Jeremy Corbyn has failed to secure a bounce among the wider electorate despite his resounding victory as Labour leader, a poll for The Independent reveals.
In the first test of voting intention since Mr Corbyn's election, Labour have increased their poll rating by just one point, up to 30 per cent. The Conservatives are up two points to 42 per cent, meaning their lead has stretched to 12 points in the ComRes poll.
The Lib Dems, whose party conference opened this weekend with new leader Tim Farron, are down one to 7 per cent, while Ukip remain on 13 per cent since the last ComRes poll for The Independent in August.
The findings will come as a blow to Mr Corbyn's aides, who were hoping that his staggering victory on first-round preferences, in which he secured 60 per cent of the Labour vote, would trigger a rush in support among the voting public. The survey was conducted on Wednesday, when Mr Corbyn attempted a new kind of consensual PMQs, and Thursday.
Despite this, Mr Corbyn wins credit among voters for shaking up Westminster, with 52 per cent agreeing he is making people more interested in politics and 41 per cent saying he offers a "positive difference from other politicians".
Yet the claim by the Government that his leadership will risk the nation's security appears to have influenced around a third of voters. Some 37 per cent agree with the claim that he is a danger to economic security, while 31 per cent disagree. Meanwhile 35 per cent think he is a danger to national security, compared with 34 per cent who disagree with that statement. By contrast, only 25 per cent think David Cameron is a danger to national security compared to 53 per cent who think he is not.
Out of a list of eight senior Conservative, Labour and Lib Dem politicians, Mr Corbyn ranks the lowest for favourability, with a net rating of minus 18 per cent. Boris Johnson is seen as the most favourable among voters with a net rating of plus 8 per cent. Mr Cameron is second with a net rating of minus 7 per cent. Labour's new deputy leader Tom Watson is third with a net rating of minus 8 per cent. Theresa May is fourth most favourable, with a net rating of minus 11, while Mr Farron is fifth with a net rating of minus 12. George Osborne, the Chancellor and his opponent John McDonnell will be equally dismayed that they are joint sixth on minus 17.
Mr Cameron and Mr Osborne have better ratings when only those who are certain to vote are taken into account: the PM has a rating of plus 3, while the Chancellor is on minus 7. Mr Corbyn is on minus 22 among those certain to vote.
Exactly half of voters believe Mr Corbyn should have sung the national anthem at the Battle of Britain memorial, while 29 per cent think it was not necessary.
Voters are divided over whether, at 70 years old, the Labour leader would be too old to be prime minister at the next general election – 40 per cent agree and 41 per cent disagree. Interestingly, older people are most likely to say Mr Corbyn will be too old in 2020: 49 per cent of people aged 65 and over agree, while 38 per cent disagree compared with 29 per cent of under 35s who agree, and 44 per cent disagree.
Full tables of the poll results are available at www.comres.co.uk
Register for free to continue reading
Registration is a free and easy way to support our truly independent journalism
By registering, you will also enjoy limited access to Premium articles, exclusive newsletters, commenting, and virtual events with our leading journalists
Already have an account? sign in
Join our new commenting forum
Join thought-provoking conversations, follow other Independent readers and see their replies