Jeremy Corbyn has less than 50 per cent of support from Labour Party members, claims Owen Smith
Both the GMB and Usdaw unions have come out in support for Mr Smith in the Labour leadership race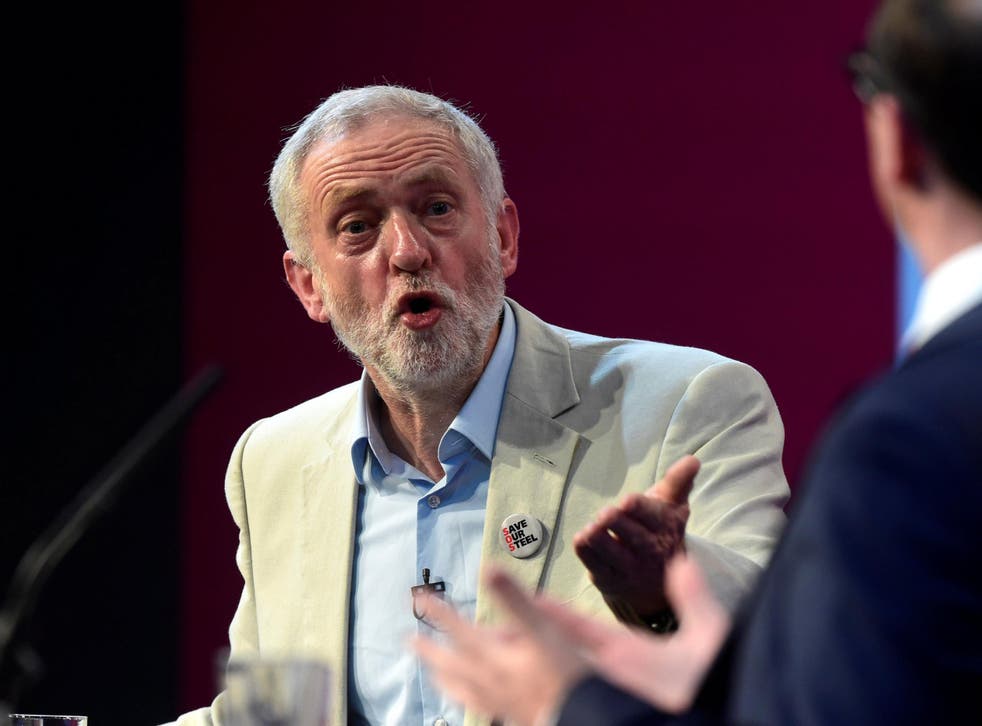 Jeremy Corbyn's re-election as Labour leader has been thrown into doubt for the first time since his challenger, Owen Smith, began the contest.
Mr Smith has won the backing of Britain's third biggest union, the GMB, in the same week that the fourth biggest union, Usdaw, came out for him.
And Mr Smith's camp say that two private polls, each with a sample of 5,000 Labour Party members and supporters, show that Mr Corbyn is not home yet.
The loss of the GMB's support is a symbolic blow for Mr Corbyn, because it was at a GMB hustings last year that his extraordinary success in the leadership contest began. The union balloted it members, who voted by a margin of 60-40 to back Mr Smith.
Tim Roache, who recently took over as the union's general secretary, said: "The Labour Party is at a crossroads. I'm under no illusions that we're living through dangerous political times – the like of which I haven't seen during my three decades in our movement. It's time for us to face up to reality.
"GMB balloted our members because this kind of decision shouldn't be taken from up on high. We're a democratic organisation here to serve our members' interests. I was determined that our members would have their say. And they've had it.
"I'll proudly campaign alongside Owen in the coming weeks and months to deliver on his pledges to end the public sector pay freeze, to support defence workers, to invest in health and industry, and to build an industrial strategy – these are bread and butter issues for the people I represent.
"But we can only tackle them if we're in government. That's the end game and I hope whatever the final result, the Labour Party will unite when all this is over. GMB members cannot afford for Labour to be talking to itself in a bubble for the next five years while the Tories run riot through our rights at work, our public services and our communities."
Mr Smith said: "It's a great honour to receive GMB's nomination to be the next leader of the Labour Party after a consultation with its members.
"At the heart of my campaign are commitments to strengthening our trade unions, ending exploitation and delivering greater equality.
"I look forward to working with the GMB, its members and all in the Labour movement to tackle inequality, invest in strong public services, and for Britain to have trade union and workers' rights that are the envy of the world."
Mr Corbyn appeared in front of GMB activists in Dublin on 12 June 2015, alongside the other three contestants in the election to succeed Ed Miliband, at the first hustings of the contest. Afterwards The Independent reported: "If the audience were representative of the public at large, Labour could sail to victory under the leadership of Jeremy Corbyn."
But last October, Mr Corbyn angered GMB leaders by unilaterally announcing that he stands by his long held opposition to renewing the Trident submarine fleet, contrary to previously agreed party policy. The jobs of thousands of GMB members are dependent on Trident.
The most ridiculous claims made about Jeremy Corbyn

Show all 11
When the union held a conference on Trident's future in Newcastle in February, its Scottish secretary, Gary Smith, warned: "Instead of honouring you as hard-working, committed trade unionists there are people, many of whom are at the heart of the Labour and trade union movement, who, quite simply, want you to lose your jobs."
Two private polls conducted for the Smith camp indicate that a majority of Labour members and supporters are either backing Mr Smith or undecided. However, they were taken before Monday's court judgement that gave 130,000 party members who joined up after 12 January an automatic right to vote.
That judgement, which the Labour Party is contesting on appeal, is assumed to have the effect of boosting Mr Corbyn's vote, because of the large number of people who flocked to join Labour after the 23 June referendum when they heard that Mr Corbyn was under threat.
But a spokesman for Mr Smith said: "We don't have any evidence to show that support within the new selectorate will be any different from the selectorate that was there before the judgement."
Register for free to continue reading
Registration is a free and easy way to support our truly independent journalism
By registering, you will also enjoy limited access to Premium articles, exclusive newsletters, commenting, and virtual events with our leading journalists
Already have an account? sign in
Register for free to continue reading
Registration is a free and easy way to support our truly independent journalism
By registering, you will also enjoy limited access to Premium articles, exclusive newsletters, commenting, and virtual events with our leading journalists
Already have an account? sign in
Join our new commenting forum
Join thought-provoking conversations, follow other Independent readers and see their replies