Jeremy Corbyn heckled by man shouting: 'Say the word Israel'
Mr Corbyn was repeatedly accused of having links with anti-Semitic individuals and groups during the Labour leadership campaign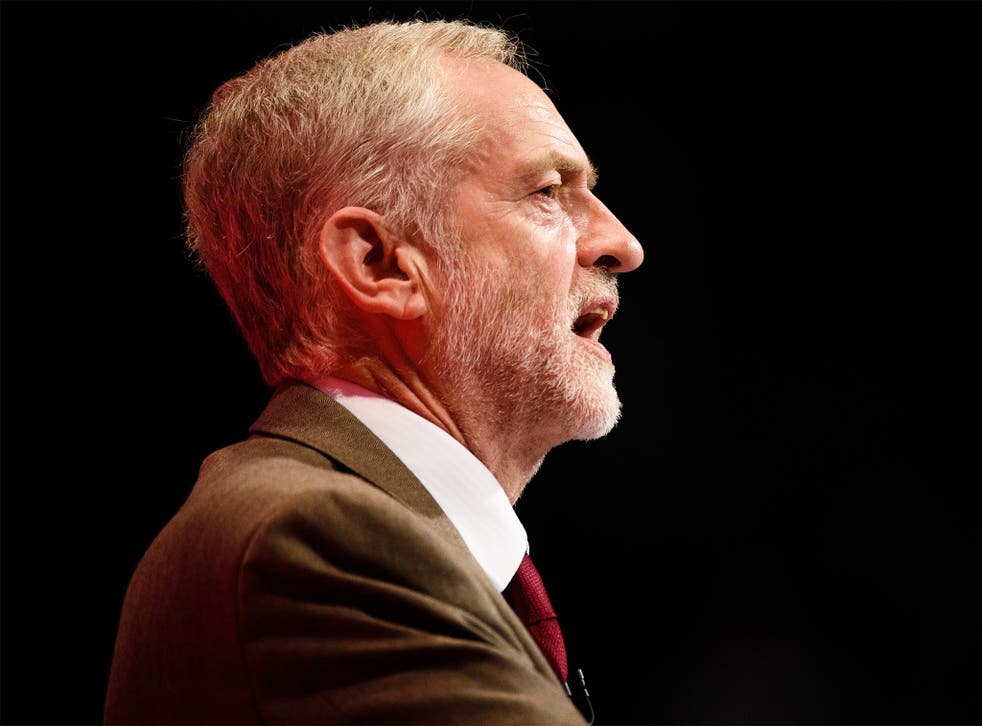 Jeremy Corbyn was heckled by a man telling him to "say the word Israel" after he finished a speech to the Labour Friends of Israel group on Tuesday night.
During the Labour leadership election Mr Corbyn was repeatedly accused of having links with anti-Semitic individuals and groups and throughout the contest he was forced to clarify why he had described Hamas and Hezbollah "friends".
Mr Corbyn has described allegations he is anti-Semitic or had connections with Holocaust deniers as "ludicrous and wrong" and insisted he believes in meeting people from all groups of differing opinion to bring about dialogue.
His appearance at the Labour Friends of Israel reception at the Labour party conference was highly anticipated and seen as a chance for Mr Corbyn to send a clear message of unity to Israeli community.
Labour Friends of Israel, which seeks to strengthen relations between Britain and Israel, supports a two state solution and wants to see an independent Palestian state.
Mr Corbyn said he recognised there were differing opinions in the room about how to go about tackling the Israel/Palestine conflict but stressed the need for dialogue.
He said the recognition of Palestine was "something that was very important", hinting that he wanted to bring the issue back to debate in the House of Commons after Ed Miliband ordered Labour MPs to vote in favour of recognising the Palestinian state in a Parliamentary debate last year.
Speaking at the Labour Friends of Israel party on Tuesday night, Mr Corbyn said: "I, as you know, have taken an enormous interest in the affairs of the Middle East for a very long time. I've been on nine times on visits; I've visited many places in the region and met many people – some I agree with, some I don't agree with, some I have neutral opinions on lots of things.
"But it's also about dialogue and how you bring about that long term dialogue and that's what I want to see. And that's why the issue of the recognition of Palestine was something that was very important; it might well come up again. I know there are people in this room that think it was premature, there are some people in this room that supported it and I'm sure everybody recognises the only way forward is one of peace through negotiation, through discussion and dialogue and the recognition of the rights and traditions of all of the peoples of the regions.
"So I hope we can promote and encourage that peace process and that dialogue. I hope that that means we are able to ensure the siege of Gaza or restrictions on Gaza are lifted; I hope that we can make progress on that way."
Mr Corbyn said he was elected on the basis that he was keen to meet people on all sides to hear all points of view and to make sure Labour plays a key role in bringing about peace and progress in the Middle East.
He described the situation in the wider region as "dire" with so many refugees fleeing for Europe.
Watch Jeremy Corbyn's full Friends of Israel speech here:
Register for free to continue reading
Registration is a free and easy way to support our truly independent journalism
By registering, you will also enjoy limited access to Premium articles, exclusive newsletters, commenting, and virtual events with our leading journalists
Already have an account? sign in
Register for free to continue reading
Registration is a free and easy way to support our truly independent journalism
By registering, you will also enjoy limited access to Premium articles, exclusive newsletters, commenting, and virtual events with our leading journalists
Already have an account? sign in
Join our new commenting forum
Join thought-provoking conversations, follow other Independent readers and see their replies