Jeremy Corbyn: Interventions in Middle East 'have increased terror threat in Britain'
Labour leader will propose 'a different kind of foreign policy – where war is a last resort'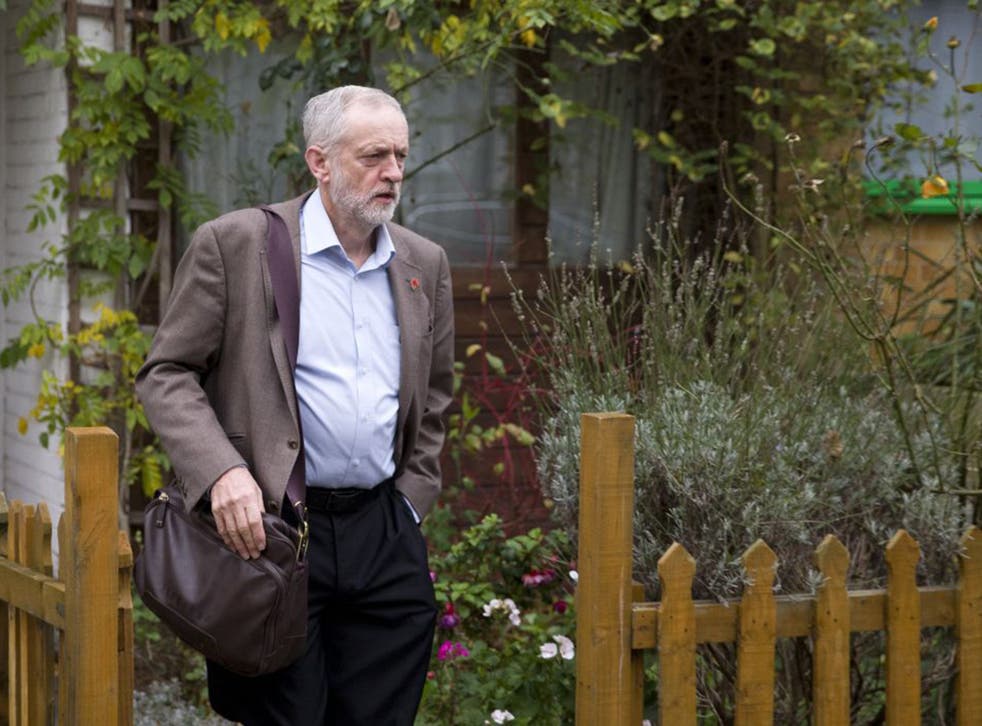 UK intervention in Iraq and Afghanistan has increased the threat of terrorism in Britain, Jeremy Corbyn will warn today. His defiant message will appal Labour moderates, who regard it as coming close to making excuses for acts such as the Paris massacre and to accusing Britain of fuelling terrorism.
Mr Corbyn will tell Labour's South West regional conference in Bristol that he wants "a different kind of foreign policy – based on a new and more independent relationship with the rest of the world – where war is a last resort".
It comes as a poll shows public support for UK military action against Isis has grown sharply since the attacks in Paris. The poll by ORB for The Independent reveals a majority in favour of sending ground troops as well as RAF bombers to tackle Isis in both Syria and Iraq. However, it also reveals some sympathy for Mr Corbyn's view. Some 64 per cent of people believe Britain would be safer from a terrorist attack if the country had not been involved in the conflicts in Iraq and Afghanistan, while 36 per cent disagree.
But 55 per cent of people believe that Britain should commit ground troops and tanks to combat Isis in Iraq and Syria, while 45 per cent disagree. There has been a dramatic shift since July, when ORB asked the same question. Then only 41 per cent backed sending ground troops and 59 per cent opposed the idea. Seven out of 10 people (71 per cent) now back extending air strikes against Isis from Iraq to Syria, as David Cameron wants to do, while 29 per cent are against the move. In July, the figures were 67 per cent and 33 per cent respectively.
Men are more likely than women to back bombing and sending ground troops. While Mr Corbyn opposes UK intervention, a majority of people who voted Labour at the May election support air strikes and deploying forces on the ground in Syria and Iraq.
Mr Corbyn had originally planned to give his speech a week ago but postponed that speech because of the Paris attacks. Today's address shows he has rejected calls from moderate Labour MPs to change tack.
Controversially, he will say: "For the past 14 years, Britain has been at the centre of a succession of disastrous wars that have brought devastation to large parts of the wider Middle East. They have increased, not diminished, the threats to our own national security in the process."
The Labour leader will try to answer Conservative charges that his anti-war stance makes him unpatriotic. He will say: "What's pro-British about a government that slashes support for serving soldiers and military veterans? How is it patriotic to take money from the poorest, from working families, and hand control of your country to a super-rich elite?" Mr Corbyn will add: "Labour will take no lectures in patriotism from the Conservatives, the political wing of the hedge funds, the bankers and the 1 per cent elite. How dare Cameron's Conservatives pretend that they speak for Britain?"
Mr Corbyn will try to fight back on security by attacking plans for cuts of up to 20 per cent in police budgets. "After Paris, there must be no cuts in the police front line. That means no reduction in numbers, essential equipment or helicopter support," he will say.
Tensions in the Labour Party are high over Mr Corbyn's response to Paris, especially his initial opposition to a shoot-to-kill policy. The right-wing Labour First group told its supporters last night: "I am sure you will share our dismay at the reputational damage done to the Labour Party this week both by the poorly judged remarks made in response to the terrorist atrocity in Paris, and Ken Livingstone's disgraceful personalised attack on Kevan Jones MP."
Register for free to continue reading
Registration is a free and easy way to support our truly independent journalism
By registering, you will also enjoy limited access to Premium articles, exclusive newsletters, commenting, and virtual events with our leading journalists
Already have an account? sign in
Register for free to continue reading
Registration is a free and easy way to support our truly independent journalism
By registering, you will also enjoy limited access to Premium articles, exclusive newsletters, commenting, and virtual events with our leading journalists
Already have an account? sign in
Join our new commenting forum
Join thought-provoking conversations, follow other Independent readers and see their replies