Jewish community leaders refuse to meet Jeremy Corbyn until list of conditions met
Exclusive: Labour leader writes to MPs to pledge further action to tackle anti-Jewish abuse
Benjamin Kentish
Political Correspondent
Wednesday 28 March 2018 14:28 Comments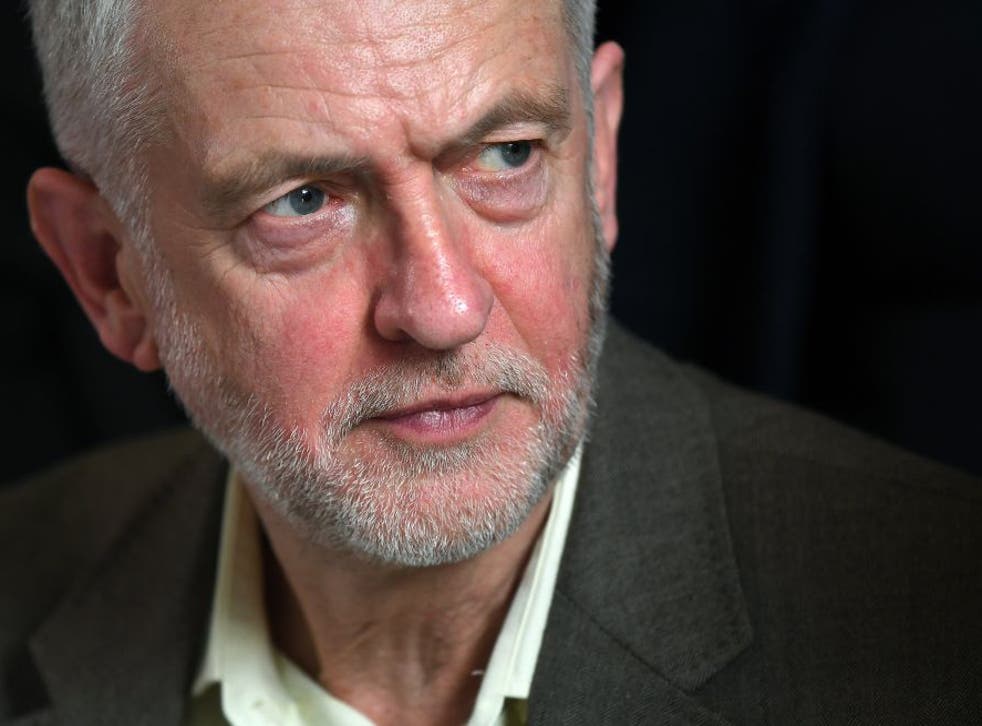 Jewish community leaders have rejected Jeremy Corbyn's request for an "urgent meeting" to discuss antisemitism until he agrees to their preconditions.
The Board of Deputies and the Jewish Leadership Council said the Labour leader must publicly condemn criticism of MPs who attended a protest against him on Monday, and should appoint an independent adjudicator to investigate antisemitism in the party.
In a joint letter to Mr Corbyn, the leaders of the two organisations said their decision to arrange the protest outside Parliament in opposition to antisemitism in Labour expressed "the strength of feeing in the mainstream Jewish community".
They wrote: "These were unprecedented steps on our part and we hope you understand the seriousness of such a communal action. It arose from nearly three years of cumulative anger and despair in the Jewish community at repeated, numerous cases of antisemitism in the Labour Party and failures to deal with them in a decisive, swift and public manner.
"For whatever reasons, you have not, until now, seemed to grasp how strongly British Jews feel about the situation. Your letter was a welcome change in this regard, but only if it kick starts strong actions and leadership against the problem."
In their letter, Board of Deputies president Jonathan Arkush and Jewish Leadership Council chair Jonathan Goldstein said they would only meet with Mr Corbyn if he agreed to "an agenda of actions for discussion" that should include:
Mr Corbyn taking personal responsibility for tackling antisemitism in Labour, because "only your voice can persuade your followers that this a necessary and correct course of action".
The appointment of an independent ombudsman to oversee efforts to tackle antisemitism, with regular updates to be given both to Labour and to Jewish community leaders.
Party representatives and officials refusing to share a platform with people who have been suspended for antisemitism, and local Labour branches being banned from offering these people speaking slots at events.
An email to be sent to all party members to distribute the UK's and Labour's official definition of antisemitism, and an educational programme to be introduced for members.

​
The groups also said Mr Corbyn must distance himself from criticism of Labour MPs who attended Monday's protest.
They said: "There is an urgent matter that we need you to address. People inside and outside the Jewish community are repeatedly subjected to abuse and insults for raising the issue of antisemitism in the Labour Party. This even affects those Labour MPs who showed their solidarity with the Jewish community on Monday.
"This is a disgrace: nobody should be vilified for opposing antisemitism. Those Labour Party members and Labour-supporting blogs pushing the abuse are largely doing so in your name.
"They need to hear you say, publicly and in your own voice, that we had every right to protest about antisemitism, and that Labour MPs had every right to support us; that our concerns about antisemitism are sincere and not a "smear" as has been widely alleged (including on your own Facebook page); and that anyone directing abuse, intimidation or threats at those of us who oppose antisemitism is damaging your efforts to eliminate it and to start rebuilding trust. We firmly believe that this must happen urgently, and certainly before we can meet.
UK news in pictures

Show all 50
It comes after Mr Corbyn tasked Labour's new general secretary, Jennie Formby, with drawing up an "action plan" for tackling antisemitism in the party.
The plan will be discussed at the first meeting of the shadow cabinet after Easter, with new measures likely to be introduced to speed up the process of dealing with allegations.
The Labour leader acted after hundreds of people join a protested outside Parliament criticising his response to anti-Jewish sentiment.
He confirmed that both he and Ms Formby will attend the next meeting of the Parliamentary Labour Party to listen to MPs' concerns.
In a letter to Labour MPs on Wednesday, seen by The Independent, he wrote: "Following recent events and the [Parliamentary Labour Party] meeting on Monday, the shadow cabinet held an open and extremely constructive discussion on tackling antisemitism in the Labour Party.
"I was grateful to hear the perspective of so many colleagues on the issue of antisemitism. It was very clear that we are unanimous in our determination, along with the new general secretary, Jennie Formby, to tackle this issue immediately and effectively.
"I have already asked Jennie to consider an action plan as a priority and invited her to come to the first shadow cabinet meeting after the Easter recess to discuss it. We will both be attending the next PLP meeting."
Mr Corbyn said new measures would include the full implementation of the recommendations of Shami Chakrabarti's report on the issue, and efforts to speed up the way in which allegations antisemitism are deal with.
Labour will also introduce a "programme of political education to increase awareness and understanding of all forms of antisemitism".
Mr Corbyn is also seeking an "urgent meeting" with Jewish representative groups theBoard of Deputies and the Jewish Leadership Council, although reports suggest they are reluctant to meet with him at the current time.
The Labour Against Antisemitism group has previously raised concerns about Ms Formby's ability to tackle antisemitism in the party.
The Independent revealed earlier this month that she was involved in giving a job to Vicki Kirby, who had previously been suspended for saying Jews have "big noses" and "slaughter" people, and calling Adolf Hitler "a Zionist God".
Register for free to continue reading
Registration is a free and easy way to support our truly independent journalism
By registering, you will also enjoy limited access to Premium articles, exclusive newsletters, commenting, and virtual events with our leading journalists
Already have an account? sign in
Join our new commenting forum
Join thought-provoking conversations, follow other Independent readers and see their replies