Why Jeremy Corbyn's victory could be bad news for David Cameron's EU referendum plans
Analysis: The left-winger has refused to rule out campaigning for an Out vote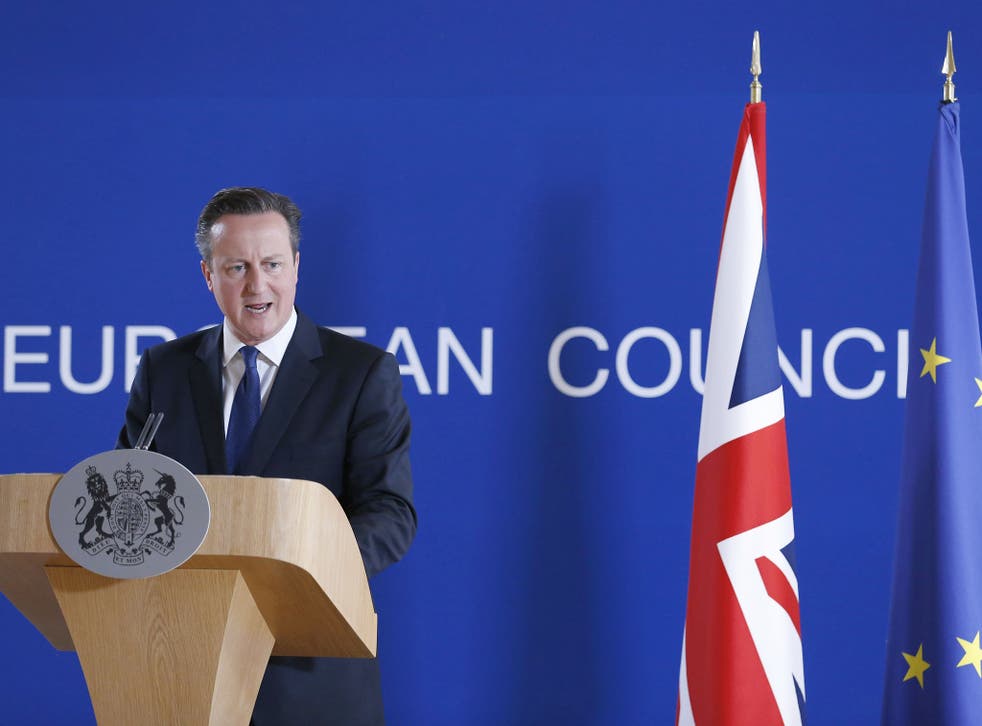 Although the Conservatives are jubilant about Jeremy Corbyn's election as Labour leader, it could turn out to be very bad news for David Cameron in one crucial area. The left-winger has refused to rule out campaigning for an Out vote in the referendum on EU membership, in which the Prime Minister intends to recommend an In vote after winning a new deal for Britain.
The In crowd has been banking on the Labour leadership and the trade unions playing a central role in the cross-party umbrella campaign in favour of remaining in the EU. If Mr Cameron manages to dilute EU laws on workers' rights, it would delight Conservative MPs. But it could tip unions such as Unite and the GMB over to the Out camp.
Most Labour MPs support continued EU membership. Only a handful have signed up to a Labour for Britain group expected to urge an Out vote. So if Mr Corbyn switched sides, the much predicted divisions in the Conservative Party over the referendum would be mirrored by a Labour split. The Labour Yes to Europe chaired by Alan Johnson, the former Home Secretary, could become a focus for internal opposition to Mr Corbyn.
Hilary Benn, who has kept his post as shadow Foreign Secretary, moved to calm the nerves of pro-European Labour MPs. He insisted Labour would campaign to stay in the EU "under all circumstances." Mr Benn told BBC Radio 4: "Jeremy said, whatever differences we may have with some aspects of European policy, whatever reforms we want to see, we will stay to fight together for a better Europe. It's absolutely clear."
TTIP controversy: what an FOI request revealed

Show all 14
But doubts about Mr Corbyn's intentions remain. Chuka Umunna, the former shadow Business Secretary, is adamant that he decided not to stay in the Shadow Cabinet because the new Labour leader refused to rule out calling for an Out vote if he did not support Mr Cameron's new deal.
That was certainly Mr Corbyn's approach during the leadership campaign. At a hustings in Warrington, he said: "No I wouldn't rule it out...Because Cameron quite clearly follows an agenda which is about trading away workers' rights, is about trading away environmental protection, is about trading away much of what is in the social chapter."
Sir Paul Kenny, the GMB's general secretary, said Mr Corbyn was not prepared to commit to staying in at all costs. "[He] seems to be less anti-Europe than some people have painted him but I think people are right to want to see what deal this is and if it worsens rights for working people in Britain there is a real risk that people will vote to come out of Europe," said Sir Paul. He warned that his union could campaign to quit the EU if the "mass exploitation" of cheap labour in the 28-nation bloc is not addressed.
The unions are worried that Mr Cameron will try to secure a British opt-out from the EU's social chapter of employment rights. Sir John Major won an exemption in 1992 but Tony Blair's Government opted back in.
Downing Street aides are dampening hopes of a new UK opt-out -- not least because most other EU nations are hostile to the idea. Limiting the impact of the EU's working time directive is a more realistic goal for Mr Cameron.
Although left-wing, anti-austerity parties such as Syriza in Greece and Podemos in Spain have welcomed Mr Corbyn's election, there is consternation among EU officials. The European Commission and foreign embassies in London are watching Labour's developments closely. One Brussels insider said: "An anti-EU Labour Party would be a disaster for Britain and Europe. It could tip the balance in the EU debate in the UK."
Register for free to continue reading
Registration is a free and easy way to support our truly independent journalism
By registering, you will also enjoy limited access to Premium articles, exclusive newsletters, commenting, and virtual events with our leading journalists
Already have an account? sign in
Register for free to continue reading
Registration is a free and easy way to support our truly independent journalism
By registering, you will also enjoy limited access to Premium articles, exclusive newsletters, commenting, and virtual events with our leading journalists
Already have an account? sign in
Join our new commenting forum
Join thought-provoking conversations, follow other Independent readers and see their replies