Labour leader issues defiant message as pro-Corbyn organisation doubles its membership in a week
It came as Momentum annouced donors were providing the pro-Corbyn organisation with up to £11,000 a day
Ashley Cowburn
Political Correspondent
Monday 04 July 2016 19:19 Comments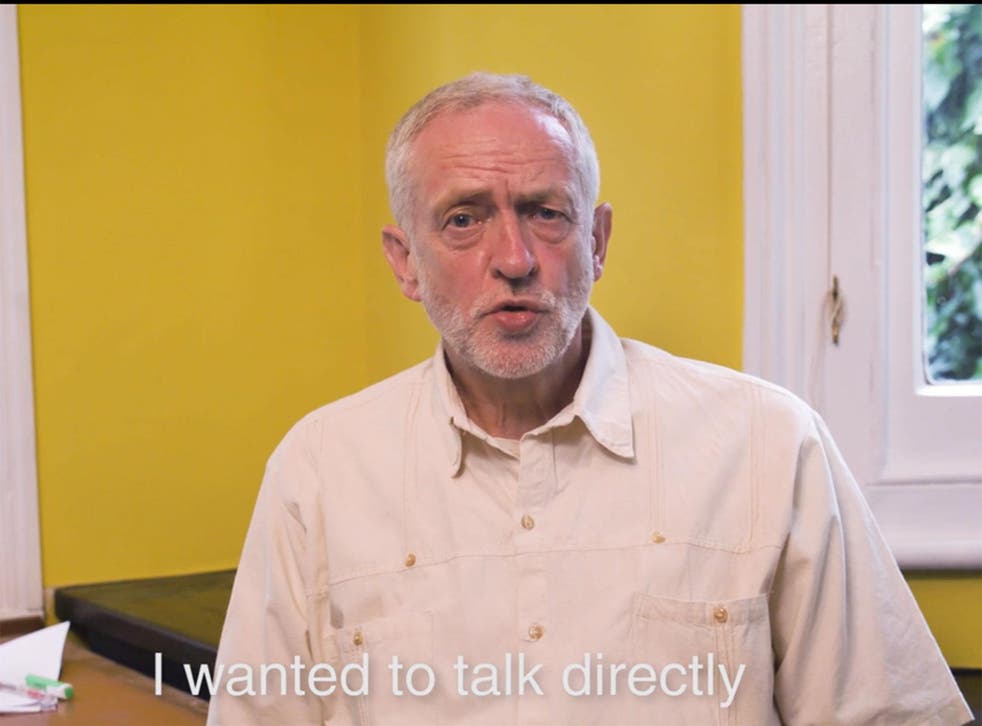 Jeremy Corbyn has issued a defiant message insisting he will carry on as leader of the Labour party - as it emerged the grassroots campaign that has provided the most vocal support for him has doubled its membership in the past week.
Several hours after Angela Eagle threatened to break the impasse at the top of the party by challenging his leadership, Mr Corbyn released a video message dismissing claims that he half-heartedly campaigned for continued membership of the European Union
The Labour leader, who lost a vote of "no confidence" last week by a margin of 172-40, said his party has won every by-election it stood in since he became leader.
He said that two-thirds of Labour voters had backed Remain in the referendum and took credit for forcing the Tories into several U-turns on cuts to tax credits, disability benefits and police funding, along with the forced academisation of schools.
It came as Momentum, the grassroots organisation for Mr Corbyn's supporters, said that more than 25,000 people have taken part in pro-Corbyn demonstrations in recent days. Together, they added, around 1,500 people are donating over £11,000 a day to the organisation.
"The anti-democratic attempted coup against Jeremy Corbyn and the Labour party membership has seen people flock to the Labour party in near-unprecedented numbers to grow the movement for a more democratic and equal society. It has been reported that over 60,000 have joined in the past week. Momentum has witnessed a membership surge too, doubling its membership to 12,000 in the past week," Momentum activists added.
As Mr Corbyn's defiant message appeared on social media, however, Labour's shadow foreign minister Fabian Hamilton told his Constituency Labour Party (CLP) in Leeds North East of his decision to resign "given that our party was divided and that more than 80 per cent of Labour MPs no longer had confidence in Jeremy's leadership".
He added: "I was also very concerned about the treatment of a Jewish MP by a party member at the launch of the report into anti-Semitism in the Labour Party which took place last week."
Ms Eagle, the former Shadow Business Secretary, had earlier in the day issued a stark warning to her leader and threatened to mount a leadership challenge if Mr Corbyn failed to stand down.
Ms Eagle told Sky News as she left her home that she had enough support to challenge Corbyn directly. "There are many people, MPs, party members up and down the country, asking me to resolve the impasse and I will if something isn't done soon," she said. "I have the support to run and resolve this impasse and I will do so if Jeremy doesn't take action soon."
Jeremy Corbyn: Sharpening up his style

Show all 6
Both Ms Eagle and her former shadow cabinet colleague Owen Smith are reportedly considering staging a leadership challenge but union leaders have insisted they can broker a peace deal between the warring sides.
But shadow chancellor John McDonnell, one of Mr Corbyn's oldest political friends and close ally, suggested Labour MPs were engaged in "mass hysteria" and needed to "calm down".
In the video shared on social media Mr Corbyn said: "After the events of the past week, I wanted to talk directly to Labour Party members…only nine months ago I was very honoured to be elected leader of our party with 60% of the votes, I have a huge responsibility, I'm carrying out that responsibility."
He went on: "The membership has gone up by more than 60,000 in one week…we're now at the biggest membership we've been, certainly in all of my lifetime.
Ed Miliband: Jeremy Corbyn's position has become untenable
"That membership wants and expects all of us - me as leader and members of Parliament, to work together in their interests, the interests of everyone in this country, to achieve a better society, better standards of living and real equality in the future.
"That's what the Labour Party stands for."
Meanwhile, the Labour leader also appeared before the Home Affairs Select Committee in Westminster to answer questions into the party's antisemitism inquiry. Mr Corbyn condemned Ken Livingstone's controversial comments regarding Adolph Hitler and Zionism.
Asked whether he agreed with Mr Livingstone that the anger over his comments had been whipped up by "embittered Blairites" in the party, Mr Corbyn responded: "No I think we have to condemn the way he made the remarks and the remarks themselves and the equation of Hitler and Zionism at the same time."
Jeremy Corbyn 'compares Israeli state to Isis'
Mr Corbyn also expressed regret at his choice of words at a press conference launching a Labour report into antisemitism which led to claims he was drawing a parallel between Israel and the Islamic State terror group. He had told the event that Jews were "no more responsible for the actions of Israel" than Muslims were for the "various self-styled Islamic states or organisations".
The Labour leader yesterday: "It would have been better, with hindsight - and many things are much better with hindsight, as every one of us around this table is well aware - if I had said Islamic countries rather than states."
The Labour leader also expressed regret about previously calling Hezbollah and Hamas as "friends".
Register for free to continue reading
Registration is a free and easy way to support our truly independent journalism
By registering, you will also enjoy limited access to Premium articles, exclusive newsletters, commenting, and virtual events with our leading journalists
Already have an account? sign in
Register for free to continue reading
Registration is a free and easy way to support our truly independent journalism
By registering, you will also enjoy limited access to Premium articles, exclusive newsletters, commenting, and virtual events with our leading journalists
Already have an account? sign in
Join our new commenting forum
Join thought-provoking conversations, follow other Independent readers and see their replies