'Women only' train carriages: Jeremy Corbyn unveils radical move to tackle public harassment
Left-winger calls for 24-hour hotline and council positions for women's safety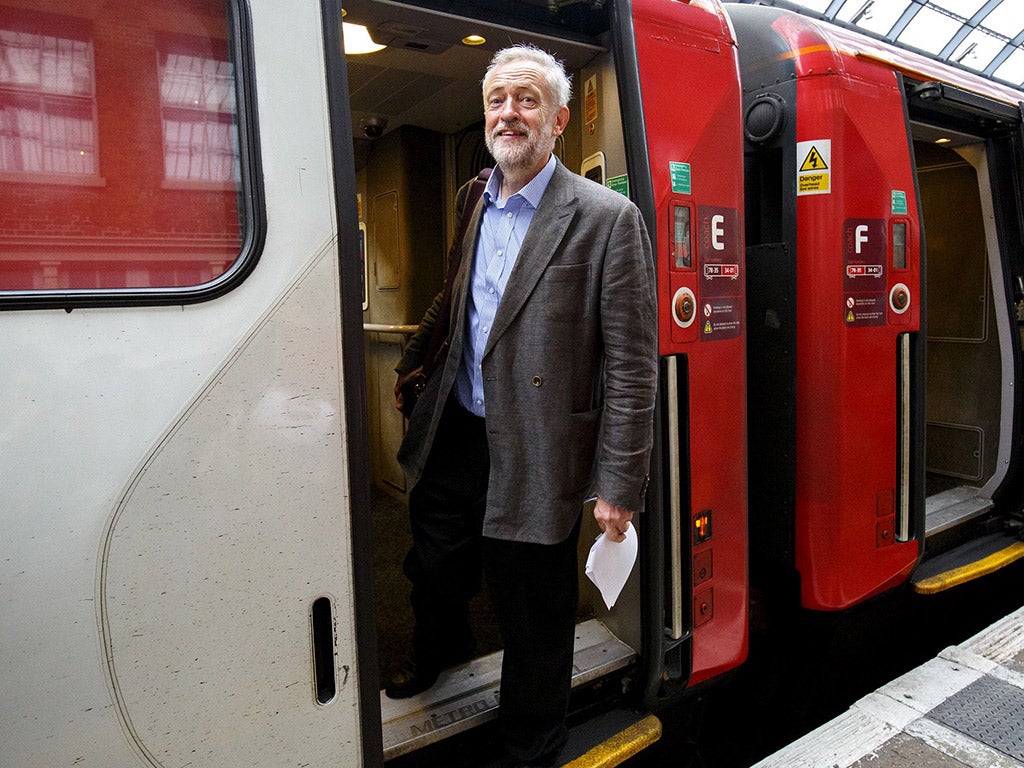 "Women only" carriages could be introduced on trains at night to tackle the growing problem of sexist harassment in public places, Jeremy Corbyn will say.
The frontrunner for the Labour leadership will also call for a new 24-hour police hotline dedicated to reporting harassment and assault and for councils to appoint cabinet positions for women's safety.
The initiative follows growing evidence in recent years of the extent of the verbal – and sometimes physical – harassment of women in public places.
Sex offences on London's Tube and train network rose more than 32 per cent to record levels last year, according to figures released earlier this month.
A YouGov survey carried out by End Violence Against Women Coalition, a campaign group, has also previously shown that 43 per cent of women aged between 18 and 34-years-old living in London had experienced sexual harassment in public spaces.
Labour leadership: The Contenders
Show all 4
The harassment ranged from wolf-whistling and lewd comments to physical groping and sexual assault. Of the total, 21 per cent classified the abuse as unwanted sexual attention and 4 per cent said they had been physically touched by someone. A number of other countries including Japan, India and Russia already have women-only cars on some trains and in Britain the Transport Minister, Claire Perry, has suggested in the past that it was something the Government might be open to.
But some women's groups disagree. "I d.on't think at all that women-only carriages are the solution – I think it's a step back. It seems to accept that the problem is inevitable, that men will harass women and that all we can do is contain them," Laura Bates, founder of the Everyday Sexism Project, has argued.
Under Mr Corbyn's plan, women would be able to report crimes in stations and a pilot scheme would be rolled out on trains and Tubes to introduce women-only carriages after 10pm at night.
He would also pledge to launch a campaign on public transport, television and cinema aimed at combating street sexism, and raise awareness of the effects of harassment.
"It is simply unacceptable that many women and girls adapt their daily lives in order to avoid being harassed on the street, public transport and in other public places from the park to the supermarket. This could include taking longer routes to work, having self-imposed curfews, avoiding certain means of transport," he will say.
Eileen Best, of the union Unison, which is supporting the Corbyn campaign, said it backed the plan. "The moves by Jeremy Corbyn to tackle street harassment as well as the underlying causes of sexism are much welcomed," she said.
Andy Burnham has faced criticism after suggesting that Labour should only have a woman leader "when the time is right".
Mr Burnham made the comment when asked whether it was time for a woman to lead Labour at BBC Radio 5 Live's leadership hustings.
He quickly clarified his remarks, saying: "When the right candidate comes forward. It could be now, it could be in the future. Who knows?"
Diana Johnson, MP for Kingston upon Hull North, who is supporting Yvette Cooper, questioned whether he was suggesting the party was not ready for a female leader.
"After 100 years of campaigning for women's equality are we really saying we don't think a woman can do the top job? The big question to Andy is, 'If not now, then when?'"
Join our commenting forum
Join thought-provoking conversations, follow other Independent readers and see their replies