Jeremy Corbyn's ability to become Prime Minister questioned by shadow defence secretary
Maria Eagle described the Labour leader's comments on Trident as unhelpful coming from a 'potential Prime Minister'
Matt Dathan
Online Political Reporter
Wednesday 30 September 2015 15:07 Comments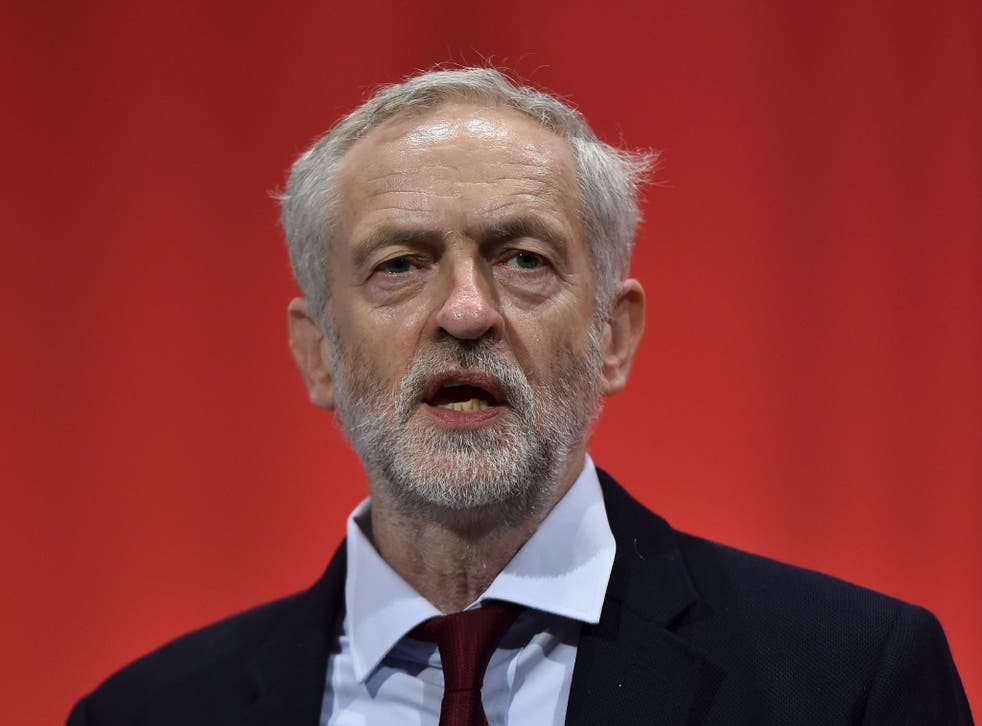 Jeremy Corbyn's shadow defence secretary called into question his ability to become Prime Minister after he triggered an extraordinary public row between senior members of his frontbench by saying he would never press the nuclear button if elected to Downing Street.
Maria Eagle said his comments undermined his own pledge to bring in a new, consensual style of politics and described them as unhelpful coming from a "potential Prime Minister".
Shadow foreign secretary Hilary Benn, shadow home secretary Andy Burnham and Angela Eagle, the shadow business secretary, also spoke out against Mr Corbyn's assertion that he would never deploy nuclear weapons as Prime Minister.
Mr Benn insisted the official Labour party policy was to maintain Britain's independence nuclear deterrent, adding: "I would say that any Prime Minister has to have the option because that is the whole theory on which deterrence is based."
Mr Corbyn was asked earlier today whether he would ever be prepared to push the nuclear button if it came to it. ""No," he replied. "187 countries don't feel the need to have a nuclear weapon to protect their security, why should those five need it themselves?
"We are not in the era of the Cold War any more, it finished a long time ago." In further comments that risk causing an even bigger backlash, Mr Corbyn said nuclear weapons "did not do the United States any good on 9/11".
Ms Eagle, who has the job of overseeing Mr Corbyn's "open dialogue" on whether to renew Trident, could not hide her discontent at the comments.
"I think it undermines to some degree our attempts to try and get a policy process going. As far as I'm concerned we start from the policy we have," she told BBC Radio 4.
"I don't think that, a potential Prime Minister answering that question like that, in the way in which he did, is helpful."
However fellow shadow cabinet minister Diane Abbott hit out at Ms Eagle, saying on Twitter she was "surprised" that Ms Eagle had criticised Mr Corbyn for "making his position clear on Trident".
And shadow women and equalities minister Kate Green said she was "very glad" that finally the leader of the Labour party was so hesitant to press a button on something that could wipe out the world and all of us in it".
She added: "And I don't think anybody ever felt that any sensible decision to use it could ever be taken, the consequences would be so horrendous."
The remarkable open argument between shadow cabinet members saw Ms Eagle backed up by her sister and fellow shadow cabinet minister, Angela Eagle, who said: "If you've got nuclear weapons systems you've got to be prepared to use them."
And Mr Burnham added his voice to the growing number of shadow cabinet members publicly voicing their opposition to their leader's pledge never to consider pushing the nuclear button. "Personally I don't think now is the time to drop our defences," he said.
Asked if Mr Corbyn would have to resign if the party decided to keep Trident, Mr Burnham said: "Nobody would want to see those circumstances arise, but I'm saying to you it is consistent to agree to the renewal of Trident because it would outlive the term of office of any individual prime minister, so I think, there's so much water to pass under a bridge before that moment would ever be reached, let's have the debate about the renewal of Trident, take a decision on something of this crucial importance and then, as Jeremy is saying move, forward with that decision."
Register for free to continue reading
Registration is a free and easy way to support our truly independent journalism
By registering, you will also enjoy limited access to Premium articles, exclusive newsletters, commenting, and virtual events with our leading journalists
Already have an account? sign in
Join our new commenting forum
Join thought-provoking conversations, follow other Independent readers and see their replies