Labour MPs who criticise Corbyn should quit party and 'go and do something else', Len McCluskey says
Unite leader says critics of Labour leader 'have no part to play'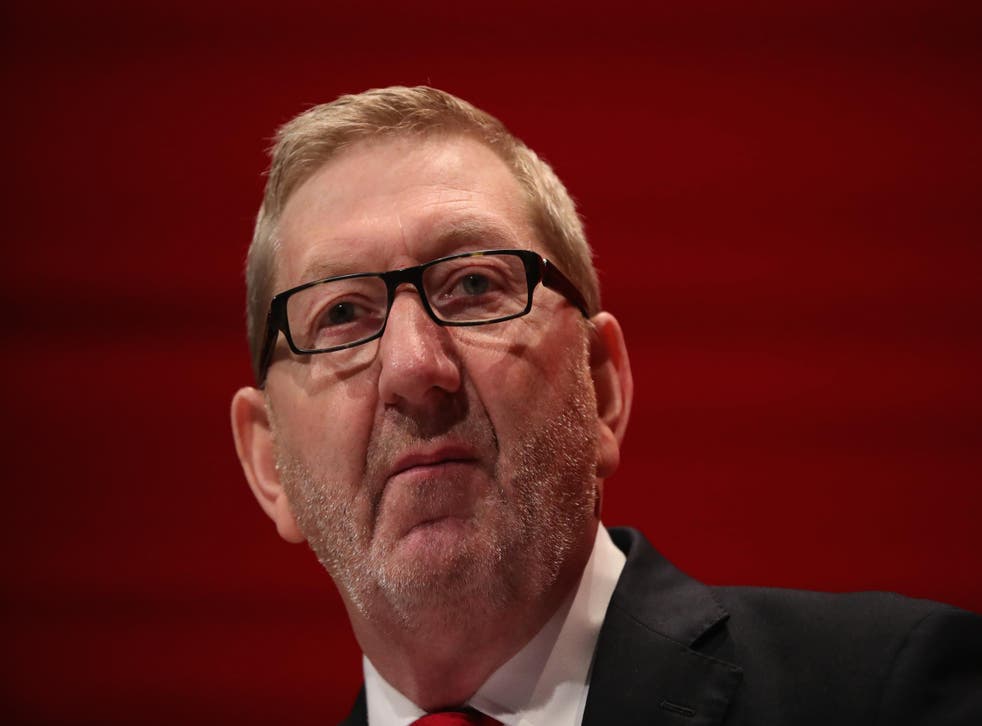 Labour MPs who criticise Jeremy Corbyn should leave the party and "go and do something else", Len McCluskey has said.
The head of Britain's biggest trade union, Unite, and staunch Corbyn ally told The Independent that critics of the Labour leader "have no part to play" and should "go elsewhere".
It follows ongoing speculation about the prospect of some Labour MPs forming a breakaway grouping in parliament amid anger over Mr Corbyn's position on Brexit and his handling of antisemitism in the party.
Three of the party's MPs have already quit in the last two months.
Mr McCluskey said he did not want to see a split in the Parliamentary Labour Party (PLP) but suggested MPs and party members unhappy with Mr Corbyn's leadership "may want to go elsewhere".
In comments likely to anger Labour MPs, he said: "Anyone who doesn't want unity at this critical point, where we have an opportunity to get rid of this government that has brought so much misery on ordinary working people, has no part to play and so they should leave and go and do something else.
"Nobody wants splits but there might be individuals, whether they're members of the PLP or ordinary members of the party, who, if they're not comfortable, may want to go elsewhere."
Mr McCluskey had earlier told a fringe meeting at the 150th Trades Union Congress in Manchester: "I send out a message to all of those Labour MPs who seek constantly to criticise Jeremy Corbyn: please turn your attacks away from our leader, who represents our views, and turn them onto the government who are attacking our communities.
"That's what you were elected for, that's why you are there."
He said Labour was "the only party that can take us forward in these difficult times", adding; "Unity is essential and those people who don't want to unite in this great cause that lies ahead of us should leave and go elsewhere and let the rest of us fight."
Speaking to The Independent, he added: "What is essential at the moment is supporting the leader. We are within touching distance of power and that power is desperately needed in a broken Britain. It's that that should dominate their thoughts, not nit-picking on issues where they have differences with the leader."
UK news in pictures

Show all 50
Mr McCluskey said he hoped MPs would not leave the party but instead "unite behind the leader and stop being critical of our leader in these difficult circumstances".
Concerns about Mr Corbyn's leadership should only be raised if Labour gains power, he added.
Labour's bitter internal row deepened over the weekend when MP Chuka Umunna demanded Mr Corbyn "call off the dogs" after party members passed votes of no confidence in several Labour MPs.
His comments prompted an angry backlash from members and some of the party's MPs.
Ian Lavery, chairman of the Labour Party, told Sky News Mr Umunna should apologise to party members, "who has he offended immensely".
He said: "That is so disrespectful, it's so offensive to members of the Labour Party.
"Calling anybody a dog is absolutely outrageous in the extreme, and Chuka Umunna of all people should know that.
Tony Blair warns Labour may never be 'taken back' from Corbynites
Mr McCluskey defended Mr Umunna's choice of language, but criticised the MP for "always finding a reason to attack Jeremy Corbyn".
Asked about the "call off the dogs" comment, he said: "It's a figure of speech, I'm sure he didn't mean it personally, but the comments I've just made obviously fit with Chuka and a number of others who seem to always find a reason to attack Jeremy Corbyn.
"I wish they'd recognise the current state of the political situation that we're in. I wish they'd understand that now is the time for unity in order to get rid of this government."
Join our new commenting forum
Join thought-provoking conversations, follow other Independent readers and see their replies