Jeremy Corbyn set to win bigger Labour leadership landslide than last year, poll shows
A survey shows the Labour leader ahead in all formal sections of the electorate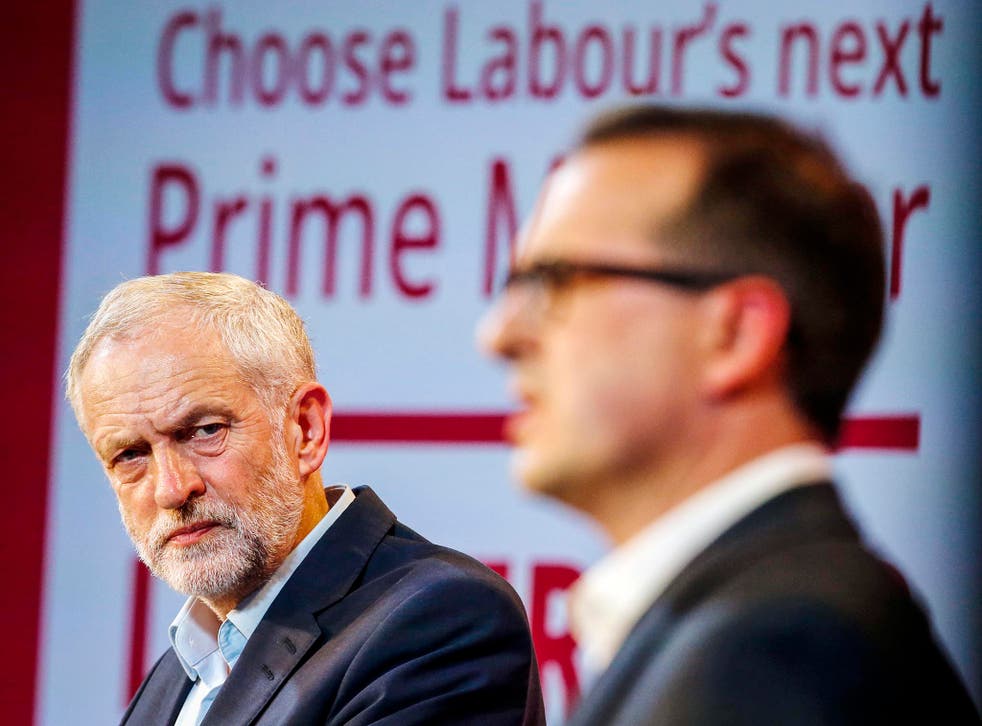 Jeremy Corbyn is on course for a landslide victory in Labour leadership race, according to a new poll showing him leading Owen Smith, his contender, by 24 points.
A YouGov survey for The Times of those entitled to vote in the contest puts the current Labour leader on 62 per cent with Mr Smith trailing on 38 per cent.
The Labour leader, who has remained defiant in the face of a coup from his parliamentary colleagues, has majority support among all three groups that are eligible to vote in the contest - full members, registered supporters and union affiliates.
The results would represent an increase in support from Mr Corbyn compared to the results of the 2015 leadership election – where he won 59.5 per cent of members' vote.
Most of this increase comes from the leader attracting new supporters, however. Labour members who joined before May 2015 – a group Mr Corbyn won last year – backed Owen Smith by 68 per cent to 32 per cent.
In a significant finding, the poll also adds that half of the respondents said they would support the reselection of sitting MPs - a process abolished by the former Labour leader Neil Kinnock. This result represents a marked uptick in support for reselections compared to previous polling on the matter.
Owen Smith suggests Labour hustings audience might be entryists after they laugh at his praise for Kezia Dugdale
The left-wing leader's lead in the poll comes despite Labour's ruling body winning a challenge against a High Court decision allowing new party members to vote in the contest. The decision to overturn the High Court judgement was widely expected to have damaged Mr Corbyn's campaign to retain his position at the helm of the party.
Thousands of Labour members have also been excluded from the party by officials for reasons including having previously expressed approval of other parties on Twitter.
The most ridiculous claims made about Jeremy Corbyn

Show all 11
But the poll by YouGov, who correctly predicted Labour's last leadership election, shows Mr Corbyn winning regardless of apparent attempts to exclude supporters through both legal and rulebook means.
According to the party, more than 640,000 members and supporters are eligible to vote in the contest between Mr Corbyn and Mr Smith. Voting began last week and the leadership race will come to a conclusion when the result is announced on the eve of Labour's annual conference.
The poll comes as Mr Smith, who has attempted to position himself in the contest on "radical" platform, told The Independent that Labour must take a strong pro-immigration stance even if it means shedding votes to UK Independence Party (Ukip). He said that his party needs to be positive on immigration regardless of whether it leads to "electoral damage".
However, in a major blow to Mr Smith's campaign the poll shows he is slightly behind with those who voted to Remain in the European Union referendum despite placing the issue - and the policy to hold a second referendum on the terms of Brexit - at the forefront of his leadership bid.
The poll only shows lukewarm support for the policy among Labour voters, who back it by 46 per cent to 43 per cent. It is unpopular with the wider electorate, who reject a second vote by 54 per cent to 34 per cent.
Join our new commenting forum
Join thought-provoking conversations, follow other Independent readers and see their replies