Jeremy Corbyn risks sparking rift with Andy Burnham over Shadow Cabinet 'revenge reshuffle'
The shadow Home Secretary's closest political ally, MIchael Dugher, is under threat in the forthcoming reshuffle
Mark Leftly
Deputy Political Editor
Saturday 02 January 2016 22:50 Comments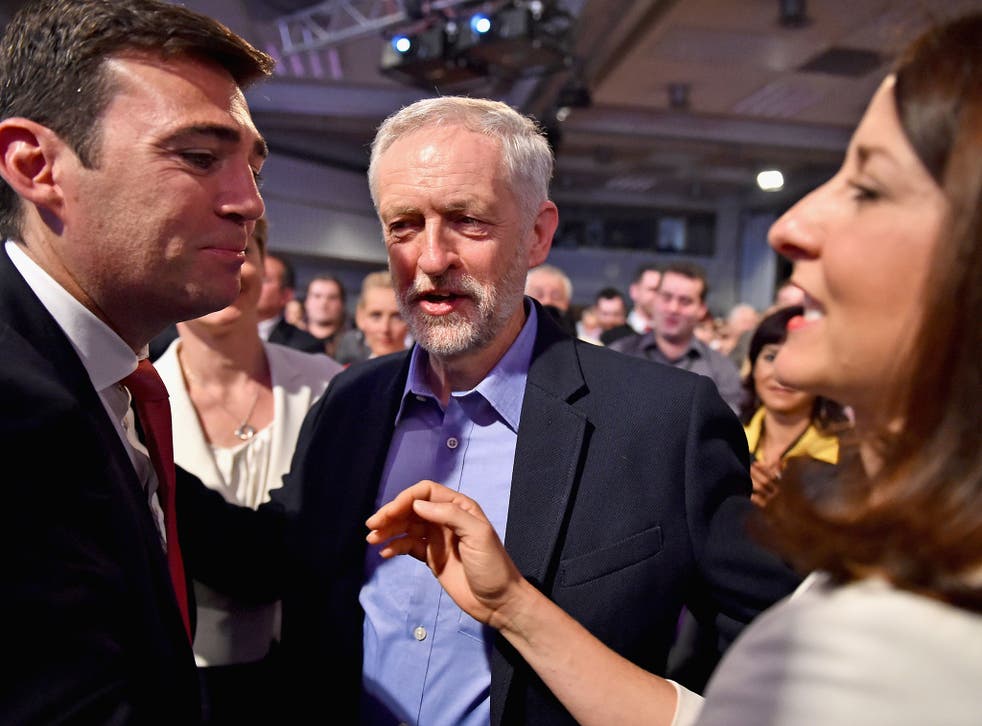 Jeremy Corbyn risks sparking a dangerous rift with Andy Burnham, who came second to him in the Labour leadership contest, by sacking the shadow Home Secretary's closest political ally.
The Independent on Sunday has learned that Mr Burnham agreed to serve in Mr Corbyn's Shadow Cabinet only if Michael Dugher, his leadership campaign manager, was also given a top job. Mr Dugher was made shadow Culture, Media and Sport Secretary in September, but just four months later is under threat in the forthcoming reshuffle.
Much of the speculation over who will be sacked in what has been described as a "revenge reshuffle" has focused on Hilary Benn, the shadow Foreign Secretary, who defied Mr Corbyn by voting for Syrian air strikes last month and gave one of the great modern House of Commons speeches defending his position. The shadow Defence Secretary, Maria Eagle, is also at risk of demotion, as is Chief Whip Rosie Winterton, even though the latter abstained over air strikes.
Mr Dugher is less high profile, but kicking him out of the Shadow Cabinet could be even more divisive as it would infuriate Mr Burnham, who remains one of the party's heavy hitters. One in five members and supporters backed him in the leadership contest. Unlike the other leadership candidates, Yvette Cooper and Liz Kendall, Mr Burnham agreed to join Mr Corbyn's Shadow Cabinet for the sake of party unity.
But Mr Dugher has infuriated the Labour leadership with a number of unhelpful public comments, such as calling the establishment of Momentum, the pro-Corbyn faction looked upon with suspicion by Labour's right wing, "crazy".
Jeremy Corbyn's first 100 days in 60 seconds
He also joined Mr Benn in backing the Government's motion to bomb Isis in Syria. Last week Mr Dugher wrote an article referring to news of the planned reshuffle, so early in Mr Corbyn's reign, as "revenge" and not the "new politics" based on civility that the leader had pledged.
He said: "I was also attracted by Jeremy's call for a new, kinder politics. This would be one where there would be room for a little dissent and where the party, including the Shadow Cabinet, would have the confidence to have proper debates and discussions… All Labour's energy should be focused on getting after the Tories."
The reshuffle, which could take place this week, is supposed to tighten Mr Corbyn's grip on the parliamentary party, after Shadow Cabinet ministers frequently briefed against him and his efforts to move the party to the left. A source close to Mr Corbyn said placating Mr Burnham, should Mr Dugher be sacked, was "a bridge that will have to be crossed" when it arose.
A senior Shadow Cabinet source close to Mr Burnham said: "Michael [Dugher] is one of the best communicators the party's got – why remove one of your best communicators from the front line? The whole talk about removing people is a mistake. We're four months in – the talk should be about bedding in and going after the Tories."
A Labour moderate MP who voted against air strikes said: "I hope he [Mr Corbyn] doesn't get rid of people who voted for extending air strikes to Syria. There has got to be a place for people like Hilary Benn. Michael is a good campaigner, a good politician. Sacking him would send a bad signal. Michael put the party first by joining the Shadow Cabinet, then they reward him by sacking him – it's betrayal. All this talk is a distraction from fighting the Tories."
A senior Labour aide added: "Dugher's only in the Shadow Cabinet because Andy Burnham made it a condition of joining Corbyn's team. There's a live debate on whether Corbyn should make a full-on assault [by sacking many of his front bench critics], tinker at the edges, or do something in between."
There has also been talk that Ed Miliband could return to the Shadow Cabinet less than a year after leading Labour to an unexpectedly devastating election defeat. It is thought he would like to take on the energy and climate change brief, for which he was secretary of state under Gordon Brown.
The aide argued, though, that it was too soon for Mr Miliband to be rehabilitated in the eyes of the public. Another failed leader, the Conservatives' Iain Duncan Smith, sat on the back benches for several years before returning to the front bench.
One of Mr Corbyn's biggest supporters, the shadow International Development Secretary Diane Abbott, accused right-wing Labour MPs of becoming "hysterical" over the prospect of a reshuffle.
Register for free to continue reading
Registration is a free and easy way to support our truly independent journalism
By registering, you will also enjoy limited access to Premium articles, exclusive newsletters, commenting, and virtual events with our leading journalists
Already have an account? sign in
Join our new commenting forum
Join thought-provoking conversations, follow other Independent readers and see their replies