Jeremy Corbyn says Royal Mail should be brought back under public control
The Labour leader says workers should be more involved in the running of public services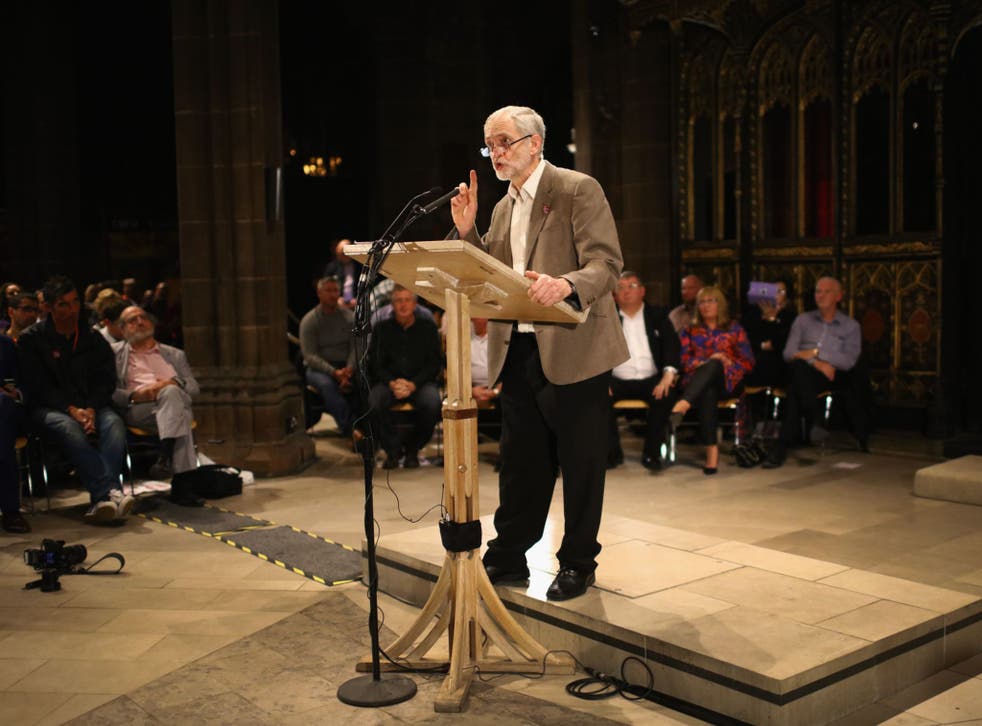 Labour would return Royal Mail to public control and oppose the sell-off of the service's remaining state-owned shares, the party's leader has said.
Jeremy Corbyn argued that postal workers played a vital role in the community and that it was important that the universal service obligation was retained.
"Our party is committed to opposing austerity, commited to opposing the privisation of Royal Mail, commited to the public control of Royal Mail and other public services. Our party is committed to doing things in a very different way," he told thousands gathered at a rally outside Manchester Cathedral.
"They have already sold off a large tranche of Royal Mail shares … we must demand immediately an end to the whole notion to the sale of the remaining 15 per cent that is publicly owned – keep it public, keep it safe, keep it ours."
The measures announced by the Labour leader would see the state retain its remaining 15 per cent stake in Royal Mail and put the rest of the organisation under public control through unspecified means.
Mr Corbyn however shied away from explicitly announcing full renationalisation of the postal service or any kind of share buyback for the shares already sold off.
The Labour leader said he did not want public control of industries to necessary mean top-down control and that workers should be more involved in how services were run and planned.
"I want to see publicly owned industries managed in a very different way. I don't think they should necessarily be a mirror of the way the private sector manages things," he said.
"Every postal worker is a person of skill and knowledge. Every postal worker has ideas and may have suggestions about how we could do things differently or better. Why do we so often suppress the imagination, and intelligence and ideas of so many people?
"I want us to run our economy on the basis that everyone in society matters."
Mr Corbyn delivered the same speech twice on Monday evening in Manchester, once inside and once outside Manchester Cathedral.
The cathedral was full of people waiting to watch the Labour leader around an hour before the rally where he was speaking was due to start, with stewards directing latecomers to a stage in a public square around the back.
The rally was organised by the Communication Workers' Union (CWU) as part of its People's Post campaign.
Mr Corbyn broke convention by delivering a speech during Conservative conference in Manchester, which is also being held in the city until Wednesday of this week.
Yesterday a protest march in the city against the Conservative conference drew at least 60,000 people according to police estimates, with organisers claiming attendance of over 80,000.
Register for free to continue reading
Registration is a free and easy way to support our truly independent journalism
By registering, you will also enjoy limited access to Premium articles, exclusive newsletters, commenting, and virtual events with our leading journalists
Already have an account? sign in
Register for free to continue reading
Registration is a free and easy way to support our truly independent journalism
By registering, you will also enjoy limited access to Premium articles, exclusive newsletters, commenting, and virtual events with our leading journalists
Already have an account? sign in
Join our new commenting forum
Join thought-provoking conversations, follow other Independent readers and see their replies