Jeremy Corbyn vows to end UK's 'failed model of capitalism' as he promises new deal for tenants and women workers
Soaring rents would be capped and residents handed a veto on redevelopment schemes that threaten 'social cleansing', Labour leader pledges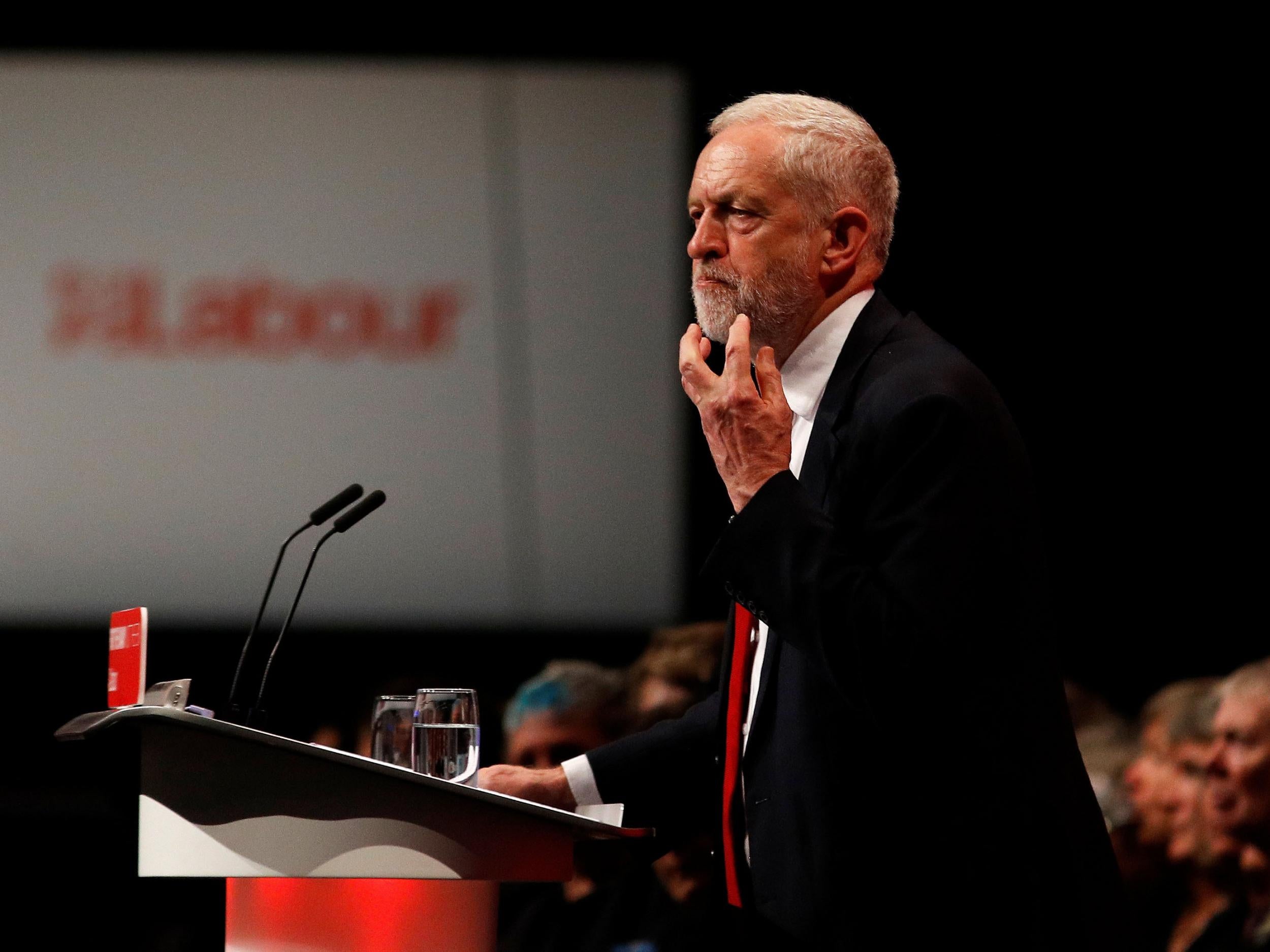 Jeremy Corbyn has vowed to put tenants – not "property speculators" – in control of their homes, as he put a renting revolution at the heart of his programme for No 10.
Soaring rents would be capped and residents handed a veto on redevelopment schemes that threaten "social cleansing", in the wake of the Grenfell Tower tragedy, he said.
In a confident conference speech, the Labour leader also made an eye-catching promise to make organs available for life-saving transplants unless people opted out.
There would be fines for companies that fail to close the pay gap between men and women, as part of a mission to replace Britain's "failed model of capitalism".
The speech – widely seen as his best as leader – was delayed by the packed Brighton hall chanting "Ohhh Jeremy Corbyn" for three minutes, reflecting his new dominance over his party.
Within minutes of it ending, one bookmaker slashed the odds on Mr Corbyn becoming prime minister within the next 12 months to just 5-1.
The 75-minute address saw the Labour leader relish his success in destroying Theresa May's Commons majority with a witty denunciation of his enemies in the Tory-backing press.
Noting the Daily Mail had attacked him over 14 pages, only for Labour's vote to leap by nearly 10 per cent, he urged its editor: "Next time, please could you make it 28 pages?"
Mr Corbyn also hammered the Conservatives for overseeing the very "coalition of chaos" they had warned Labour would lead, ahead of polling day.
"They have tracked down the magic money tree when it was needed to keep Theresa May in Downing Street," he told delegates.
"It was given a good old shake – and lo and behold – now we know the price of power. It's about £100m for each Democratic Unionist MP."
Reflecting Labour's new confidence that power is within its grasp, Mr Corbyn pointed to "the centre of politics moving, and politics catching up with the crash of 2008".
Promising a new economic model, built around a bigger public sector, he said: "Today's centre ground is certainly not where it was 20 or 30 years ago.
"A new consensus is emerging from the great economic crash and the years of austerity, when people started to find political voice for their hopes for something different and better."
Mr Corbyn added: "This is the real centre of gravity of British politics. We are now the political mainstream."
Tim Roache, the GMB general secretary, was among union bosses to hail the speech, for recognising that "tinkering around the edges with a broken economy won't deliver the change people so desperately need".
But Carolyn Fairbairn, the CBI director general, said Labour's business-bashing would do "little to reassure anxious entrepreneurs and investors about the UK's future as a great place to do business".
The Conservatives claimed that spending promises made by Labour since the election campaign "would cost the taxpayer an eye watering £312bn".
On Brexit, Mr Corbyn risked accusations of unrealistic aims by claiming Labour could oversee withdrawal and yet secure a deal that "guarantees unimpeded access to the single market".
The most detailed policy section was on housing, where Mr Corbyn pointed to the Grenfell Tower blaze as a "tragic monument" to a system that "has contempt for working-class communities".
Labour would make "every home fit for human habitation", allow local councils to introduce rent controls, make developers sitting on land banks "use it or lose it" and curb gentrification.
Warning "tenants are not being listened to", Mr Corbyn said: "After Grenfell we must think again about what are called regeneration schemes.
"Too often what it really means is forced gentrification and social cleansing, as private developers move in and tenants and leaseholders are moved out."
He vowed that "regeneration under a Labour government will be for the benefit of the local people, not private developers, not property speculators".
And he added: "Councils will have to win a ballot of existing tenants and leaseholders before any redevelopment scheme can take place. Real regeneration, yes – but for the many not the few."
The leader's aides later suggested controls to slam the brakes on fast-rising rents could be modelled on the system introduced by the city council in Berlin.
Landlords are barred from increasing rents by more than 10 per cent above the local average, for both existing tenants and new contracts.
Join our commenting forum
Join thought-provoking conversations, follow other Independent readers and see their replies