Jeremy Corbyn steams ahead in Labour leadership race as another trade union pledges its support
Senior Labour figures now admit that the veteran left-wing backbencher has a real chance of victory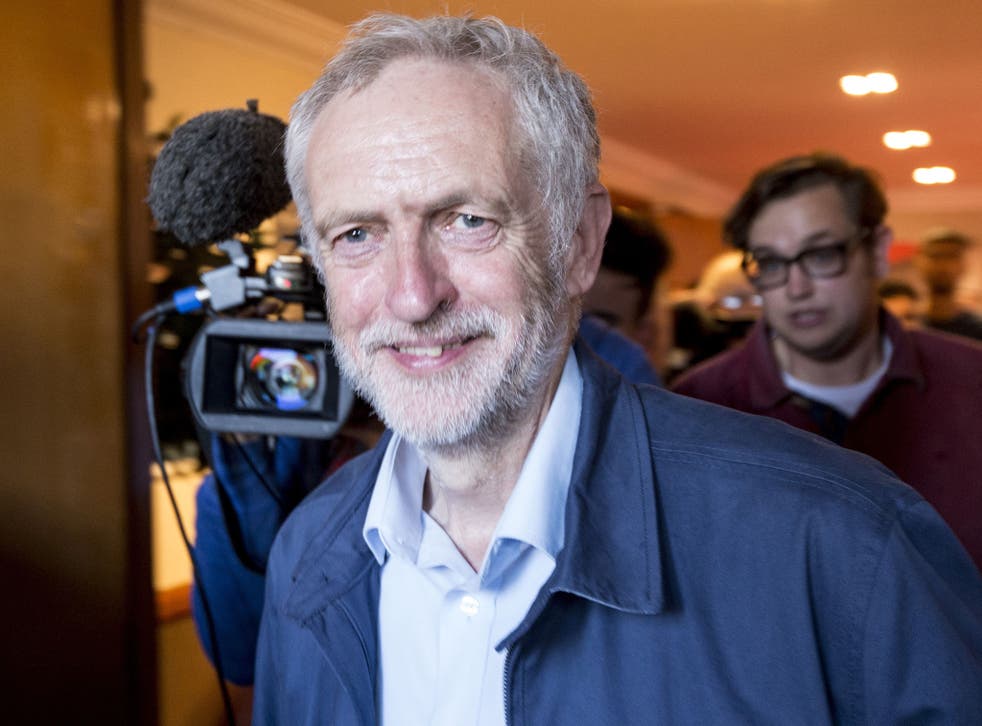 Jeremy Corbyn took another step towards winning the Labour leadership on 30 July by gaining the support of a trade union which hailed him as the man to purge the party of Blairites.
Senior Labour figures admitted the veteran left-wing backbencher, who entered the race as a rank outsider, now has a real chance of pulling off a shock victory over the mainstream candidates Andy Burnham, Yvette Cooper and Liz Kendall.
Labour MPs believe Mr Corbyn is likely to top the poll in the first round of voting –which would be a remarkable achievement. Under Labour's preferential voting system, the bottom candidate drops out until one runner gets more than 50 per cent of the votes. Opponents believe the best hope of stopping Mr Corbyn lies with either Ms Cooper or Mr Burnham in a final run-off after the second preference votes of people who backed eliminated candidates are reallocated.
Mr Corbyn won the backing of two more unions, the Communication Workers and TSSA, the white-collar rail union. He had already secured the support of the two biggest unions, Unite and Unison.
Dave Ward, leader of the Communication Workers Union, urged Labour members to join a Corbyn crusade to bury New Labour. "The grip of the Blairites and individuals like Peter Mandelson must now be loosened once and for all," he said. "There is a virus within the Labour party and Jeremy Corbyn is the antidote."
He added: "We reject the notion that Labour needs to move to the centre ground of British politics, The centre ground has moved significantly to the right in recent years. We do not see arguing for fairer wealth distribution, decent jobs with good pay, terms and conditions and a substantial increase in affordable housing for the next generation as a left-wing agenda."
Manuel Cortes, general secretary of TSSA, said: "Jeremy is straight-talking and puts forward sensible policies which resonate with ordinary people. Jeremy is clearly articulating why we must end the austerity quagmire and that Labour's economic policies must move on from failed neoliberalism."
Mr Corbyn, said the unions' backing was "further proof that people from all walks of life are coming together to support high quality services, and a public investment strategy to bring secure jobs, affordable housing and a Britain based on creating shared prosperity not continual austerity for the many."
John Healey, a Labour MP and former Treasury minister, warned that the leadership election risks splitting the party into two camps – either backing Tory spending cuts to convince must-win Tory waverers or opposing all cuts. Calling for a mainstream economic policy, he wrote in The Independent: "Both positions rest on little proper analysis or argument, and so both would be a poor platform for any aspiring Labour government." Mr Healey warned: "No one with serious intent to be prime minister would make the case to the country in terms that excite Labour activists but leave the voters we must win back cold."
Tom Watson, the front-runner to become Labour's deputy leader, said Mr Corbyn would have a problem enforcing discipline as leader after defying the whip on more than 500 occasions since becoming an MP in 1983. Mr Watson told the Huffington Post: "It would certainly be a difficult thing for him to try and command discipline within parts of the Parliamentary Labour Party with that voting record."
Stella Creasy, another deputy leadership candidate, said Labour must abandon "machine politics" and "lines to take" to stop disillusioned members walking away. "For too long factional battles have come before party interest," she said.
Register for free to continue reading
Registration is a free and easy way to support our truly independent journalism
By registering, you will also enjoy limited access to Premium articles, exclusive newsletters, commenting, and virtual events with our leading journalists
Already have an account? sign in
Register for free to continue reading
Registration is a free and easy way to support our truly independent journalism
By registering, you will also enjoy limited access to Premium articles, exclusive newsletters, commenting, and virtual events with our leading journalists
Already have an account? sign in
Join our new commenting forum
Join thought-provoking conversations, follow other Independent readers and see their replies