Jeremy Corbyn accuses Theresa May of 'hiding from the public' after employees were barred from workplace rally
'She didn't arrive until we'd all left for the day. Everyone in the building past 6pm was invite-only'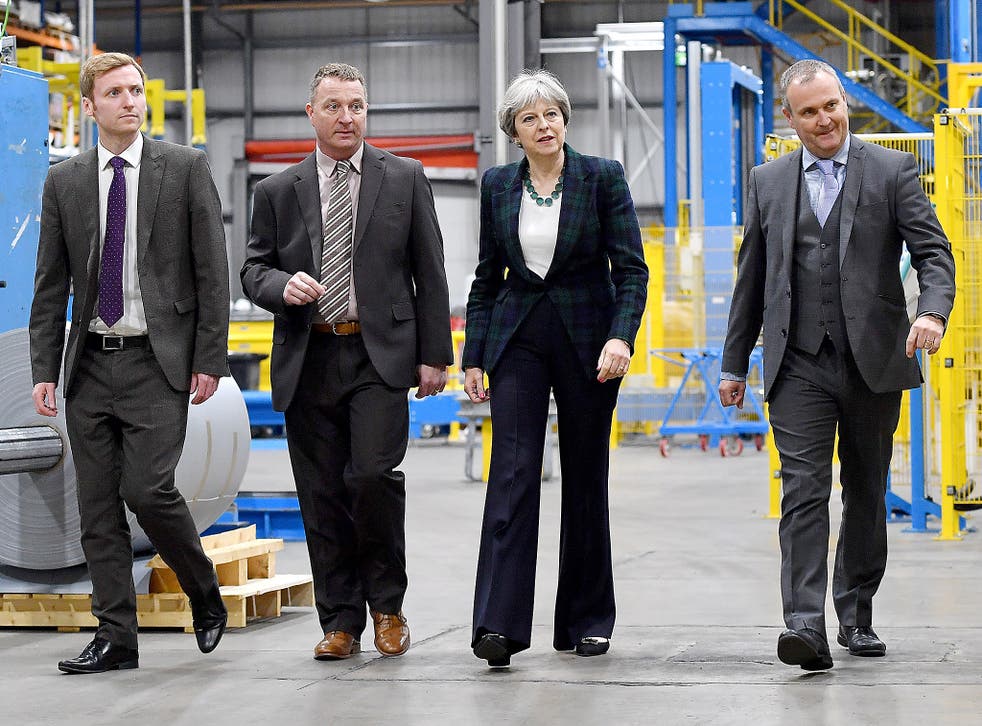 Jeremy Corbyn has accused Theresa May of "hiding from the public" after staff were barred from the Prime Minister's rally at their workplace.
The Labour leader said Ms May's refusal to face real voters on the campaign trail was "showing contempt for the public" and suggested she was scared of them.
The attack comes after she only appeared at a campaign event in a Leeds business centre after all the staff had been sent home for the evening.
Theresa May apparently unsure where she is: 'I'm pleased to come to this particular town'
The tactic allowed the Conservatives to pack the event with the party faithful. The Prime Minister only faced questions from journalists.
Earlier, speaking to reporters in Clay Cross, in Derbyshire, she appeared to forget where she was, telling them she was "very happy to be in this, urr, particular town".
It follows Ms May's refusal to take part in campaign TV debates, prompting broadcasters to suggest she could be "empty-chaired".
Mr Corbyn said: "Theresa May is hiding from the public. She won't take part in TV debates and she won't talk to voters.
"Refusing to debate Labour in this election isn't a sign of strength, it's a sign of weakness.
"What is she afraid of? Voters deserve to know what political parties are offering. We are setting out our plans to rebuild and transform Britain."
In Leeds, the Prime Minister won huge cheers with an audacious appeal to Labour supporters to "lend me their vote" to give her the strength to deliver a successful Brexit.
But one employee then revealed the Conservatives waited until all the staff had gone home and that the event was only for party supporters.
Rik Kendell, a developer and designer, tweeted: "That's my workplace, she didn't arrive until we'd all left for the day. Everyone in the building past 6pm was invite-only."
The Conservative Party has not yet responded to a request from The Independent to comment on the accusation that Ms May is "hiding from the public".
Register for free to continue reading
Registration is a free and easy way to support our truly independent journalism
By registering, you will also enjoy limited access to Premium articles, exclusive newsletters, commenting, and virtual events with our leading journalists
Already have an account? sign in
Register for free to continue reading
Registration is a free and easy way to support our truly independent journalism
By registering, you will also enjoy limited access to Premium articles, exclusive newsletters, commenting, and virtual events with our leading journalists
Already have an account? sign in
Join our new commenting forum
Join thought-provoking conversations, follow other Independent readers and see their replies