Jeremy Corbyn hits back at Tom Watson, saying Labour should not prioritise Brexit referendum over general election
Latest row erupts between Labour leader and deputy after call for party to focus on securing Final Say vote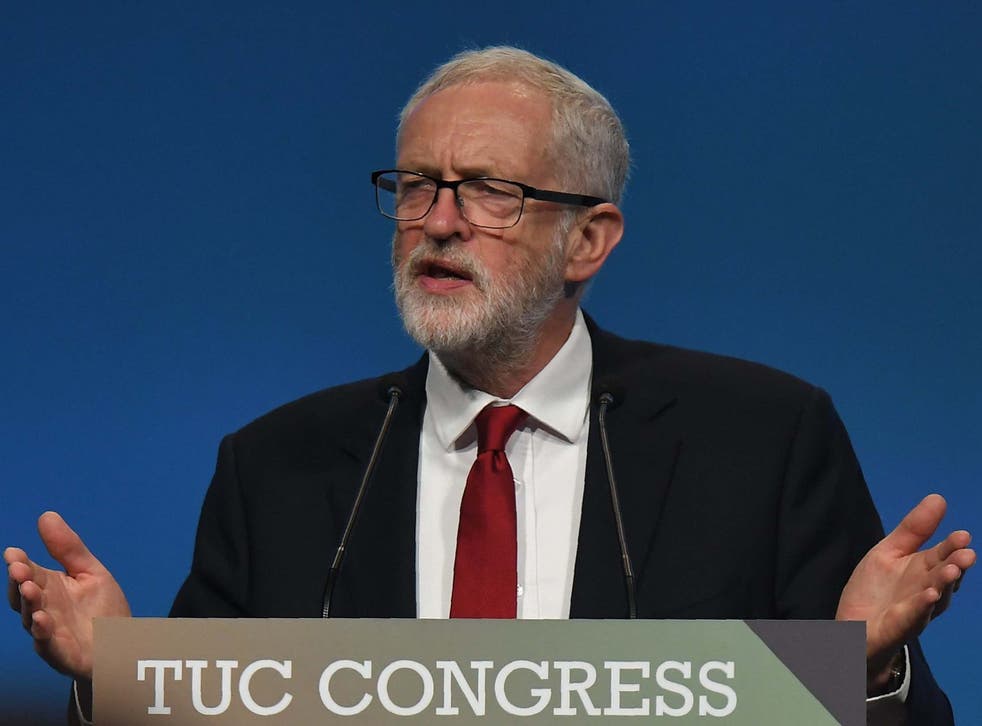 Jeremy Corbyn has hit back at his deputy, Tom Watson, as divisions in Labour over Brexit erupted in public once again.
The Labour leader said he did not "accept" or "agree with" Mr Watson's insistence that the party should prioritise a fresh Brexit referendum over a general election.
He insisted that his party's priority remained securing an election once the threat of a no-deal Brexit has been averted.
In a speech on Wednesday, Mr Watson claimed Labour was wrong to focus on securing an election, saying a "general election should never be decided on a single issue".
He said: "So let's deal with Brexit in a referendum, where every person can have their say, and then come together and fight an election on Labour's positive social agenda, on our own terms. And once Brexit is settled Labour can fight a general election on our own terms – not on Boris Johnson's 'Brexit do or die'."
He added: "Boris Johnson has already conceded that the Brexit crisis can only be solved by the British people. But the only way to break the Brexit deadlock once and for all is a public vote in a referendum. A general election could fail to solve this Brexit chaos."
The comments put Mr Watson directly at odds with Mr Corbyn and Labour's official stance, which is that the party will support an early election as soon as is clear that a no-deal Brexit will be avoided. The row marks the latest in a series of public disagreements between Labour's two most senior figures.
Hitting back, Mr Corbyn said: "It's Tom's view - I don't accept it, I don't agree with it. Our priority is to get a general election in order to give the people a chance to elect a government that cares for them, not themselves."
He added: "Labour will do everything to prevent a no-deal exit from the European Union - that is our first priority.
"After that, we want a general election so the people of this country can decide their future - do they want a government that invests, that ends austerity, that deals with the grotesque levels of inequality and poverty in Britain?
"They will get a chance for a public vote under a Labour government between Remain and a credible option which we will negotiate with the European Union."
Protesters take to streets after Boris Johnson suspends parliament

Show all 11
Mr Watson also faced criticism from other Labour figures.
Tim Roache, the general secretary of the GMB union, told Sky News: "I think firstly it's unwelcome and secondly it's very unhelpful.
"Yesterday we had an excellent meeting with Jeremy Corbyn, the leader of the Labour movement, where our position became very, very clear and what we're saying is elect a Labour government, give that Labour government the opportunity for three or six months maximum to go and negotiate the best Brexit deal that is available, then we take that deal back to the people."
He added: "I can't speak for Mr Watson, I just find it wholly disappointing. We are heading to a general election, we welcome a general election - bring it on.
"But no one is going to vote for a divided party so anyone who steps out of line thinking of their own needs or their own gains and will be opposed by the GMB."
Unite's Len McCluskey also dismissed Mr Watson's intervention, accusing him of "undermining" the leadership and suggesting his views "don't really matter".

The two men, who used to be close friends, fell out spectacularly in the aftermath of the Brexit referendum during an uprising by Labour MPs against Mr Corbyn's leadership.

The union leader suggested Mr Watson was "languishing on the fringes" of the party, adding: "It's sad. Now and again Tom pops up from where he has been hiding and comes up with something… which is normally to try and undermine his leader.
Register for free to continue reading
Registration is a free and easy way to support our truly independent journalism
By registering, you will also enjoy limited access to Premium articles, exclusive newsletters, commenting, and virtual events with our leading journalists
Already have an account? sign in
Register for free to continue reading
Registration is a free and easy way to support our truly independent journalism
By registering, you will also enjoy limited access to Premium articles, exclusive newsletters, commenting, and virtual events with our leading journalists
Already have an account? sign in
Join our new commenting forum
Join thought-provoking conversations, follow other Independent readers and see their replies