Jeremy Corbyn accuses deputy leader Tom Watson of 'talking nonsense' over 'Trotsky entryist' claims
'Sorry Tom, it is nonsense...let's get on with campaigning Tom. Thanks.'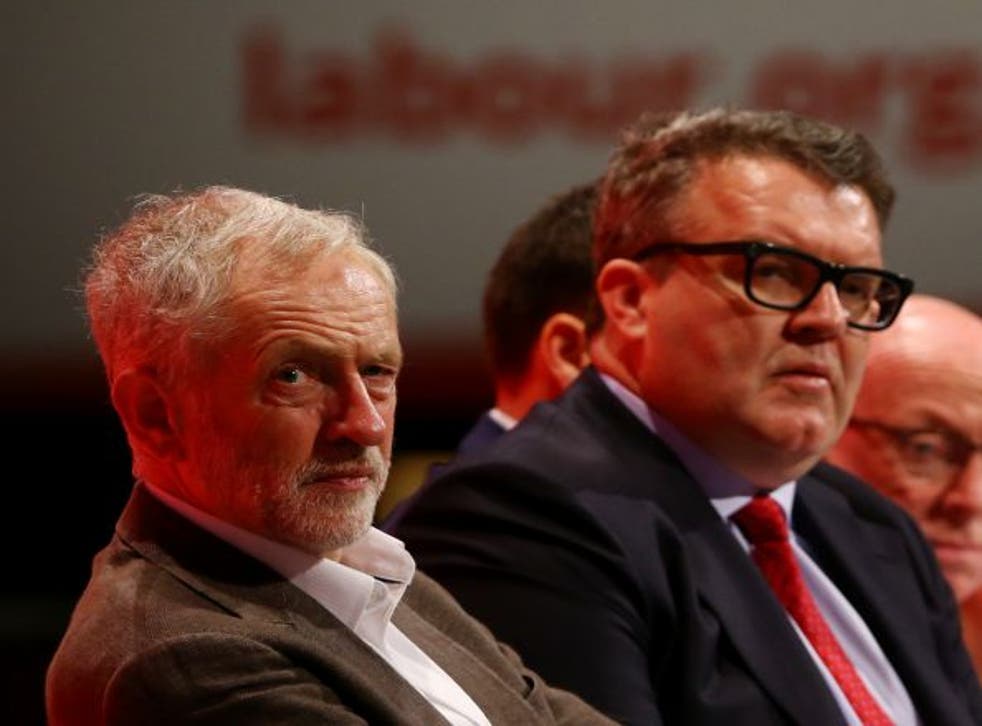 Jeremy Corbyn has accused his elected deputy of "talking nonsense" over claims that "Trotsky entryists" are manipulating young party members to bolster the Labour leader's position.
The bitter feud between Labour's two most senior figures became public last week after allies of Mr Corbyn accused Tom Watson of "peddling baseless conspiracy theories". Another senior Labour source told The Independent Mr Watson's position would have been 'untenable' if the High Court appeal had failed.
But Mr Corbyn has now publicly accused his deputy of talking "nonsense" in an interview with The Observer. The Labour leader said of Mr Watson: "I read about his letter to me in the media. And it appeared to be a rehash of a book [journalist] Michael Crick wrote 20 years ago about alleged entryism into the Labour Party at that stage.
"I just ask Tom to do the maths – 300,000 people have joined the Labour Party. At no stage in anyone's most vivid imagination are there 300,000 sectarian extremists at large in the country who have suddenly descended on the Labour Party.
"Sorry Tom, it is nonsense – and I think he knows it's nonsense. Let's get on with campaigning, Tom. Thanks."
Mr Corbyn also backed new members who used to support other parties."I want people to join for good motives," he said. "But if they have changed their political views or developed their political views, then surely that is a good thing."
Mr Watson, however, hit back and insisted the evidence was "incontrovertible". He told the newspaper: "The overwhelming majority of new members joined the Labour Party because they want to build a fairer and more equal society. But there is clear and incontrovertible evidence that a small group of Trotskyite activists have taken leading roles in the Labour Party or are seeking to do so.
Labour leadership contest: Jeremy Corbyn vs Owen Smith

Show all 8
"They are also explicitly targeting Young Labour and Labour student clubs with the aim of recruiting new members. That is beyond dispute. We can't deal with this problem until we acknowledge it exists."
Mr Corbyn also offered his first public comments on the Court of Appeal's judgment to uphold a decision by Labour's governing body, the National Executive Committee (NEC), to ban 130,000 members from voting in the leadership contest. The High Court had previously suggested this decision by the NEC was unlawful.
Many of those affected are believed to back Mr Corbyn rather than his rival Owen Smith and the leader's campaign team reacted with fury at the court's decision to exclude those who had not joined the party by 12 January and held membership continuously until 12 July.
When asked, Mr Corbyn would not say he had full confidence in Iain McNicol, Labour's general secretary, who led the appeal which was brought by the party's NEC.
Owen Smith accuses Jeremy Corbyn of being '10 out of 10' for leaving the European Union
The Labour leader said: "People joined the Labour Party in order to take part in the party and were specifically told that they were able to vote in the leadership election and it was decided by the High Court that they could.
"The Appeal Court has said they can't and I would imagine that those who brought the case will be considering whether or not to take it to the Supreme Court. I have no idea what their decision will be.
"We will receive a report from Iain about the process that has gone on over the last few months. And the NEC will no doubt ask him questions and he will probably give answers on it. But let's look at that when the new NEC takes over."
Asked twice if he had full confidence in Mr McNicol, Mr Corbyn repeatedly stated: "I have been happy to work with Iain McNicol since I became leader."
Join our new commenting forum
Join thought-provoking conversations, follow other Independent readers and see their replies