Jeremy Corbyn attacked by nuclear disarmament campaign group over Trident 'U-turn'
Labour leader has a long history of anti-nuclear campaigning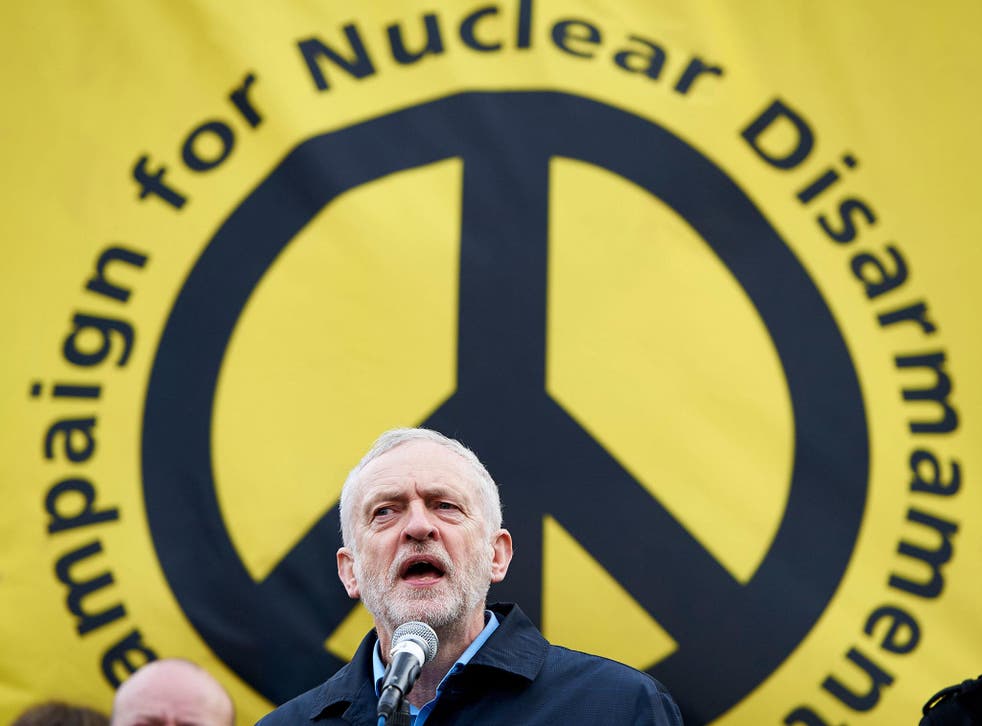 The Campaign for Nuclear Disarmament (CND) has attacked long-time ally Jeremy Corbyn, accusing the Labour leader of quietly ditching his commitment to scrap Britain's nuclear arsenal.
The campaign group seized on a surprise announcement that Labour was now making multilateral disarmament talks its priority – effectively accepting, it said, the renewal of Trident.
Labour had also abandoned its year-long Defence Review, which Mr Corbyn had hoped would conclude with an anti-Trident policy, the CND said.
Kate Hudson, the group's general secretary, said: "There is enormous opposition to Trident replacement within the Labour Party and there will be huge disappointment at this U-turn.
"How can Labour claim to work for multilateral disarmament if it supports the Government building a new nuclear weapons system at a cost of £205 billion? This means Labour is supporting nuclear rearmament."
The outburst came after both Shadow Foreign Secretary Emily Thornberry and Clive Lewis, the Shadow Defence Secretary, said a future Labour Government would throw its weight behind multilateral disarmament talks.
Clive Lewis appears to respond to last minute speech change
Mr Lewis told Labour's conference he was "sceptical" about Trident renewal, but added: "I am clear that our party has a policy for Trident renewal."
Meanwhile, Ms Thornberry did not mention Trident at all but, on multilateralism, said: "We will make the success of those talks the test of success of our foreign policy."
North Korea threatens 'sacred' nuclear war

Show all 6
In July, the Commons voted overwhelmingly to renew the submarine-based weapons system with 140 Labour MPs supporting the Government – while only 47 backed Mr Corbyn and voted against.
The Labour leader's anti-nuclear stance has been fiercely criticised by the trade unions, who have accused him of putting large numbers of skilled jobs at risk.
Ms Hudson added: "Lewis has clearly signalled that the Labour leadership will not seek to change Labour policy and appears to have abandoned its Defence Review conducted extensively over the past year."
Mr Corbyn is a former vice-chairman of CND, making its attack on him unprecedented.
It leaves open the likelihood that Labour's official policy at the next election will be achieving multilateral disarmament, while its leader states his continued personal commitment to unilateralism.
Register for free to continue reading
Registration is a free and easy way to support our truly independent journalism
By registering, you will also enjoy limited access to Premium articles, exclusive newsletters, commenting, and virtual events with our leading journalists
Already have an account? sign in
Register for free to continue reading
Registration is a free and easy way to support our truly independent journalism
By registering, you will also enjoy limited access to Premium articles, exclusive newsletters, commenting, and virtual events with our leading journalists
Already have an account? sign in
Join our new commenting forum
Join thought-provoking conversations, follow other Independent readers and see their replies