Jeremy Corbyn: Visiting the Labour leader's favourite restaurant - Gaby's Deli
Gaby Elyahou serves up salt beef, falafels and a little advice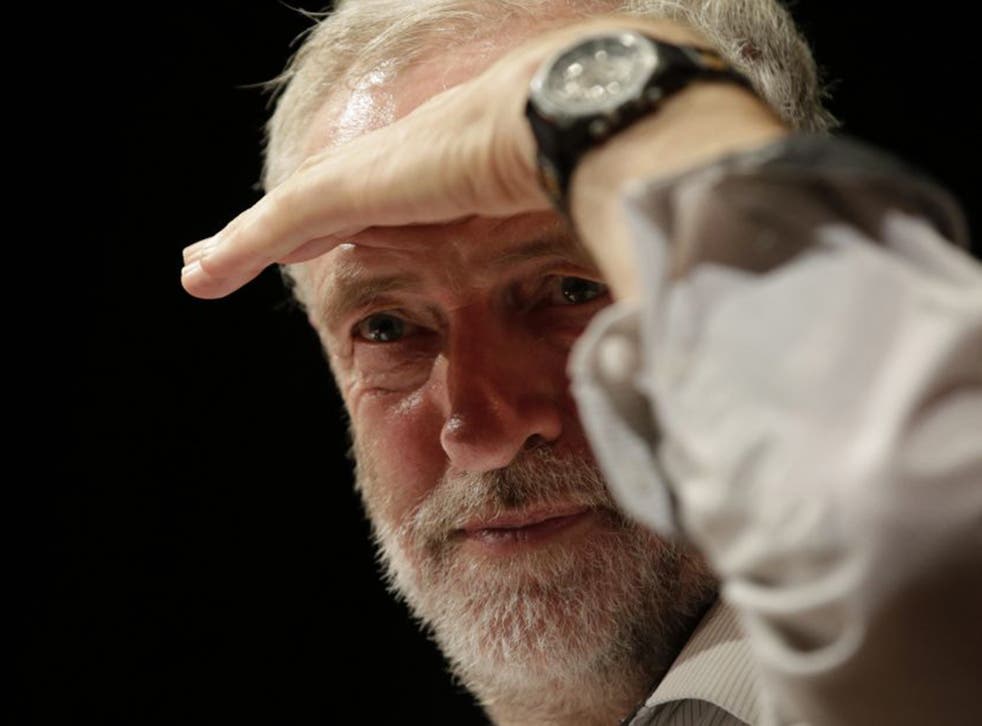 Jeremy Corbyn's favourite restaurateur has a message for him: "Look after the small businesses and you'll be okay." The advice, which The Independent on Sunday is happy to pass on, comes from Gaby Elyahou, the owner of Gaby's Deli on the thronging Charing Cross Road, in the heart of the capital's theatreland.
The new Labour leader has been a regular at the non-kosher, veggie-friendly restaurant there for decades – almost as long as Gaby, who arrived in London from Iraq in 1964 as a refugee when the Ba'ath party's murderous anti-Jewish purges became intolerable. He says the Ba'athists would hang him if he went back. "Of course I'm a Labour voter," he says. "For many years I have been. If Jeremy has the young people behind him, that's good."
And, wouldn't you know it, on 11 September three young men, ascetically sipping water in keeping with the austere times, were engrossed in conversation, clandestinely muttering the word "Corbyn" and, one assumes, plotting how to maximise the historic impact of the revolutionary moment.
Gaby's restaurant is a throwback to old Soho, a privately owned, unshowy local favourite, long on kitchen labour and lavish displays of enticing fresh salads, on a site the big operators must view with envy. With the embracing charm of a man who knows how to make his customers keep coming back, he chats about the march of the big chains, and rumours that his counterparts round the corner are being prevented by the council from selling coffee because the council has done a deal with one of them. "They keep their money in the Cayman Islands or somewhere. The Conservatives are for big business, for people who already have money like that. Labour looks after small business."
Gaby's has the most loyal of clients, among them Corbyn and his political chums, who take refuge from Westminster in the evening. John McDonnell, tipped for high office, declares the hummus "delicious", and Gaby is particularly proud of the salt beef de la maison, a rarity these days in the centre of town. The place is also used by actors bulking up before going on stage, and by a variety of celebrities who joined Corbyn in successfully lobbying to save the restaurant after its landlord, Lord Salisbury, was on the verge of not renewing the lease four years ago.
Gaby, too, has thought of expanding and setting up a second and third branch. "But if you're not always there, you lose the contact. I know that this customer likes this dish. My customers have been coming here for years." His stories take frequent refuge in money. He tells of a client who retired to his native South Africa, but after years came back to London, and paid his old chum Gaby a visit. Gaby protested: "You never paid me the last time you came in." The poor man evidently didn't realise he was joking.
Gaby is clearly his own boss, but Corbynomics might have something to say about the hours he works – in by nine or 10 in the morning, home again at 10pm. His wife and three children won't work with him.
"They say it's too hard," he says. "But I say you should work as long as you can. What is the point of retiring?" He is coy about his age, but admits he has a big birthday looming in a fortnight.
"This country is going down, down, down," he says. He hadn't realised Corbyn was standing for the leadership until he read it in the paper. He says his last visit was about a fortnight ago but he's expecting the new Labour leader to celebrate his win in Charing Cross Road. "Now that he's won, I'll offer him a free falafel meal. But not the plate."
Register for free to continue reading
Registration is a free and easy way to support our truly independent journalism
By registering, you will also enjoy limited access to Premium articles, exclusive newsletters, commenting, and virtual events with our leading journalists
Already have an account? sign in
Register for free to continue reading
Registration is a free and easy way to support our truly independent journalism
By registering, you will also enjoy limited access to Premium articles, exclusive newsletters, commenting, and virtual events with our leading journalists
Already have an account? sign in
Join our new commenting forum
Join thought-provoking conversations, follow other Independent readers and see their replies