Jeremy Hunt joins Cabinet rich list with £17m sale of company
Secretary of State for Health had the idea for the listings service while teaching English in Japan after graduating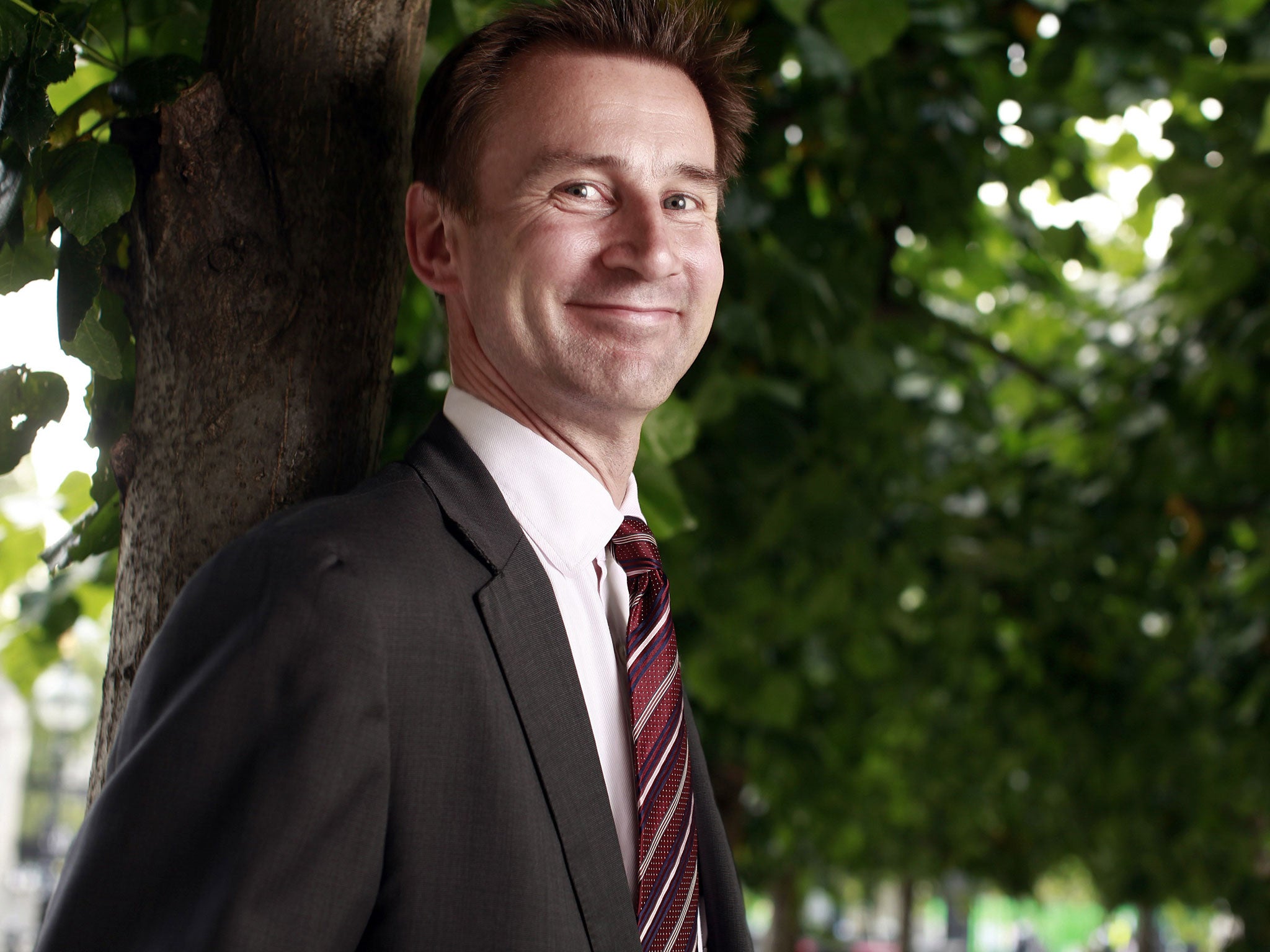 Jeremy Hunt, the Secretary of State for Health, is set to become the richest member of the Cabinet after it emerged that he is in line for a £17m windfall from the imminent sale of his own company.
Hotcourses, an education listings service Mr Hunt co-founded before he became an MP, is believed to be close to a deal to be bought for £35m by the private equity firm Inflexion. Although he stood down as a director in 2009, he is understood to hold a 49 per cent stake in the company.
Mr Hunt, who declined to comment today, had the idea for the listings service while teaching English in Japan after graduating. He wanted to produce guides for people who were looking to study abroad as well as travel.
If the deal goes ahead, Mr Hunt, who is said to be worth £4.2m, would overtake Philip Hammond, the Secretary of State for Defence, as the wealthiest Cabinet minister. Mr Hammond is worth £8.2m, according to a survey last year by Wealth-X, which provides intelligence on the super-rich.
Mr Hunt was under pressure to resign as Culture Secretary last year over his special adviser's close links to Rupert Murdoch's media empire, but has bounced back since becoming Health Secretary, positioning himself as a consumers' champion.
The disclosure of the business deal revived the debate over whether Mr Cameron's "cabinet of millionaires" is out of touch with ordinary people struggling during Britain's "cost of living crisis."
Grahame Morris, a Labour member of the Commons Health Select Committee, said: "What most people want is a government that is representative of the people they are elected to serve. What we have is a cabinet of millionaires having no experience or empathy with the daily struggles of ordinary families in Britain."
Dave Prentis, the General Secretary of the public service trade union Unison, said: "This is the man who has been let loose to slash the heart out of our NHS, and he can pocket £17m at a stroke. How can a man of such wealth possibly understand the problems of ordinary people or the value that we place on our public services?"
However, Mr Cameron's official spokesman insisted: "He has a very strong ministerial team and a cabinet team with very talented individuals. One of the strengths the Prime Minister would point to in the Cabinet is the range of experience that is reflected within it."
Labour claimed that the chief executives of the "Big Six" energy companies are set to receive a reduction in the amount of tax they pay amounting to about £530,000, the result of the Coalition's decision to reduce the top rate of income tax from 50p to 45p in the pound in April 2014. The Opposition's figures are based on last year's pay and bonuses and recent statements about this year's levels.
Catherine McKinnell, a Labour Treasury spokesman, said: "Not only is David Cameron refusing to take on the energy companies and opposing Labour's price freeze, he's made them better off while ordinary people are worse off. Once again we see a prime minister who is totally out of touch and who only stands up for the privileged few."
Rich list: Cabinet 'makers'
In 2012, the consultancy Wealth-X listed the wealthiest Cabinet ministers. The top 10 were:
£9.6m Lord Strathclyde (no longer in Cabinet)
£8.2m Philip Hammond
£4.8m William Hague
£4.8m Jeremy Hunt
£4.5m Caroline Spelman (no longer in Cabinet)
£4.5m George Osborne
£3.8m David Cameron
£3.2m Francis Maude
£2.9m Dominic Grieve
£2.2m Andrew Mitchell
Join our commenting forum
Join thought-provoking conversations, follow other Independent readers and see their replies