Jeremy Hunt denies austerity is causing problems in the NHS
Researchers have disputed whether the Government's spending is keeping pace with demand, however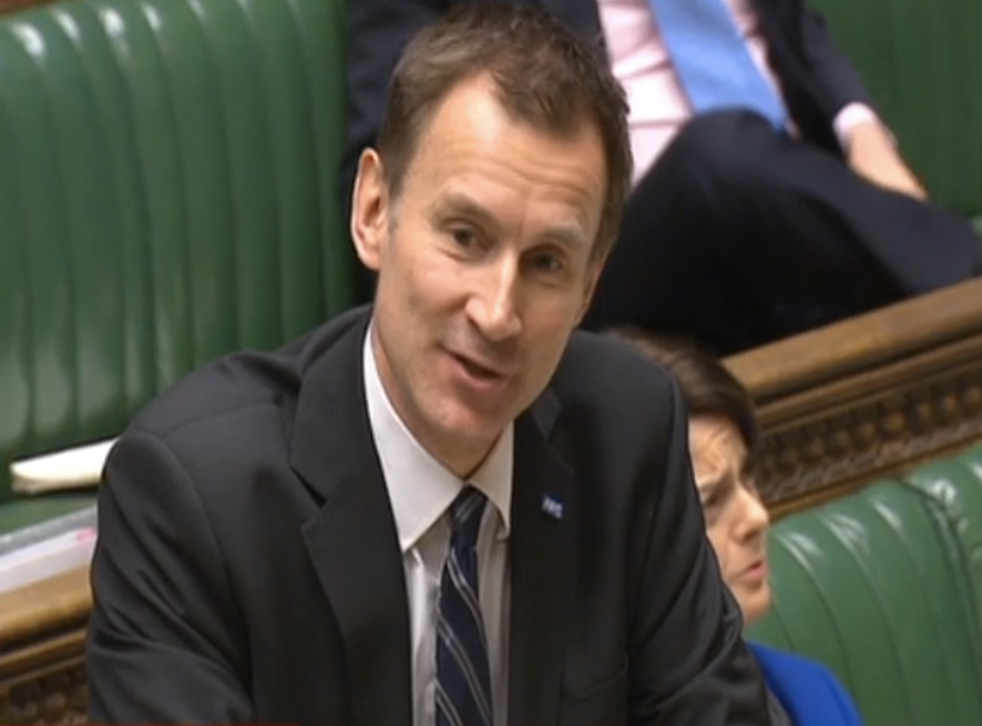 The Health Secretary has denied that austerity is driving problems in the NHS and defended the Government's record on the health service.
Jeremy Hunt said an accusation by an SNP MP that the health service was facing an "austerity-driven crisis" was not accurate.
"I do think it's stretching it a bit to call this an austerity driven problem when we're putting next year the sixth biggest increase in funding for the NHS in its entire 70-year history," he said at health questions in the House of Commons.
The Chancellor last year unveiled a £3.8bn cash injection in order to head off an NHS winter crisis – and the Government says it has protected the NHS budget.
Spending rises – which are business as usual in health services under demographic and inflationary pressure – appear to be falling behind an increase in costs and demand, however.
Internationally, the UK is now in the bottom half of OECD countries in terms of spending on its health service.
Budget protection has also failed to cover the wider public health budget, with a study by the Health Foundation warning that it was cut by 20 per cent at the last spending review.
A report by the King's Fund based on data from the British Social Attitudes Survey found that public dissatisfaction with the NHS had jumped more in the last year than during any year on record.
In pictures: Junior doctors protests in UK

Show all 10
John Appleby, the think-tank's chief economist, said the rise was "driven by waiting times for appointments and perceptions of underfunding and staff shortages".
The same think-tank produced a report in 2015 that appears to challenge Mr Hunt's claims about the NHS being given enough funding to work with.
Putting the Health Secretary's claims into context, the organisation said the health service was being "squeezed as never before".
"Although health spending will grow, growth in the economy as a whole will almost certainly outstrip the relatively small real-terms increase pencilled in for the NHS," Mr Appleby said
"Between 2009/10 and 2020/21 the UK GDP is forecast to increase in real terms by more than a quarter. But NHS spending across the United Kingdom will have risen by around 15 per cent."
It has also been pointed out that the UK is slipping down international tables in terms of health and spending less than its competitors.
A spokesperson for the Department of Health said: "There is pressure on the NHS as our population ages, and that's why the government is investing record amounts to transform care."
Join our new commenting forum
Join thought-provoking conversations, follow other Independent readers and see their replies