Jeremy Hunt admits parts of the NHS are providing 'unacceptable' care
The Health Secretary has presided over record failures in NHS performance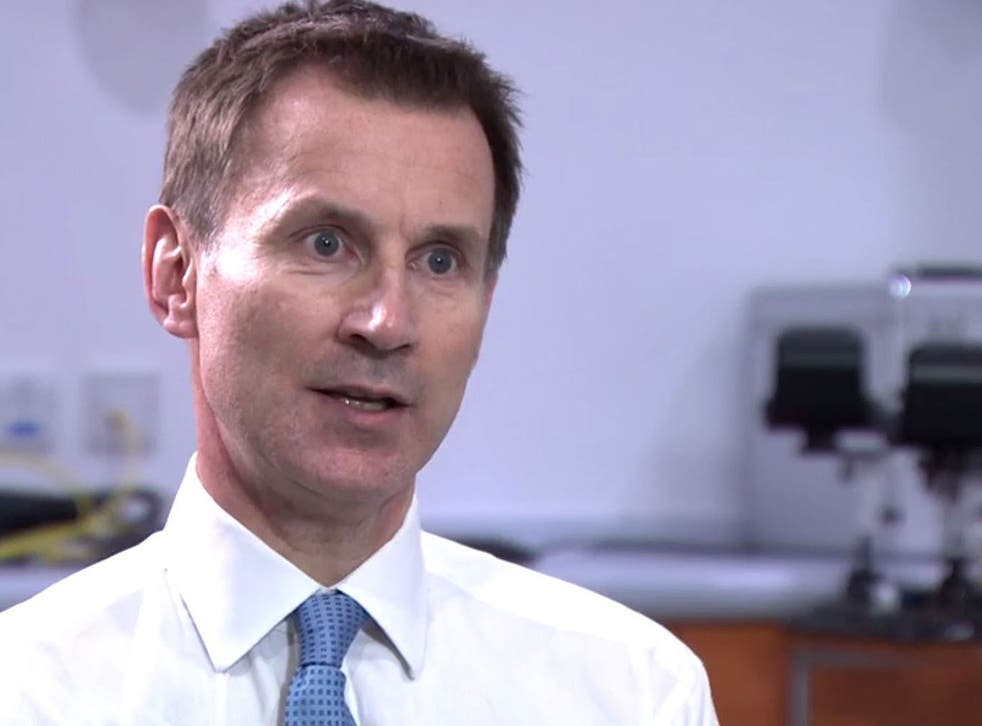 Parts of the NHS are providing "unacceptable" care to patients, Jeremy Hunt has admitted.
The Health Secretary said there was "no excuse" for failings documented at some hospitals, in an interview with the BBC.
Mr Hunt claimed that the Government was "doing what we can with extra financial support for the NHS this year" and suggested long-term reforms could help.
However, The Independent revealed last month that the Government is cutting NHS spending per person in real terms over the coming years. Similarly, MPs on the Health Committee have warned that the Government is exaggerating how much help it is giving the health service.
There are numerous signs that the health of the NHS has deteriorated under Mr Hunt. The numbers waiting more than 18 weeks for routine operations in hospitals has risen more than 163 per cent in four years, while nine out of 10 hospitals have had unsafe numbers of patients in their wards this winter.
Leaked documents appeared to show record numbers of patients waited more than four hours for A&E care last month while the Government has moved to quietly privatise the in-house NHS staffing agency despite an increasing reliance on expensive agency staff.
Mr Hunt was accused of "hiding" in January after the British Red Cross declared a "humanitarian crisis" in the health service, calling for more funding.
On Friday morning, when confronted about the poor care that some patients have received, Mr Hunt said: "It is incredibly frustrating for me. I'm doing this job because I want NHS care to be the safest and best in the world and that kind of care is completely unacceptable, no one would want it for their own family.
"I think what you have to recognise is there are positive things as well as negative things and there is huge commitment in the NHS to sort out those negative things and the particular pressure point we have is A&E."
He appeared to urge some members of the public to stay away from A&E departments, warning: "We also need the public's help because we also know the number of people seen in A&Es could actually have their needs dealt with in another part of the NHS.
"We need to make sure that, as far as we can, we free up people in A&E departments to deal with the most vulnerable older patients who have particular needs."
Jonathan Ashworth, the shadow Health Secretary, said that it was Mr Hunt's "mismanagement" that was causing misery for patients.
"These are hollow words from the Secretary of State this morning. On his watch the NHS is suffering from the biggest financial squeeze in history and social care is at tipping point. Jeremy Hunt appears to be finally waking up to the scale of the crisis but he must now accept responsibility. Instead he offers just hand wringing but no solutions.
"This week we have seen more and more statistics revealing that patients are waiting longer, and suffering longer in discomfort.
UK news in pictures

Show all 50
"Government adviser Lord Carter has extraordinarily called NHS conditions 'warlike' and now Sir Robert Francis says there is an 'existential crisis' for the health service warning that another Mid Staffs is 'inevitable'.
"By making such stark warnings Sir Robert Francis blows apart Jeremy Hunt's rhetoric on putting patient safety first.
"The Prime Minister can't just put her head in the sand and ignore these astounding warnings. This is clearly not just a 'small number of incidents' as she glibly suggested.
"The Government's mismanagement of the NHS is causing chaos and misery for patients. We can't go on like this. They need to listen to the experts and explain fully in the Budget in a few weeks time how they will put the NHS and social care on a sustainable footing. NHS patients and their families should never be put through a winter like this again."
Join our new commenting forum
Join thought-provoking conversations, follow other Independent readers and see their replies