We are 'absolutely not' going to war with France, Jersey foreign minister says as Boris Johnson sends in navy
Island's government says fishing vessels are staging peaceful protest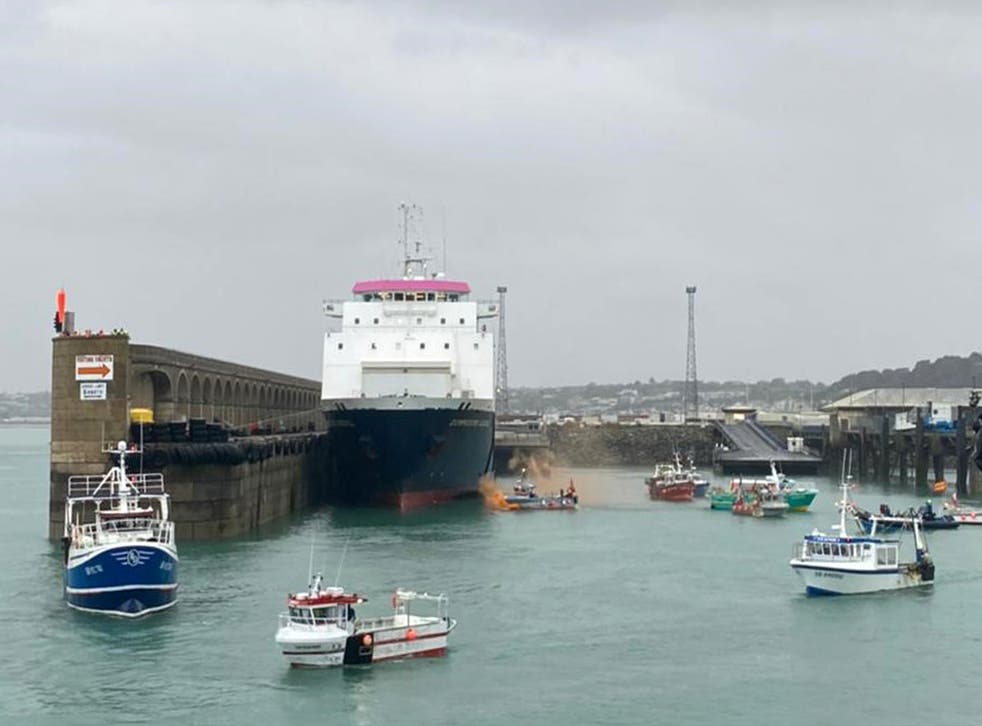 Britain is "absolutely not" going to war with France over fishing in the channel, Jersey's foreign minister has said, after Boris Johnson ordered in the Royal Navy to protect the island's territorial waters.
Speaking as the international row escalated on Thursday morning Ian Gorst said the island's government believed French fisherman were carrying out a legitimate peaceful protest.
It comes after the French government threatened to cut off the island's electricity supply and around 80 fishing boats moved to disrupt shipping into the island port of St Helier.
France is angry over new Brexit bureaucracy imposed on fishing in the channel, which fishermen say threatens their livelihoods. The UK is requiring copious evidence in the form of GPS data before it issues licences to fishing boats.
The UK government escalated the crisis on Wednesday night by ordering two armed Royal Navy patrol boats to the Jersey on the eve of local elections.
Asked whether the UK was about to go to war with France, the island's foreign minister Ian Gorst said:
"Absolutely not. But let's be clear, the threats emanating from Paris, and then the threat today of a blockade of our harbour here in St Helier, are totally disproportionate to the technical issues that we're facing with the implementation of the Brexit trade deal.
"We take those threats very seriously: we're grateful to the prime minister for his full support, and what we need to do now is find diplomatic solutions to the issues that we're facing."
Speaking on TalkRadio Mr Gorst said that "in extremis" Jersey could generate its own power if France cut off its electricity supply to the island – which is provided on contract by French state supplier EDF.
The minister for external affairs told the broadcaster that Royal Navy gunboats had been "sent down as a precautionary measure to monitor Jersey waters".
"We welcome that support from the British government, but let's be clear, we are also content with a peaceful demonstration and protests by French fishermen, and so far that is exactly what's happened," he explained.
Noting that shipping to Jersey had only been "slightly delayed" by the action, Mr Gorst added: "We do not expect anything other than a peaceful protest."
French officials and fishermen said they never agreed to the new conditions placed on fishing licences and were not given sufficient warning.
Jersey's government said on Wednesday that the dispute was based on a misunderstanding – but not before the region of Normandy announced it was closing a joint office in the British Crown Dependency.
UK news in pictures

Show all 50
France's maritime affairs minister Annick Girardin said on Tuesday she was "revolted" by the UK government's approach and that France was ready to retaliate.
Asked about the question of "retaliatory measures", the minister noted that the British crown dependency of Jersey relied on "the transmission of electricity by underwater cable".
"I would regret it if we were to get there, we will do so if we have to," she told deputies in the country's National Assembly.
Jersey's government says it has "acted on legal advice, in good faith, and with due regard to non-discriminatory and scientific principles at every stage of these proceedings".
Join our new commenting forum
Join thought-provoking conversations, follow other Independent readers and see their replies