Jo Cox death: MPs from rival parties want to sit together in symbolic tribute for special House of Commons session
'That's what Jo was all about – working with anybody and everybody to help other people'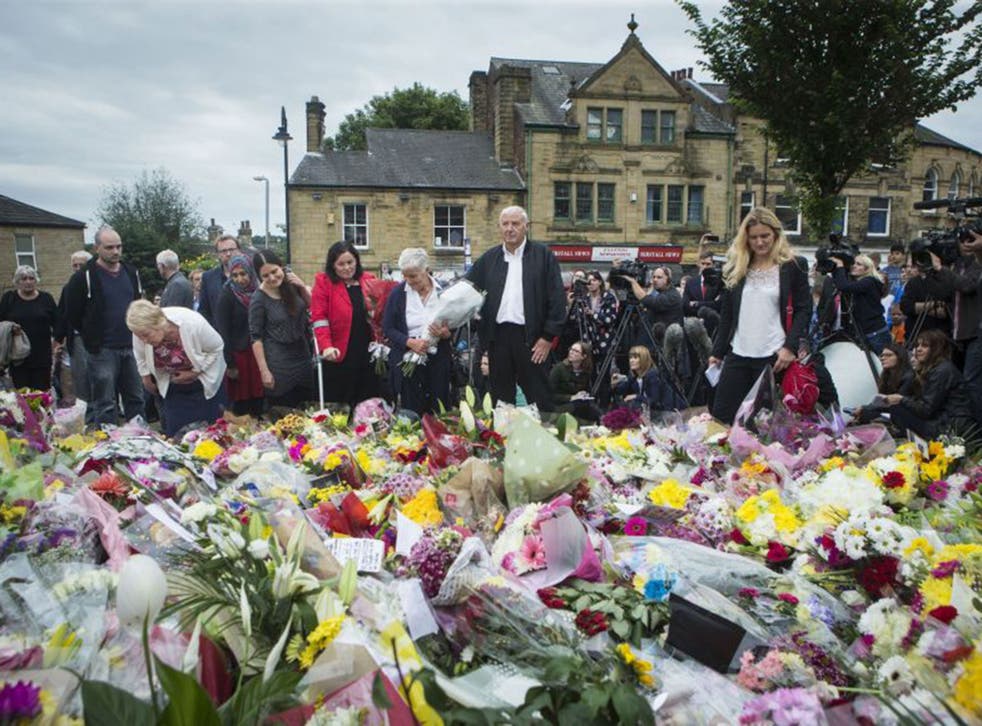 MPs of all parties are planning to break tradition in the House of Commons by sitting on opposing benches in a symbolic tribute to Jo Cox.
Politicians have been recalled from recess ahead of the EU referendum for a special session to pay tribute to the Labour MP's life and legacy on Monday.
Jason McCartney, the Tory MP for Colne Valley, has written a letter to Speaker John Bercow requesting permission for members of the Conservative Party, Labour, Scottish National Party, Liberal Democrats and all parties to mix.
Corbyn and Cameron Pay Emotional Tributes to Slain Labour MP Jo Cox
He told The Independent he had been inspired by his friendship and work with Ms Cox, who was the MP for nearby Batley and Spen constituency.
"There were four of us in the area and we worked really closely together on local issues," he recalled.
"We would travel down on the train together on a Monday and come back on the Thursday, we saw each other all the time.
"I know how much Jo was always willing to work with any party to achieve success in something she was campaigning for.
"That's what Jo was all about – working with anybody and everybody to help other people."
Mr McCartney, who recently worked with Ms Cox on the issue of humanitarian aid drops in Syria, said he was struck by the feeling of unity among MPs at a memorial service in Birstall on Friday.
"We were all united not as members of the Conservative Party or the Labour Party on opposing sides, but as one Parliamentary family, and I thought that was a wonderful tribute to Jo," he said.
"It would be so nice to show Britain and the world that although there are different positions and robust debate there isn't hatred there…I hope we can really capitalise on this sense of togetherness."
He and other MPs are planning to wear the white rose of Yorkshire as a tribute to Ms Cox in Parliament on Monday, when David Cameron and Jeremy Corbyn will lead commemorations.
"I think it will be a wonderful symbol if behind them people could see MPs of all parties sitting together," Mr McCartney said.
He has not yet received a response to his request from Mr Bercow's office but said he was "hopeful" that MPs would be allowed to break tradition after receiving support across the spectrum.
Jo Cox tributes - in pictures

Show all 20
Tim Farron, the leader of the Liberal Democrats, was among those offering his backing, alongside the MPs Diana Johnson, Craig Tracey, Steward McDonald and John Nicolson.
Ms Cox's sister described the MP as "perfect" as she visited floral tributes left in Birstall with her family on Saturday.
"She will live on through Brendan, through us and through her truly wonderful children who will always know what an utterly amazing woman their mother was," she added. "She was a human being. She was perfect."
A fundraising page set up in the late MP's name has already raised more than £450,000 for three of her favourite charities.
Mrs Cox, 41, died after being shot and stabbed in the street outside her constituency surgery in Birstall, near Leeds, on Thursday.
Thomas Mair, 52, has appeared at Westminster Magistrates' Court in London charged with murdering Mrs Cox, grievous bodily harm against a pensioner who tried to help her, possession of a firearm with intent and possession of a knife.
He did not enter a plea and was remanded in custody until his next appearance at the Old Bailey on Monday.

Register for free to continue reading
Registration is a free and easy way to support our truly independent journalism
By registering, you will also enjoy limited access to Premium articles, exclusive newsletters, commenting, and virtual events with our leading journalists
Already have an account? sign in