Jobseeker ad for lap dancers breaks Government ban
Website that claimants are told they must use hosts 'degrading' jobs in the sex industry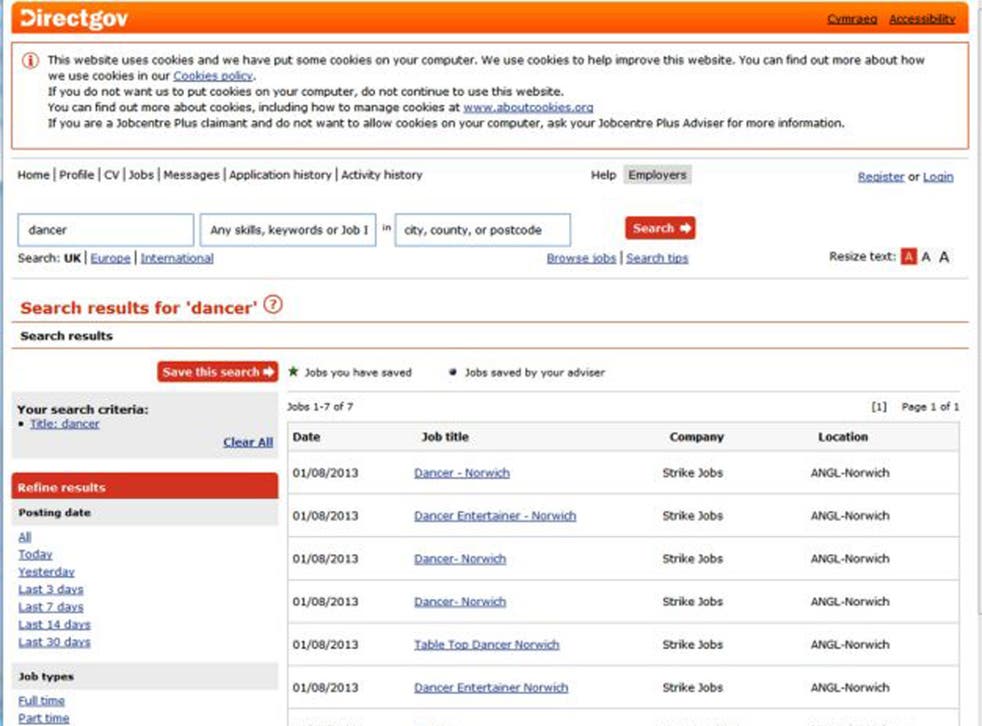 Vacancies for lap dancers in a club that offers "topless to fully nude dances" have been advertised on a government website, despite the fact that such adverts were banned from appearing in job centres over three years ago.
The Coalition's Universal Jobmatch website was last night advertising six jobs for dancers, table-top dancers, and entertainment dancers, in an American style lap-dancing club in Norwich. People claiming jobseeker's allowance are required to use the one-year-old site to look for work or can risk losing their benefit.
The venue hiring is the Sugar & Spice American table dancing club, which describes itself on its website as offering its customers a "unique experience" that is "compared to the out-dated traditional gentlemen's or strip club".
As well as offering "main-stage entertainment," it says it offers "private dances in our basement booths or on one of [our] dance beds from topless to fully nude". It adds: "Some of our booths are also equipped with poles for your very own private pole dancer to perform for you."
Some of the vacancies looked for applicants with a "good sense of rhythm," and added that "presentation is key", as well as being "very well-groomed".
The adverts on the taxpayer-funded website have been greeted with outrage as the Coalition banned job centres from advertising vacancies in the sex industry – including for lap dancers and strippers – in 2010. The site cost £14.89m to establish.
The Labour MP Stella Creasy told The Independent that the Government-endorsed vacancies were "degrading". She said "no one should be asked to expose themselves in that way or face a sanction [to their benefits]".
She added: "Someone in the job centre didn't think. Even if it was a human error, it means nobody thought, 'What are we doing telling people one way to get off benefits is to become a lap dancer?' It reveals the culture we still have to deal with, and the way women are portrayed."
The Coalition could not have been clearer when it banned sex industry vacancies being advertised by the Government three years ago. At the time, the former employment minister, Chris Grayling, said it was "absolutely wrong that the Government advertises jobs that could support the exploitation of people".
Yet the current adverts were posted just five days ago, and in addition include no mention that a minimum age is required from applicants.
A Department for Work and Pensions spokesperson said: "A small number of inappropriate adverts have been posted on Universal Jobmatch and we have introduced additional checks to address this. Where an inappropriate job is identified it is quickly removed."
Join our new commenting forum
Join thought-provoking conversations, follow other Independent readers and see their replies