US looking to UK to lead the effort on AI regulation talks, Biden says
The US president said there was no-one 'we have greater faith in being able to negotiate this' than Rishi Sunak.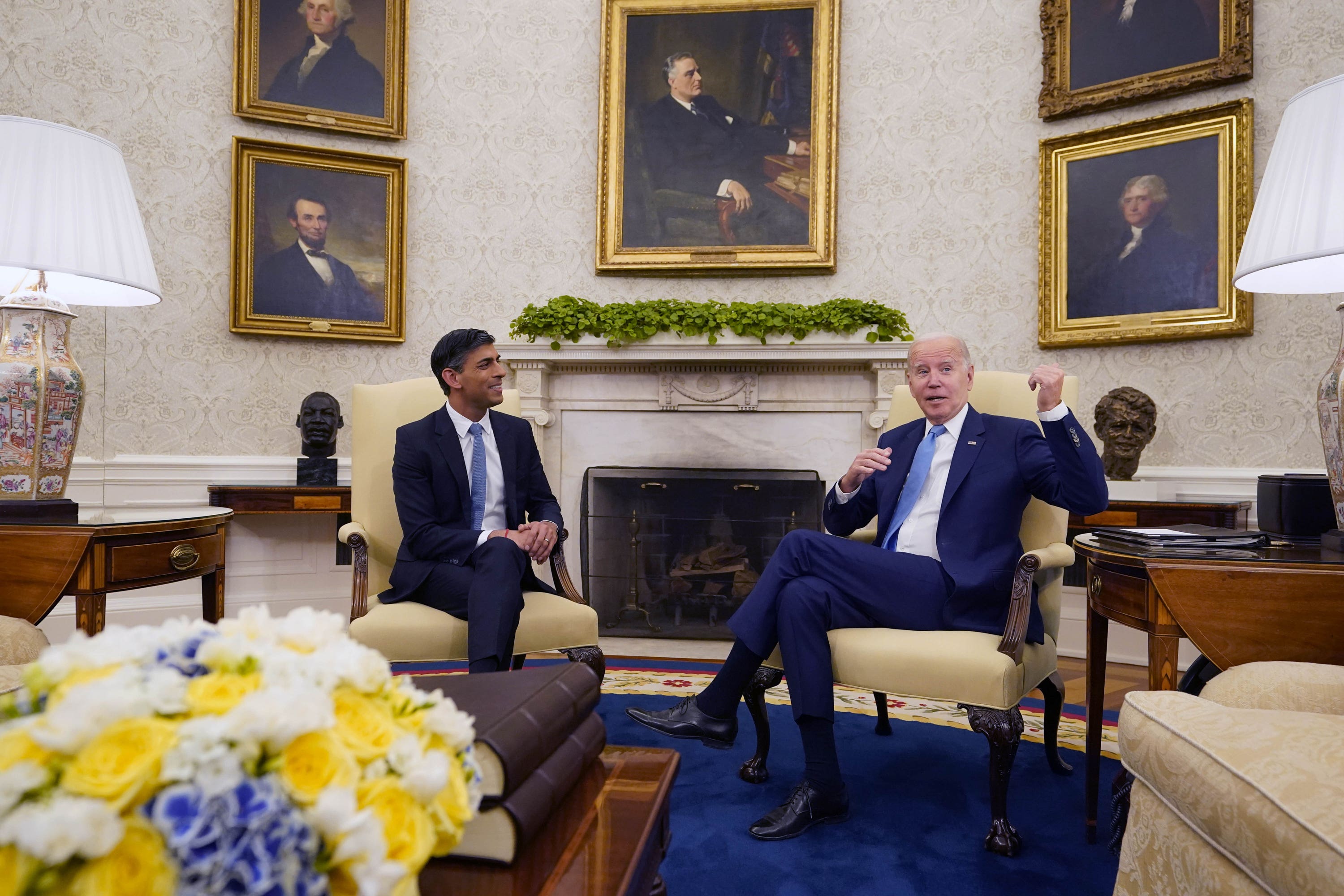 The US is looking to the UK to "lead the effort" on how artificial intelligence is regulated, Joe Biden said.
The US president expressed his confidence in Rishi Sunak in heading up international co-ordinated action to mitigate the risks of the emerging technology.
Speaking at a joint press conference with the Prime Minister at the White House, Mr Biden described the technological change AI could bring as "staggering".
He said architects of AI are themselves "very concerned about it getting out of hand and we've got to make sure we're all on the same page".
Mr Biden added: "And we're looking to Great Britain to lead that effort this fall in putting together a proposal, a group of nations to deal with, how do we deal with this."
Mr Sunak has announced that the UK will host the first global summit on AI safety in the autumn, with Downing Street describing it as an opportunity for "like-minded countries" to come together on the issue.
Mr Biden highlighted AI's "potential to do great damage if it's not controlled" but also its "potential to cure cancer".
He said: "It has enormous potential and we're looking to Great Britain to help lead that effort, to figure out a way through this.
"So we're in full, total co-operation. Because there's no-one, no country we have greater faith in being able to negotiate this – not negotiate with individuals – negotiate our way through this, than the Prime Minister."
Mr Sunak said he was "delighted" the US and other countries were working with "great haste" to address the issue.
Governments need to approach AI with the "same spirit of urgency" as they do climate change, he said.
"We come together at Cop to work multilaterally across multiple countries to bring down carbon emissions, to get funding to the countries that need it, to share research on how we can develop the green technologies of the future," the Prime Minister said.
"We need to bring that same spirit of urgency, I think, to the challenges and opportunities that AI poses, because the pace of the technological change is faster than people had anticipated."
Speaking to broadcasters ahead of the press conference, Mr Sunak said he thought Britain was "well placed" to take a leading role in developing a "global architecture for regulation".
He said: "The UK is research-based, (has the) companies – everything points to us.
"Our ability to move quickly, to put regulation in place, is really important in an industry and technology that itself is changing very rapidly."
In their bilateral meeting, Mr Biden and Mr Sunak agreed both their countries would play a "crucial" role in safe AI development, according to a read-out.
A Downing Street spokesperson said: "The leaders agreed that accelerating international co-operation on safe and responsible AI development is one of the pressing issues of our age.
"As frontier nations, the UK and US will be a crucial part of these efforts alongside international partners."