Speaker John Bercow accused of 'sexist' and 'aggressive' language towards female minister
Claire Perry claims Mr Bercow had been 'quite irascible' when asking her to give more brief answers to questions from MPs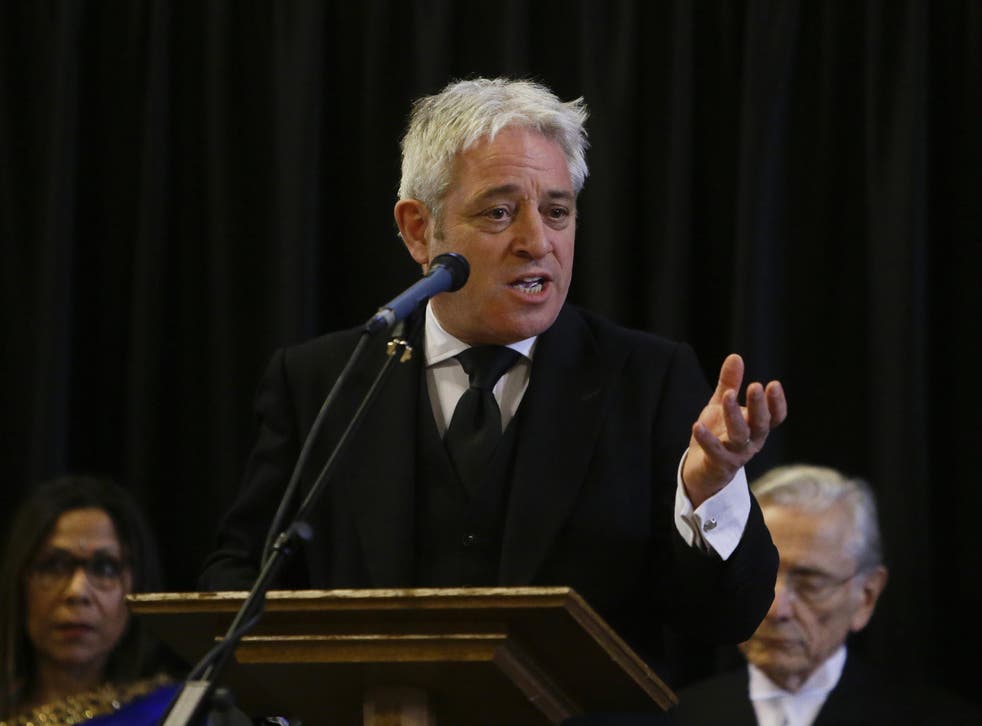 John Bercow, the Commons speaker, has been accused by a minister of "sexist" and "overly aggressive" language towards her in the latest of concerning allegations levelled against him.
Claire Perry, the energy minister, said she had written to Mr Bercow regarding a clash between the pair in the Commons and that she feared he had a "woman problem".
She claimed Mr Bercow had been "quite irascible" when asking her to give more brief answers to questions from MPs during a debate in parliament on Tuesday.
Her decision to go public with the complaint follows a high-profile row involving the speaker last month after he was accused of referring to Andrea Leadsom, the leader of the Commons, as a "stupid woman".
Mr Bercow is also under investigation after a number of accusations that he has behaved inappropriately towards colleagues and employees, but he has strongly denied any wrongdoing.
In her letter to the speaker, published in The Sun, Ms Perry said: "Personally, over the years I have grown used to your occasional irascible outburst directed at me when I am at the dispatch box.
"However, during BEIS oral questions today, you used a tone and language to admonish me for giving overlong answers that seemed both overly and aggressive and particularly sexist.
"Your comments about me being 'dilated' have especially caused comment – of course you may have misspoken, hence my attempt to lighten the mood with a reference to the last time I was dilated, but this only provoked a further outburst of anger.
She continued: "I am not alone in these concerns, indeed I have been approached by more than a dozen members of the House today, both men and women, government and opposition, who have expressed surprise and dismay at what they perceived to be your demeaning remarks and behaviour towards me."
Ms Perry added that given Mr Bercow's remarks towards Ms Leadsom last month, she feared a "pattern emerging" where he is "finding it increasingly hard to interact respectfully with female MPs on the government benches".
"At a time when we are dealing with an endemic problem of bullying and violence – both physical and verbal – against women in the UK and elsewhere, it is not acceptable to have a presiding officer of our precious House of Commons who appears to have a 'woman problem'," she added.
A spokeswoman for the speaker's office: "During question time yesterday, the speaker was trying to move business along ahead of the much anticipated debate on the EU (Withdrawal) Bill. He simply urged the minister to give a 'brief answer ... no dilation' – in other words, he was asking Ms Perry not to speak at length. It is a term he has used many times before."
UK news in pictures

Show all 50
In a letter to Ms Perry, the speaker added: "While respectfully – I do not accept the points made, perhaps it would be nice to meet for a 'clear the air' cup of tea as soon as possible?"
Shortly before the publication of Ms Perry's letter, the Commons serjeant at arms said Mr Bercow had been the victim of a "witch-hunt" by disgruntled former staff seeking to discredit him.
Kamal El-Hajji said current Commons staff were united in their belief that the accusations were part of a "witch-hunt", including what he called "article after article in the daily newspapers containing speculation and accusations regarding the speaker's code of conduct and the allegedly 'unprofessional' way that he treats staff and colleagues working in parliament".
He wrote in The House magazine: "Due to a considerable lack of evidence supporting these allegations, it seems clear to me that there is a witch-hunt against him, whether it is coming from previously disgruntled staff members or ex-colleagues trying to settle old scores of some kind."
Register for free to continue reading
Registration is a free and easy way to support our truly independent journalism
By registering, you will also enjoy limited access to Premium articles, exclusive newsletters, commenting, and virtual events with our leading journalists
Already have an account? sign in
Register for free to continue reading
Registration is a free and easy way to support our truly independent journalism
By registering, you will also enjoy limited access to Premium articles, exclusive newsletters, commenting, and virtual events with our leading journalists
Already have an account? sign in
Join our new commenting forum
Join thought-provoking conversations, follow other Independent readers and see their replies