John Bercow accused of being 'verbal playground bully' as MPs lining up to replace him vow to rewrite rules
Nine candidates are vying to become Speaker when Mr Bercow stands down
Lizzy Buchan
Political Correspondent
Wednesday 09 October 2019 13:43 Comments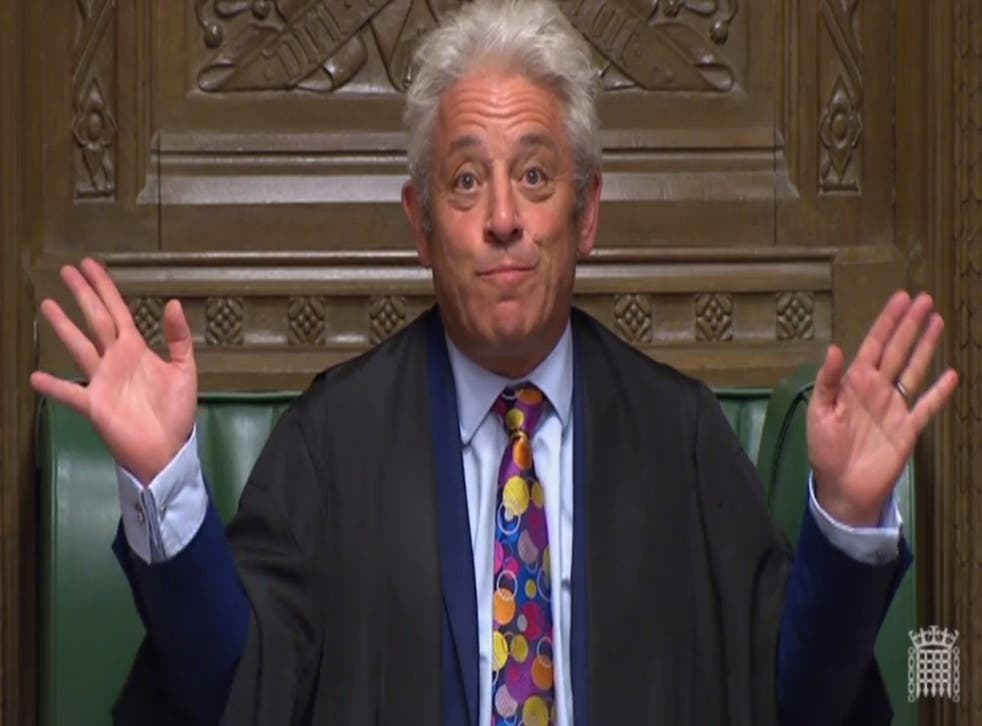 Candidates to replace John Bercow have pledged to rewrite the rules as Tory MPs accused him of making the country "ungovernable".
Several MPs running to replace the Speaker took aim at Mr Bercow, with one Tory backbencher describing him as a "verbal playground bully", who had "tarnished the reputation" of the office.
Mr Bercow will stand down on 31 October after 10 years in the chair, where he has played a pivotal role in the Brexit process. But he has also proved a divisive figure, with his bombastic rhetoric and his perceived willingness to intervene in parliamentary proceedings.
His replacement will be elected on 4 November from a nine-strong field, which includes Labour grandee Harriet Harman, deputy speakers Sir Lindsay Hoyle, Dame Eleanor Laing and Rosie Winterton, and public accounts committee chair Meg Hillier.
Tory veterans Sir Henry Bellingham and Sir Edward Leigh are also in the running, as well as former Conservative minister Shailesh Vara, and Labour's Chris Bryant, a former deputy Commons leader.
Boris Johnson and Brexit merchandise for sale at the Tory conference

Show all 10
Mr Vara, who resigned from government in protest at Theresa May's Brexit deal, said Mr Bercow had "not been impartial" during his time in the chair.
He told a Westminster hustings: "I think he's tarnished the role of the Speaker with his biasness.
"I think what is required is that we need to rewrite the rule book, and make it absolutely clear what the Speaker can and cannot do in difficult circumstances."
Mr Vara, who is pitching to be the first BAME Speaker, said Mr Bercow had "behaved like a verbal playground bully" and he had lost his authority to lecture MPs on their conduct.
Sir Edward said Mr Bercow was "perceived by a large part of the nation not to be impartial" and the next speaker should be "more in the mould of Betty Boothroyd".
He said: "I personally think it was a mistake to overturn precedent... and allow parliament essentially to take over the government.
"It's upset the whole governance of the nation and has basically made us ungovernable."
Ms Harman, a former Labour deputy leader, defended Mr Bercow, saying the role was about being the "champion of parliament in our parliamentary democracy".
She added: "When it comes to a decision when parliament is challenged, or when parliament wants to have its say, or parliament wants to vote, the Speaker must be the servant of parliament and not impartial or neutral on that."
Mr Bryant said he wanted to be "an umpire, not a player", adding: "I think having an impartial speaker is absolutely essential to the good functioning of our democracy."
Several of the candidates spoke of reforming aspects of the Commons, including allowing female MPs to breastfeed in the chamber or in select committee rooms.
Independent Minds Events: get involved in the news agenda
Sir Lindsay also suggested there was a drink and drugs problem in parliament and suggested there was a need for counselling for staff and members,
Asked whether there is a drink problem in Westminster, Mr Hoyle said: "I do think there is a drink problem and I think it needs to be addressed and the support needs to be given, that's why health and well-being has got to be extended.
"It's not just drink we've got to catch out, there is a drug problem, and I genuinely believe that counselling and real support should be available for all staff and members."
Pressed on the issue, Sir Edward said: "There is a drink problem, though much less so than in the past."
Sir Henry disagreed, saying: "I don't believe there is a drink problem as such. People just need to show judgement, they need to be mature, and honestly some of my colleagues just need to grow up."
Register for free to continue reading
Registration is a free and easy way to support our truly independent journalism
By registering, you will also enjoy limited access to Premium articles, exclusive newsletters, commenting, and virtual events with our leading journalists
Already have an account? sign in
Join our new commenting forum
Join thought-provoking conversations, follow other Independent readers and see their replies