John Hume death: Northern Irish politician who won Nobel Peace Prize dies, aged 83
The SDLP founder was recognised for his part in ending paramilitary violence in Northern Ireland
Rob Merrick
Deputy Political Editor
,
Jon Stone
Monday 03 August 2020 10:34 Comments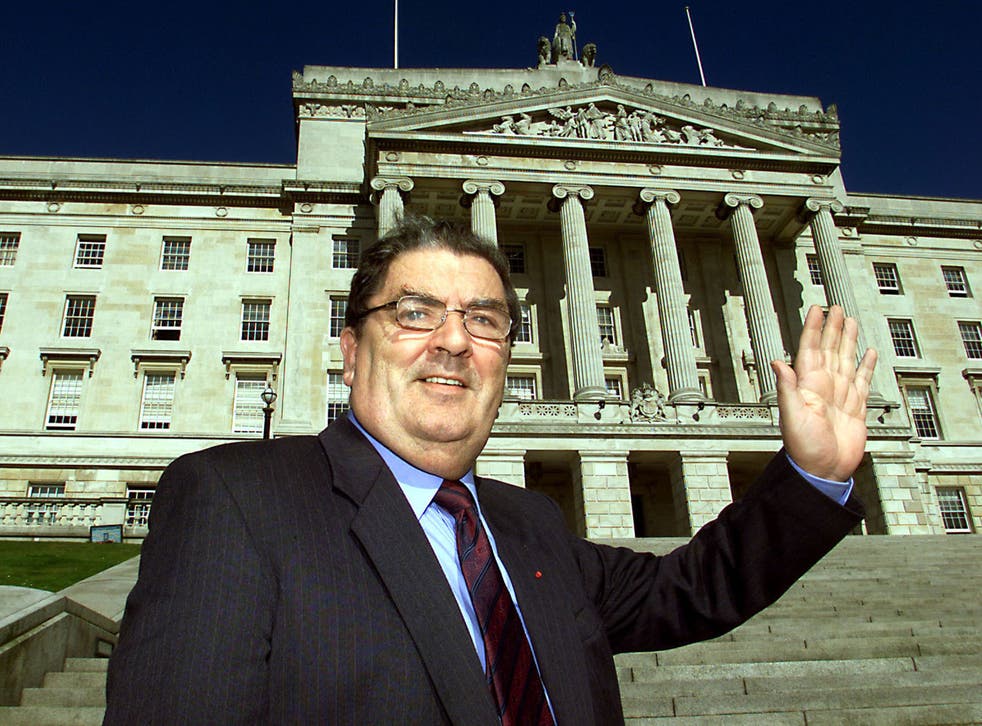 John Hume, who won the Nobel Peace Prize for his part in bringing peace to Northern Ireland, has died aged 83.
A founding member of the Social Democratic and Labour Party, Mr Hume was named "Ireland's Greatest" person in the country's history in a public poll in 2010.
He started his political activism in the civil rights movement in the late 1960s, joining MPs in a 48-hour hunger strike to protest at the internment without trial of hundreds of suspected Irish republicans.
Later, he was credited as a driving force behind the Anglo-Irish agreement in the 1980s and the Belfast Agreement in the 1990s, which led to the end of The Troubles.
Mr Hume won the Nobel Peace Prize in 1998 alongside David Trimble, the then leader of the Ulster Unionist Party.
In a statement, his family praised staff at the Owen Mor nursing home in Derry, where the former politician "passed away peacefully in the early hours of the morning after a short illness". He had suffered from dementia, which first manifested itself in the late 1990s
"We would like also to extend our gratitude to the people of Derry and Moville/Greencastle, who have looked after John and shown us so much kindness as his dementia has progressed," it said.
"Celebrating community in all its diversity went to the heart of John's political ethos and we are very appreciative that our communities supported, respected and protected John.
"John was a husband, a father, a grandfather, a great-grandfather and a brother. He was very much loved, and his loss will be deeply felt by all his extended family."
UK news in pictures

Show all 50
The statement added: "It seems particularly apt for these strange and fearful days to remember the phrase that gave hope to John and so many of us through dark times: we shall overcome."
Despite unionist accusations of backing the IRA's campaign of violence, Mr Hume was seen as unstinting in his opposition to terrorism and attempted to convince republicans to reject it.
In 1993, he drew up proposals with Gerry Adams, then president of the IRA's political wing Sinn Fein, which were passed to the Irish government saying they could form the basis for a lasting peace in Ireland.
Four years later, his efforts were finally rewarded when the IRA announced the renewal of its 1994 ceasefire – and political talks eventually led to the signing of the Good Friday Agreement in 1998.
Mr Hume articulated the feelings of the ever-growing Catholic middle class and believed that solving the Irish question lay not with the British, but with the Ulster Protestants.
Their numbers gave them a veto and they could not be forced into any new arrangement against their will, he argued.
Born in Derry in January 1937, the oldest of six children, Mr Hume also won the Gandhi Peace Prize and the Martin Luther King Award.
In the summer of 1999, he was taken ill at a conference in Austria, and had to undergo a series of operations. He retired as leader of the SDLP in 2001 and from politics altogether in 2004.
Tributes came in from across the political spectrum. Labour leader Keir Starmer said he was "deeply saddened" by the politician's passing.
"Life across the island of Ireland is peaceful and more prosperous today because of his courage, vision and determination. He guided away from violence and towards justice, tolerance and democracy. He takes his rightful place in the pantheon of leaders whose legacy is of creating a better world for the next generation," Mr Starmer said.
Boris Johnson said the world had "lost a great man who did so much to help bring an end to the Troubles and build a better future for all".
The prime minister added: "His vision paved the way for the stability, positivity and dynamism of the Northern Ireland of today and his passing is a powerful reminder of how far Northern Ireland has come."
Former prime minister Tony Blair, who oversaw much of the peace process, described Mr Hume as a "political titan".
"His contribution to peace in Northern Ireland was epic and he will rightly be remembered for it. He was insistent it was possible, tireless in pursuit of it and endlessly creative in seeking ways of making it happen," Mr Blair said.
"Beyond that he was a remarkable combination of an open mind to the world and practical politics. In any place, in any party, anywhere, he would have stood tall. It was good fortune that he was born on the island of Ireland."
Mr Hume's funeral is to take place on Wednesday, at the Cathedral of St Eugene in Derry.
A book of condolence has been opened at the Guildhall in Derry.
Register for free to continue reading
Registration is a free and easy way to support our truly independent journalism
By registering, you will also enjoy limited access to Premium articles, exclusive newsletters, commenting, and virtual events with our leading journalists
Already have an account? sign in
Join our new commenting forum
Join thought-provoking conversations, follow other Independent readers and see their replies