John McDonnell regrets Labour's antisemitism row, branding it 'low point of the year'
Exclusive: 'The issue for me is that it's upsetting but partly because you think how have we got ourselves in this situation,' shadow chancellor tells The Independent
Ashley Cowburn
Political Correspondent
,
Lizzy Buchan
Tuesday 31 July 2018 20:15 Comments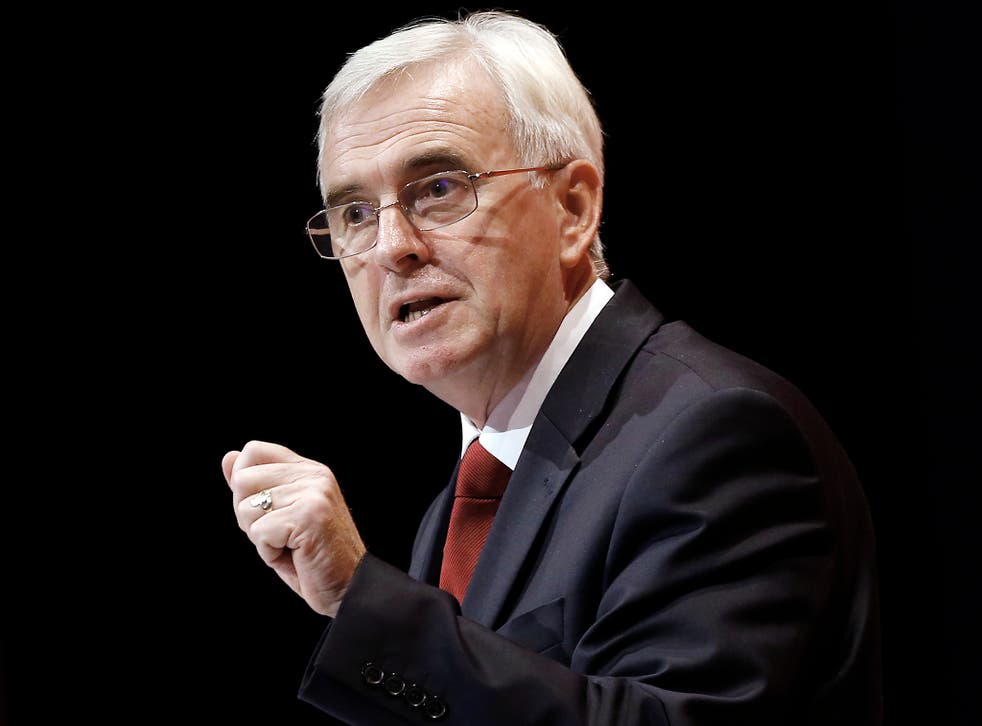 John McDonnell has suggested that the Labour Party has failed to get to grips with antisemitism among some of its members and vowed to "get this sorted out".
The shadow chancellor, a close ally of Jeremy Corbyn, said he was "cut to the core" by the bitter row, as he admitted allegations of anti-Jewish sentiment dogging the party were the lowest point of the past year.
Labour was committed to resolving the issue by September, he said, adding that the levels of protest from the Jewish community were "deeply, deeply upsetting".
His remarks came before Jeremy Corbyn faced growing pressure to intervene in a fresh antisemitism row after a member of Labour's ruling body claimed Jewish "Trump fanatics" were "making up" stories about abuse in its ranks.
Speaking exclusively to The Independent, Mr McDonnell said: "The issue for me is that it's upsetting but partly because you think how have we got ourselves in this situation?
"We've got to get this sorted it out but also in the life experiences of members of the Jewish community, while we have these disputes going on in the media and elsewhere, there isn't sufficient campaigning on the ground to tackle those.
Asked what Labour's "low point" had been during the last year, Mr McDonnell replied: "That's been the antisemitism, undoubtedly. I thought we had got to a position where we are able to move on – we're not – we've got to resolve that by September.
"The discussion is taking place I think that will enable that to happen."
Pressed for his thoughts on a demonstration by Jewish leaders in Parliament Square earlier this year, Mr McDonnell said it was "deeply, deeply upsetting".
"I can't tell you how upsetting it was," he added. "It really cut you to the core it really did."
It comes as Jewish campaigners accused the Labour leader of being "complicit" for remaining silent when Peter Willsman made the comments at a recent national executive committee meeting, where senior figures voted on the party's new code of conduct on antisemitism.
The changes to the rulebook have sparked a major backlash from the Jewish community, with 68 rabbis writing an open letter warning it does not go far enough and calling on Labour to fully adopt an internationally recognised definition of antisemitism in full.
The latest row centres on a recording of Mr Willsman, a left-wing ally of the Labour leader, who questioned the "evidence" of anti-Jewish sentiment in the party.
In an audio clip, obtained by The Jewish Chronicle, Mr Willsman can be heard saying: "Some of these people in the Jewish community support Trump – they are Trump fanatics and all the rest of it.
"So I am not going to be lectured to by Trump fanatics making up information without any evidence at all.
"So I think we should ask the 70 rabbis, 'Where is your evidence of severe and widespread antisemitism in this party?'"
Mr Willsman, who is up for re-election to Labour's governing body this summer, has now apologised for his remarks. It is understood that he was also threatened with disciplinary action by general secretary Jennie Formby if he repeated his behaviour.
His comments were branded "horrifying" by campaigners and MPs, who questioned why Mr Corbyn and Ms Formby had not challenged him at the time.
Karen Pollock, chief executive of the Holocaust Educational Trust, said: "This tirade did not happen in some stuffy room of a fringe gathering in the back of beyond, this happened at a meeting of the ruling body of a mainstream political party with its Leader present.
"It is horrifying – not only for its content, but by the fact that the Labour leader and general secretary sat by, witnessed these disgusting, indefensible comments and said nothing.
"It is impossible not to recognise Mr Willsman's contempt for the Jewish community, but even when it is staring him in the face, Mr Corbyn seems unphased. Our political leaders should be leading the charge against racism.
"To remain silent is complicit. This is unacceptable and terrifying."
Protests against Labour antisemitism

Show all 14
Marie van der Zyl, president of the Board of Deputies of British Jews, said he should be expelled from the party and contrasted his treatment with the swift move to take disciplinary action against Labour MPs Dame Margaret Hodge and Ian Austin over their reaction to the handling of antisemitism in the party.
She posted on Twitter: "Why has it been so easy to clear Willsman after his slurs against the Jewish community, but anti-racist MPs Margaret Hodge and Ian Austin are still being put through the ringer?
"Was Jeremy Corbyn there to hear Willsman? If so, what form did his professed 'militant opposition' to antisemitism take when he heard it?"
Labour former minister Yvette Cooper said Mr Willsman's comments were "appalling" and condemned the "level of denial about the problem" of antisemitism in the party.
She told BBC Radio 4's The World At One: "We do need action and also, what would be really helpful is, given that we are in an election for the NEC at the moment, I think it would be very helpful if Jeremy Corbyn could ask Pete Willsman to stand down from those elections because I think that would actually help us make clear that the Labour Party is going to take seriously antisemitism in future."
Mr Austin also questioned why Mr Corbyn had not personally intervened in this case.
The Dudley North MP told The Independent: "What Pete Willsman said is just disgusting and he obviously shouldn't be on the NEC.
"But I think the key point to make is that Jeremy Corbyn promised to be a militant opponent of antisemitism but sat in a room whilst these awful things were said and he didn't say a word."
Mr Willsman issued a statement apologising for the "offensive nature" of the remarks and promising to attend equalities training to ensure he can approach discussions "in a respectful way".
He said: "I am sorry for my behaviour in the last meeting of Labour's NEC, which I deeply regret.
"Having sat on the NEC for many years, I am of course aware of appalling instances of antisemitism in our party, and am wholly determined to root it out of our movement,
"I do not believe antisemitism is 'widespread' in the Labour Party – and that was what my comments were trying to refer to – but we do have a problem that needs stamping out. One antisemite is too many."
Labour said it did not comment on individual cases.
Register for free to continue reading
Registration is a free and easy way to support our truly independent journalism
By registering, you will also enjoy limited access to Premium articles, exclusive newsletters, commenting, and virtual events with our leading journalists
Already have an account? sign in
Join our new commenting forum
Join thought-provoking conversations, follow other Independent readers and see their replies