John McDonnell to pledge 'irreversible' shift to worker-run public services after Tories' 'failed privatisation model'
Shadow Chancellor will argue popularity of public ownership will make it impossible for any future government to re-privatise services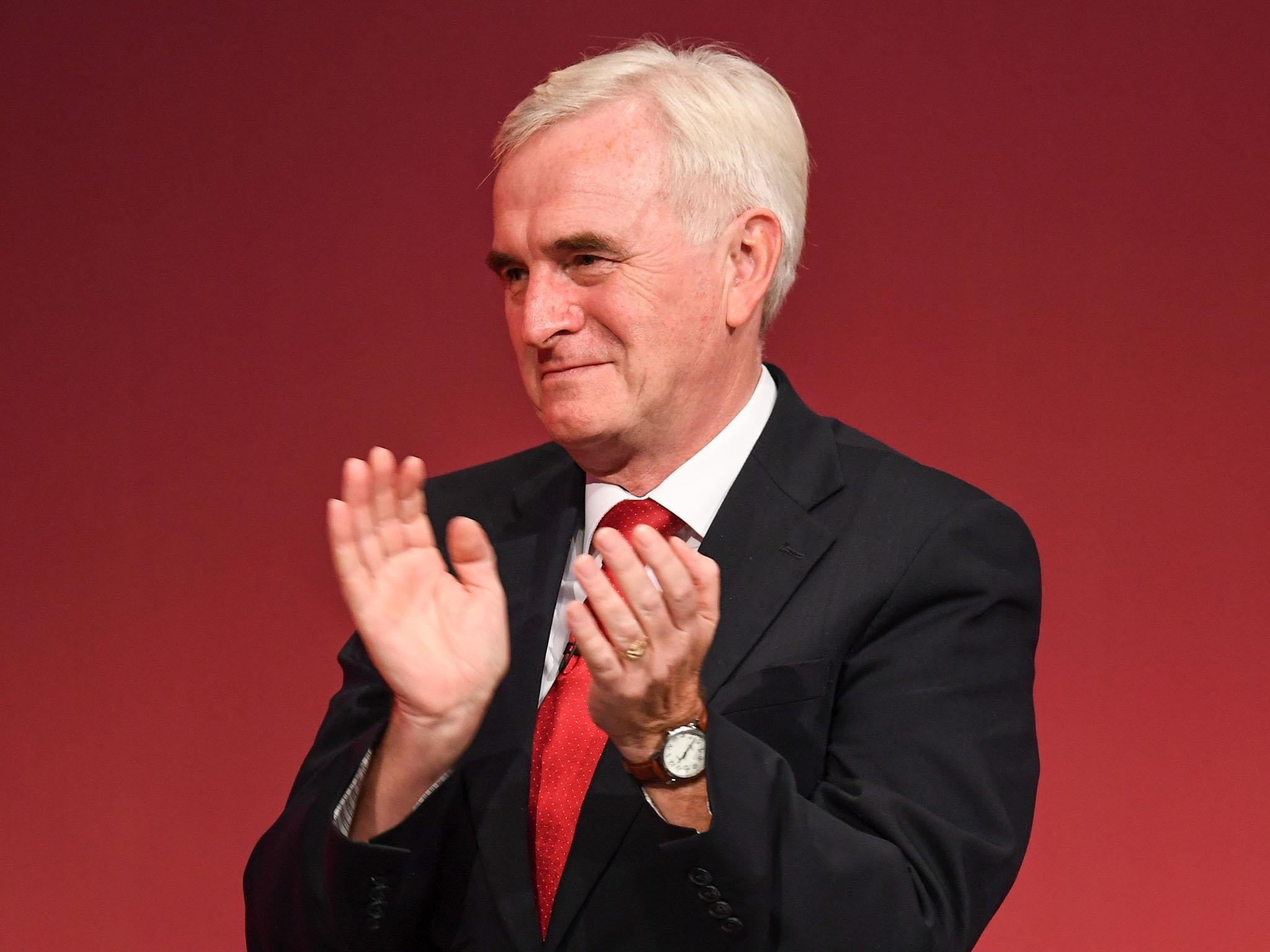 John McDonnell will pledge an "irreversible" shift to public services being partly run by workers and the people who use them – vowing that Labour will let them "take back control".
The Shadow Chancellor will steal the successful slogan from the campaign for Brexit to make the case for ending the "failed privatisation model" pursued by the Conservatives.
However, Mr McDonnell will seek to head off inevitable criticism that Labour plans to take Britain back to the 1970s, by insisting he does not want "recreate the nationalised industries of the past".
Instead, workers and service users will be promised seats on governing boards – while other parts of the economy would be run by co-operatives, with experts asked to set out the best mechanisms to finance the switch.
Speaking at a conference in London – a fortnight after the collapse of Carillion – Mr McDonnell will argue that ending privatisation is "not just a political decision, it's an economic necessity.
"The next Labour government will put democratically owned and managed public services irreversibly in the hands of workers, and of those who rely on their work," he will say.
"We will do this not only because it's right, not only because it's the most efficient way of running them, but also because the most important protection of our public services for the long term is for everyone to have and feel ownership of them."
The Shadow Chancellor will argue that Britain, under the Tories, is "seriously out of step with our international partners" by putting public services in private hands.
And he will argue that the new ownership model will prove so popular that it will be impossible for any future government to re-privatise services.
"We aren't going to take back control of these industries in order to put them into the hands of a remote bureaucracy, but to put them into the hands of all of you – so that they can never again be taken away," he will add.
Co-operatives – or mutuals – are owned by, and run for, the benefits of workers and other members, rather than being owned and controlled by outside investors.
Nevertheless, Labour remains committed to nationalisation of the rail and water companies, of the electricity operator National Grid, and of Royal Mail – and it is understood no existing publicly-run services would be replaced by co-operatives.
The speech comes amid growing Labour confidence that it is capturing the public mood in the wake of the scandal surrounding Carillion, the failed construction and services giant.
The party has already vowed to strip outsourced contracts from "rogue suppliers" who break rules on everything from timely payment of suppliers and environmental standards, to pay ratios and union recognition.
And it has unveiled plans to help local councils bring public services in-house, arguing the policy is too urgent to wait for the party to win power nationally.
Now Mr McDonnell will tell the conference on "alternative models of ownership" that the New Economics Foundation will produce an independent report on co-operatives, to be published in the spring.
In addition, a working group will explore how they can access capital and expand, as well as deciding "which sectors of our economy should be prioritised".
Jeremy Corbyn will also speak at the conference, which also follows criticism of the bail-out to the private firms running the East Coast rail line.
Join our commenting forum
Join thought-provoking conversations, follow other Independent readers and see their replies