John McDonnell sets out Labour's 'aggressive' alternative to the Government's austerity agenda
Corporate giants to be forced to 'pay their fair share of taxes'
Pledge to ensure Britain's economic institutions are 'fit for purpose'
Nigel Morris
,
Ben Chu
Monday 28 September 2015 21:31 Comments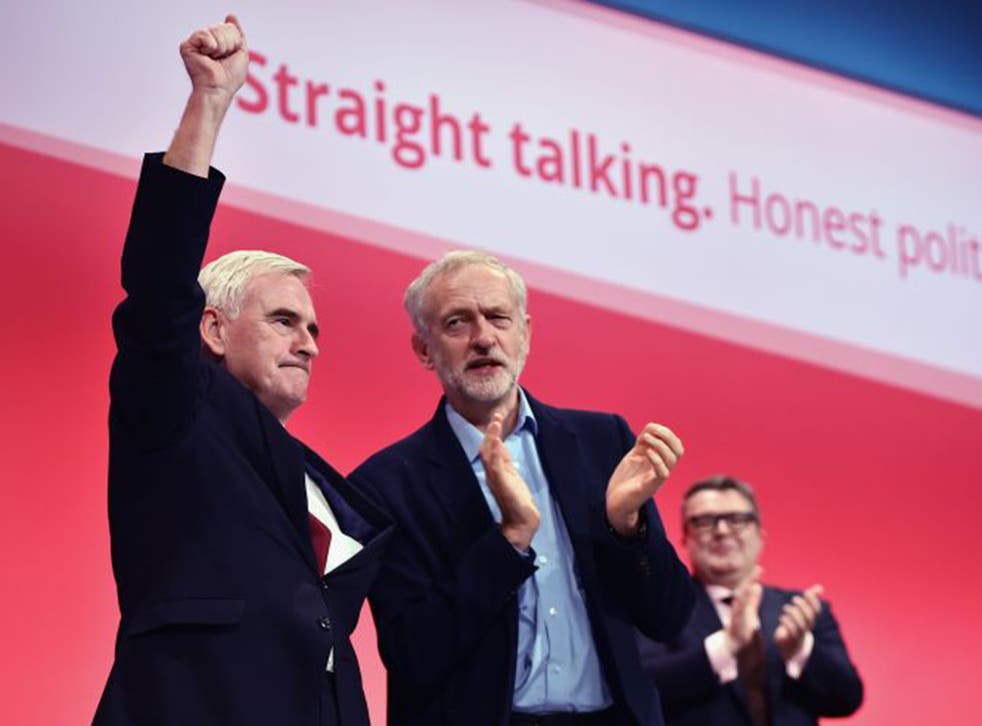 Corporate giants such as Starbucks, Vodafone, Amazon and Google would be forced by Labour to "pay their fair share of taxes", John McDonnell declared as he set out his plans for an alternative to the Government's austerity agenda.
In his first speech as shadow Chancellor, he backed "fairer, more progressive" taxes and heavy investment in industry and building projects as a route to tackling the deficit.
He stressed he was breaking with previous Labour governments over the management of the economy and was cheered by activists as he declared: "We remain inspired by the belief and hope … that another world is possible. This is our opportunity to prove it. Let's seize it."
Mr McDonnell declared to applause: "Labour's plan to balance the books will be aggressive. We will force people like Starbucks, Vodafone, Amazon and Google and all the others to pay their fair share of taxes.
"There will be cuts to tackle the deficit but our cuts will not be the number of police officers on our streets or nurses in our hospitals or teachers in our classrooms."
He said Labour would review the nation's major economic institutions, including the Treasury, Bank of England and HM Revenue and Customs, to ensure they are "fit for purpose". The CBI warned that his plans would fuel inflation and drive up interest rates and the British Chambers of Commerce said Labour "must not confuse supporting growth with state control over the economy".
The Bank of England
Mr McDonnell stressed that he would preserve the independence of the Bank of England (having once argued that he'd like to see it scrapped). But he did moot "new objectives" for the Bank's Monetary Policy Committee such as targeting growth, employment and earnings. An explicit GDP growth target would not be a very radical shift. America's Federal Reserve already has something similar. But an official target for employment and earnings growth could clash with its existing 2 per cent inflation target. The key question would be: which would take precedence?
A 'Robin Hood' tax
Contrary to expectations, Mr McDonnell made no specific mention of a new levy on financial transactions, commonly known as a Robin Hood tax. But a day earlier he did state that such a levy would be considered as part of a review of the taxation system.
The problem with a tax on financial transactions is that it is hard to know how much money it will raise because it is difficult to judge in advance how traders will change their behaviour in response to its introduction. If trading volumes fall significantly, then it will raise considerably less cash than under an analysis that assumes volumes (which are extremely large at the moment) hold up. The original goal of the tax, as conceived by the Nobel prize-winning economist James Tobin, was to curb what he saw as destabilising volumes of foreign currency trading, rather than to raise money for the state to spend. Campaigners for a Robin Hood tax, though, claim it would be a major revenue raiser.
What does five more years of the Tories mean for Britain?

Show all 8
The deficit
Mr McDonnell sought to shake off the tag that he is a "deficit denier". But his position on public borrowing still leaves many unanswered questions. In an interview at the weekend he suggested he was prepared to vote for George Osborne's Charter for Budget Responsibility and said Labour would "always ensure this country lives within its means". This would entail the Government running an absolute budget surplus by 2020.
But at other times, Mr McDonnell has argued Labour would always allow the state to borrow to invest in infrastructure – thus only balancing the "current" budget on day-to-day Whitehall spending. Yet the Chancellor's strict Charter leaves no room for such investment borrowing, so it is hard to see how Labour can sign up to it.
Corporate welfare
Mr McDonnell suggested a major part of his own drive to reduce the budget deficit would come from forcing multinational corporations such as Starbucks, Amazon and Vodafone to pay "their fair share" of corporation tax.
There is no doubt that some corporations are avoiding UK tax through accounting tricks such as registering profits abroad, recognised by the Conservative Government and the OECD. But it is a major stretch to believe that closing such loopholes and slashing other "corporate welfare" could dent the deficit, which stands at £93.5bn. The idea that companies and shareholders could shoulder all the burden of closing the deficit in the timetable Mr McDonnell now seems to want to keep looks unrealistic. Either public services or welfare spending would inevitably have to be reduced, too.
Register for free to continue reading
Registration is a free and easy way to support our truly independent journalism
By registering, you will also enjoy limited access to Premium articles, exclusive newsletters, commenting, and virtual events with our leading journalists
Already have an account? sign in
Join our new commenting forum
Join thought-provoking conversations, follow other Independent readers and see their replies