'Would it have killed you to wear a t-shirt?': Johnny Mercer MP mocked after posting topless vaccination photo
Internet divided over whether Mercer's muscles warrant boasting
Liam James
Friday 05 February 2021 17:00 Comments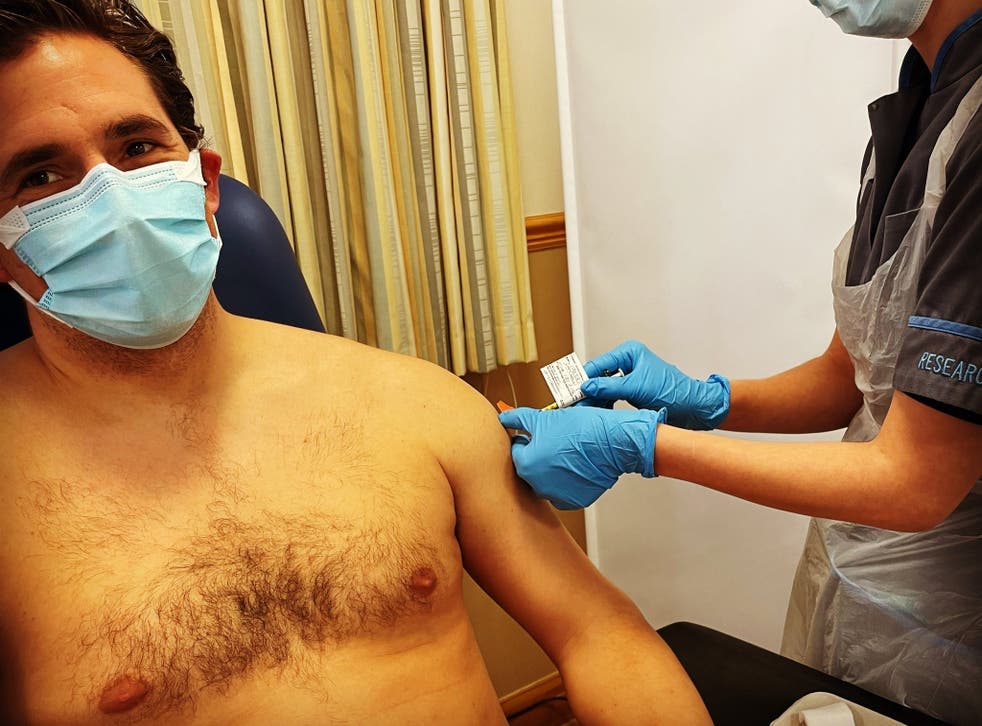 Conservative MP Johnny Mercer has been mocked online after sharing a photo of himself receiving a coronavirus jab while inexplicably topless.
The member for Plymouth Moor View thanked staff at Derriford Hospital, who delivered the jab as part of a coronavirus vaccine trial, in a tweet alongside a photo where he can be seen to be wearing only a face mask.
Former leader of the Scottish Conservatives, Ruth Davidson, congratulated Mercer for taking part in the trial before asking the obvious: "Would it have killed you to wear a T-shirt?"
"Why did you have to undress?" another Twitter user asked, adding: "When I have a vaccination I just roll my sleeve up."
Mercer offered an explanation that invited all the more ridicule, saying: "I simply couldn't get the sleeves over my muscles."
He told Davidson the photo he posted had been cropped for modesty's sake and boasted: "You should have seen the wide shot."
Some exasperated twitter users had trouble spotting the muscles, with one saying he only saw a "dad bod".
"I thought Eat Out to Help Out finished in August," chimed another.
"There's sparrows on my bird table with more muscles on their limbs," said another. While one displeased respondent said the MP made him "cringe".
One user however jumped to the defence of Mercer's muscles, claiming "that's an above average body in the UK". Others claimed they were thrilled to have seen the topless picture.
Though one user simply replied with a gif of notoriously self-absorbed actor James Franco kissing himself in a mirror.
Register for free to continue reading
Registration is a free and easy way to support our truly independent journalism
By registering, you will also enjoy limited access to Premium articles, exclusive newsletters, commenting, and virtual events with our leading journalists
Already have an account? sign in
Join our new commenting forum
Join thought-provoking conversations, follow other Independent readers and see their replies