Jon Snow challenges David Cameron over deal with Saudi Arabia: Read the transcript of the interview in full
PM defended 2013 deal to get Saudi Arabia onto the UN Human Rights Council, claiming UK had a 'relationship' with country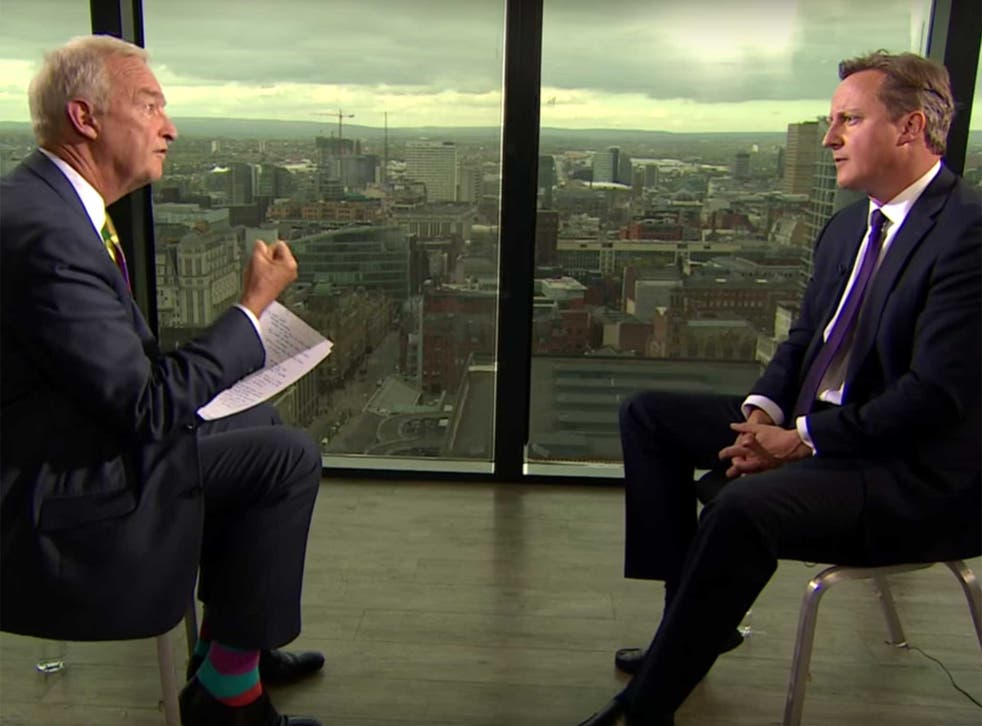 David Cameron repeatedly refused to explain the British government's deal with the Saudi Arabian authorities during an embarrassing interview with Channel 4's Jon Snow.
Read the transcript from his interview below:
Jon Snow: You have been asked to intercede with the Saudis over the 17-year-old boy who was arrested when he was 14 and who faces execution and crucifixion. Have you?
David Cameron: We have raised this as a government.
JS: Have you personally?
DC: No, the Foreign Secretary has raised this. Our embassy has raised this. We have raised this in the proper way. I'll look to see if there is an opportunity for me to raise this as well. But we oppose the death penalty anywhere and everywhere and we make that clear in all our international contacts.
Pressure mounts on Saudi Arabia over imminent beheading and crucifixion of alleged protester
JS: But that's curious because we in November did a deal with the Saudis that we would back them joining the Human Rights Council of the United Nations, providing they backed us. This sounds a bit squalid for one of the most human rights abusing regimes on earth.
DC: Saudi Arabia is a member of the United Nations but we completely disagree with –
JS: But why did you want them inside the human rights…?
DC: We completely disagree with them about the punishment routines, about the death penalty, about those issues and we raise them.
JS: Why did you do this deal then? They are not the right sort of people to be doing any sort of a deal on human rights.
DC: We totally oppose their record in that area.
JS: Why did we do it?
DC: Well, I said we totally oppose their record.
JS: No, why did we do it?
DC: I have answered that question.
JS: Well that isn't an answer, is it? I mean, we have done a horrid deal that was very well exposed in the Financial Times.
DC: We have a relationship with Saudi Arabia and if you want to know why I'll tell you why.
It is because we receive from them important intelligence and security information that keeps us safe.
JS: Are we sure Prime Minster that they are not actually some elements of them, within the clerics and elsewhere, the Wahhabi radicals, involved actually in fuelling the very people we are trying defeat in Isis and the rest?
DC: I will answer that very directly because I think you are asking a very important question.
But, the reason we have the relationship is our own national security. I can think of one occasion since I've been prime minister where a bomb that would have potentially blown up over Britain was stopped because of intelligence we got from Saudi Arabia.
Of course it would be easier for me to come on your programme and say: 'I'm not having anything to do with these people, it's all terribly difficult etcetera etcetera.' For me, Britain's national security and our people's security comes first.
Second question: Saudi Arabia itself actually has quite a good record of de-radicalising people who have become radical terrorists and jihadists. It has quite a good record of de-radicalising them but if you are asking….
JS: That's internal security. What they have done is to export a great deal of them out to Pakistan…
DC: Are we doing enough to say we need to have a version of Islam that properly promotes peace and tolerance and does not in any way encourage hatred of other religions, or demonisation of Jews, or that provides a backdrop to the radicalisation that can take place that is something we need to do far more of and we are doing in our own country and we need to do more of that in discussions we have with other countries, including Saudi Arabia and I have started on that process.
David Cameron's biggest controversies

Show all 8
Register for free to continue reading
Registration is a free and easy way to support our truly independent journalism
By registering, you will also enjoy limited access to Premium articles, exclusive newsletters, commenting, and virtual events with our leading journalists
Already have an account? sign in
Register for free to continue reading
Registration is a free and easy way to support our truly independent journalism
By registering, you will also enjoy limited access to Premium articles, exclusive newsletters, commenting, and virtual events with our leading journalists
Already have an account? sign in
Join our new commenting forum
Join thought-provoking conversations, follow other Independent readers and see their replies