Junior doctor morale review ordered by Jeremy Hunt in disarray after medics threaten to withdraw cooperation
Health Secretary announced review on same day he imposed a controversial new contract on junior doctors
Charlie Cooper
Whitehall Correspondent
Saturday 27 February 2016 00:05 Comments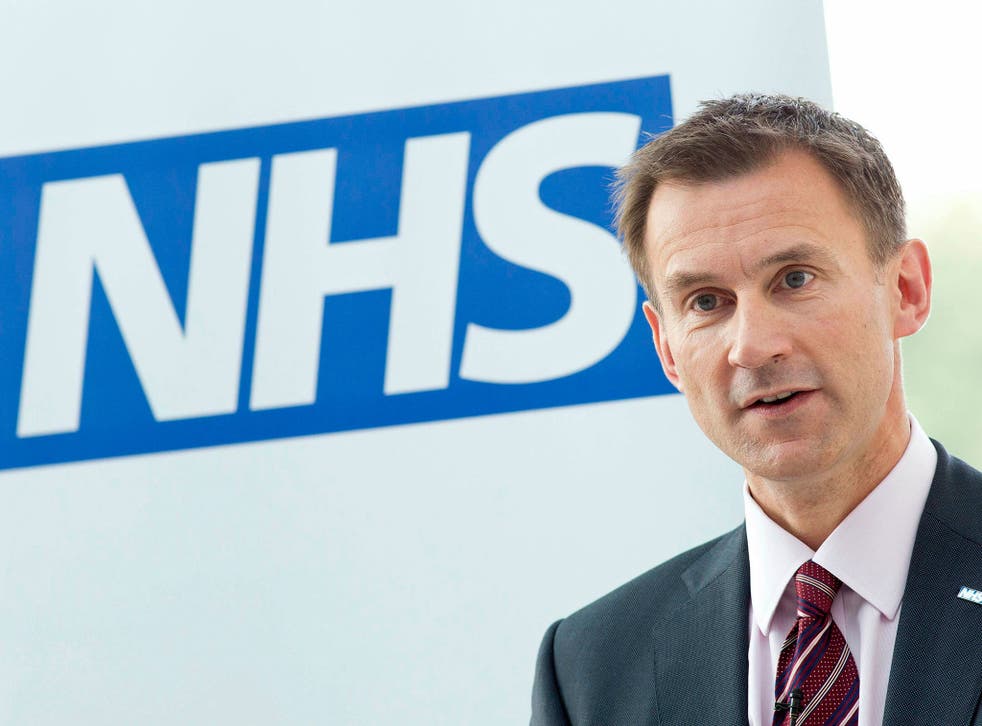 A national review of junior doctor morale ordered by Jeremy Hunt has been cast into doubt after an influential body of trainee medics threatened to withdraw their cooperation.
The Health Secretary announced the review on the same day he imposed a controversial new contract on junior doctors. It will be led by Professor Dame Sue Bailey, chair of the Academy of Medical Royal Colleges (AoMRC), an umbrella group representing the influential medical professional bodies.
However, junior doctors were dismayed when it was revealed earlier this week that the review would have no remit to investigate how trainee medic's "pay or terms and conditions of service" were affecting morale.
Now the Academy's own Trainee Doctors' Group (ATDG), composed of the junior doctor representatives of each medical royal college, have said they will not participate unless the terms of reference are changed to reflect the impact that pay, terms and conditions are having on morale.
It is understood that the terms of the review, which require Department of Health sign-off, are being reconsidered.
In a leaked document seen by The Independent, the ATDG state that, following a meeting to discuss the proposed review on 25 February, it could not accept the current terms of reference, and would not recommend that the wider junior doctor workforce participate.
"The exclusion of pay and particularly the exclusion of terms and conditions from any discussion of morale and wellbeing will render a review unable to discuss both problems and potential solutions that have a significant impact on morale and recruitment and retention," the document states.
It also warns that a review conducted at a time of industrial action "risks producing a report with significant bias" and urges the Government to withdraw from its imposition of the new contract.
Contacted following the leak, chair of the ATDG Dr Jon Bailey said the document was not group's final position, but reiterated concerns that "the current terms of reference could exclude from the outset some potential causes of low morale which would need to be fully considered in order to deliver a comprehensive review."
"The ATDG would be happy to participate in a review that encompasses all causes of low morale and well-being among junior doctors, at a time when the profession is not engaged in industrial action," he added.
The BMA confirmed this week that they would continue to fight the imposition of the new contract, with six more junior doctor strikes in the spring.
Doctors are concerned that cuts to weekend pay included in the new contract will hit their overall salaries, and also fear that they will have to work more night and evening shifts.
The Department of Health and NHS Employers has said that average pay will remain the same for junior doctors and that new safeguards will be put in place to prevent them working too many night shifts or weekends in a row.
Responding to the terms of reference of the morale review earlier this week, Dr Johann Malawana, chair of the BMA's junior doctor committee, said that medics had "considerable concerns" about the "impartiality, remit and output of the review"
Launching the review earlier this month Jeremy Hunt told MPs that the dispute with junior doctors had "uncovered some wider and more deep-seated issues" with "morale, wellbeing and quality of life" that should be addressed, including issues around leave, placements a long way from home, and inadequate support from professional bodies and senior clinicians.
Register for free to continue reading
Registration is a free and easy way to support our truly independent journalism
By registering, you will also enjoy limited access to Premium articles, exclusive newsletters, commenting, and virtual events with our leading journalists
Already have an account? sign in
Join our new commenting forum
Join thought-provoking conversations, follow other Independent readers and see their replies