Junior doctors outraged over new contract that 'discriminates against single women'
For David Cameron, the alleged champion of women, women's salaries are mere collateral damage'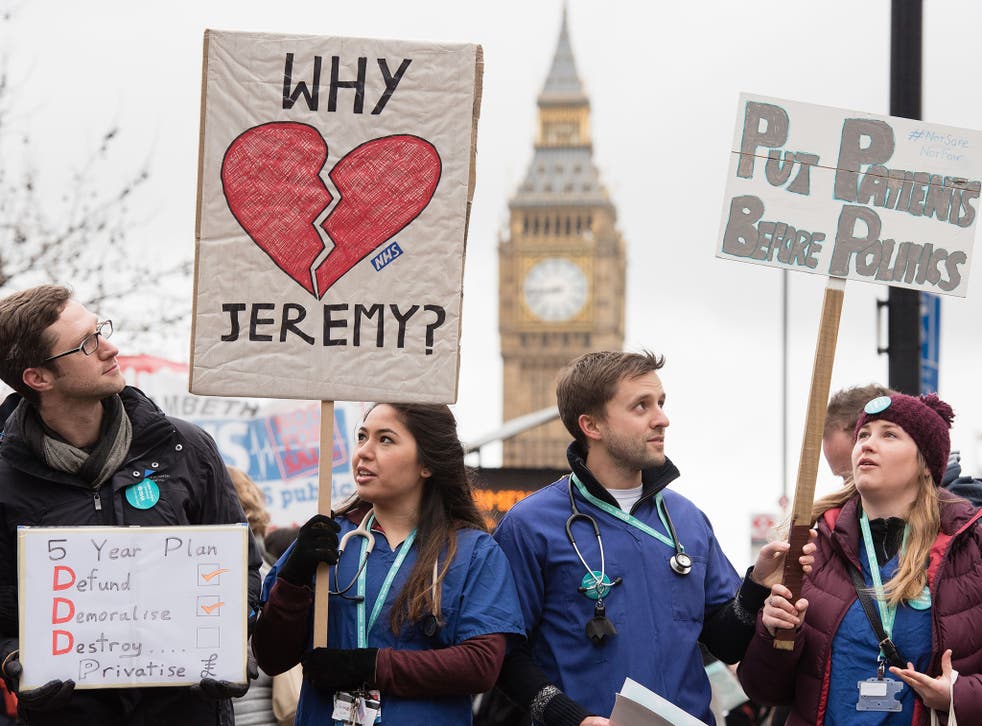 Doctors have reacted furiously after the Government's own impact assessment of the new junior doctor contract said any "adverse effect" impact on women's pay was a "proportionate" means to an end.
The Department of Health's Equality Impact Assessment of the controversial new contract, which was published in full this week, found that aspects of the new contract would "impact disproportionately on women", with particular disadvantages for single mothers.
However it concluded that on balance the contract was not discriminatory and the adverse effects could be "comfortably justified". Doctors claimed it would enshrine a "gender pay gap" in the medical profession.
The new contract will require doctors to work more weekends and will cut Saturday pay in exchange for a basic pay rise of 13.5 per cent. It will also mean doctors no longer get automatic pay increases for time served, hitting the salaries of those who take time off, including women on maternity leave.
The equality impact assessment found that increased weekend working may "disadvantage lone parents (who are disproportionately female) due to the increased cost of paid childcare in the evenings and weekend".
In pictures: Junior doctors protests in UK

Show all 10
However, in a comment which provoked anger among doctors on social media, the assessment goes on to say that the changes may "actually benefit other women, for example where individuals have partners" because it would be easier to make "informal, unpaid childcare arrangements". Critics said the measures would discriminate against single women.
But the assessment concludes: "Any indirect adverse effect on women is a proportionate means of achieving a legitimate aim."
It also found that "some aspects of the new contract have certain adverse impacts regarding maternity", with women who take time out to have children seeing their salaries increase more slowly.
But it rules out any "special provisions" to alleviate the impact saying that to do so would "be inconsistent with the principle of pay based on level of responsibility that underpins the new contract".
Dr Rachel Clarke, a cardiologist in Oxford, said the new contract would strip away safeguards ensuring pay equality in the medical profession.
Writing for Independent.co.uk she said: "Now, as doctors progress through their training, we will see ever-widening gender pay gaps in medicine. Incredibly for a government ostensibly so committed to gender equality, the Department of Health hasn't even tried to hide the discrimination at the heart of its new contract.
"In other words, for [David] Cameron, the alleged champion of women, women's salaries are mere collateral damage."
Dr Johann Malawana, chair of the British Medical Association's (BMA) junior doctors' committee called the contract "discriminatory". The BMA is launching legal action against the contract, in a bid to derail the Government's plan to impose it this August.
Junior doctors will go on strike for 48 hours next week over the imposition, walking out of all but emergency care. A full walkout from 8am to 5pm, across two days, will follow in the last week of April.
Heidi Alexander MP, Labour's Shadow Health Secretary, said the assessment had led to "many women rightly questioning whether they've woken up in a different century".
"To cap it all off, Jeremy Hunt decided to sneak this document out during a week when Parliament is not sitting, preventing MPs from questioning him about it," she said.
A Department of Health spokesperson said: "The new contract, 90% of which was agreed with the BMA, and endorsed by senior NHS leaders, is a very good deal for doctors and the NHS. It will mean an average 13.5% basic pay rise with a reduction in the number of long shifts that can be worked to improve safety. We urge junior doctors to look at the detail of the full contract and the clear benefits it brings.
"Our equality analysis shows doctors on the new contract will benefit from a fairer pay model that better rewards those who work the most intense and unsocial hours and will improve patient care across seven days. Part-time trainees will now benefit from the same benefits as those working full time, including the same pay protection on a pro-rata basis.
"We again urge the BMA to take the only reasonable course – call off its unnecessary and irresponsible strike action which will inevitably put patients in harm's way."
Register for free to continue reading
Registration is a free and easy way to support our truly independent journalism
By registering, you will also enjoy limited access to Premium articles, exclusive newsletters, commenting, and virtual events with our leading journalists
Already have an account? sign in
Register for free to continue reading
Registration is a free and easy way to support our truly independent journalism
By registering, you will also enjoy limited access to Premium articles, exclusive newsletters, commenting, and virtual events with our leading journalists
Already have an account? sign in
Join our new commenting forum
Join thought-provoking conversations, follow other Independent readers and see their replies