Junior doctors' strike: Jeremy Hunt rejects BMA offer to cancel walk-out if he halts imposition of contract
'It is not credible to call for imposition to be lifted when they refused to negotiate on the one remaining issue of Saturday pay that separates the two sides,' says DoH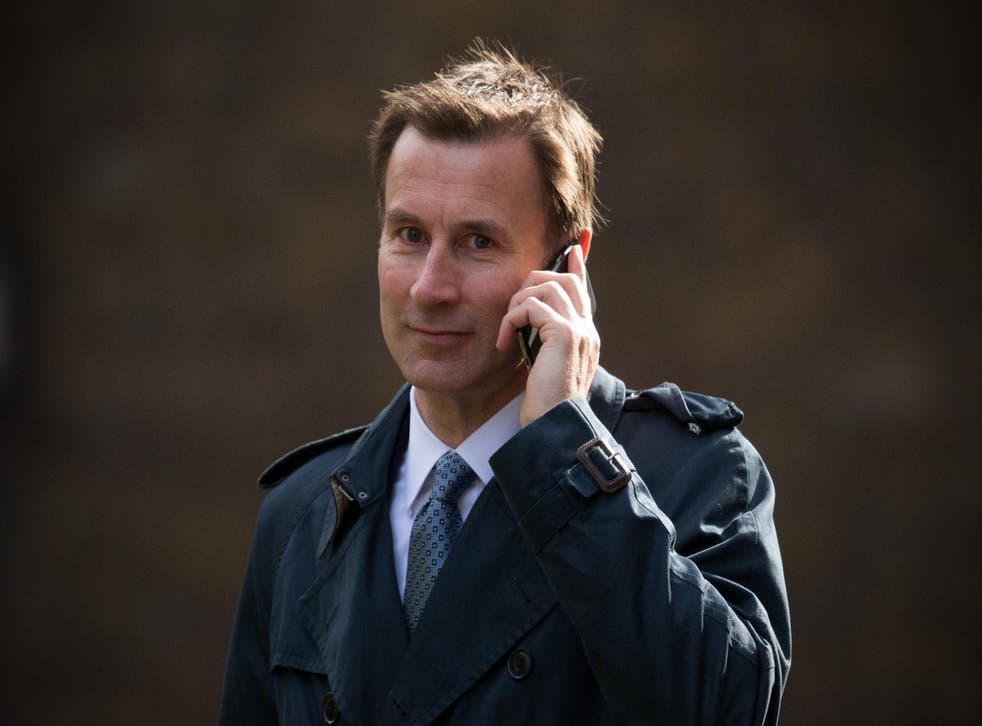 Jeremy Hunt has rejected the British Medical Association's (BMA) offer to cancel next week's all-out junior doctor strike in exchange for him halting the imposition of the controversial new contract.
In a letter to the Health Secretary, the BMA said no junior doctors wanted to take further industrial action, but that medics would not accept a contract being forced on them.
Their appeal urged the Government to "get back around the table" and offer direct talks between the BMA's junior doctor committee chair Dr Johann Malawana and Mr Hunt "at any time between now and the start of next week's industrial action".
But a Department of Health spokesperson said: "We have today written to the BMA to make clear that it is not credible to call for imposition to be lifted when they refused to negotiate on the one remaining issue of Saturday pay that separates the two sides.
"More than 500 doctors have already signed up to a new contract that was 90 per cent agreed with the BMA, following 75 meetings and 73 concessions made by the Government."
In a letter to Dr Malawana, Mr Hunt said: "We must be clear that anyone deciding – at your urging – to withdraw potentially lifesaving care for patients is making a choice to do so. Many will find this disproportionate given the matter still in dispute is Saturday pay rates."
Junior doctors say that the dispute is about more than pay, and have warned that a new contract not backed up by additional funding to pay for a big boost in the medical workforce will spread the profession too thin, leading to dangerously under-staffed wards.
The last-ditch letter from the BMA came as the medical regulator, the General Medical Council (GMC), issued guidance warning that some hospitals "may struggle to cope" during next week's strikes, which will be the first to see junior doctors walk out from all types of care, including A&E departments and other emergency services.
In pictures: Junior doctors protests in UK

Show all 10
The escalation has prompted stark warnings over patient safety from senior doctors including the NHS medical director Professor Sir Bruce Keogh and the chief medical officer Dame Sally Davies.
Dr Malawana himself sought unsuccessfully to convince union colleagues before the announcement was made that paediatric emergency services should be excluded from the strike, according to internal emails seen by the Health Service Journal last week.
GMC chief executive Niall Dickson called on "every doctor contemplating further and escalated industrial action to pause and consider again the possible implications for patients" and said that the "right option" for some may be not to strike.
"The GMC cannot second guess the situation facing each doctor in training in England – that must be a matter for individual judgement. But given the scale and repeated nature of what is proposed, we believe that, despite everyone's best efforts, some hospitals may struggle to cope. In these cases where local circumstances are particularly acute, the right option may be not to take action that results in the withdrawal of services for patients," he said.
In his letter to Mr Hunt, Dr Malawana wrote: "With a week to go to the start of the first full walkout of doctors in this country, I am writing to make a clear offer in a bid to avert industrial action.
"Simply put, if the Government will lift the imposition, junior doctors will call off next week's strike action on 26 and 27 April.
"The imposition of this contract is tremendously damaging to the morale of junior doctors and medical students and has resulted in a complete breakdown of trust between doctors and the Government. It is this decision which has led to the current, lamentable situation, the resolution to which is now squarely in your hands.
"As you know, no junior doctor wants to have to take industrial action, but they have been left without further recourse. Junior doctors who I meet up and down the country are saying they will not accept a contract being forced on them, a contract which the Government's own equality impact assessment acknowledges to be discriminatory to women."
The decision to impose the contract came in February, after Mr Hunt was advised by his chief negotiator, NHS hospital chief executive Sir David Dalton, that there was "no realistic prospect of a negotiated outcome".
Imposition means NHS trusts will be forced to offer the new terms to junior doctors beginning new contracts from August. NHS foundation trusts, which have more autonomy, can in theory set their own terms and conditions but the Department of Health has said it expects the contract to be rolled out nationally.
Junior doctors' plea to David Cameron
The contract will require junior doctors to work more weekends for less pay on Saturdays. Basic pay will increase by 13.5 per cent to compensate. However, there is no additional funding being offered, so junior doctors fear the current workforce will be spread too thinly and rotas will be understaffed more often during the week, endangering patients.
There are also concerns over plans to drop automatic annual pay increases, which the Government's own impact assessment said would disproportionately impact on women doctors who take time off for maternity leave.
Calls are growing for doctors professional bodies, the medical royal colleges, to intervene and act as an intermediary between the Government and the BMA to prevent the dispute from escalating any further.
In a strongly worded statement, the president of the Royal College of Psychiatrists Professor Sir Simon Wessely, said the dispute had become "a matter of deep concern and genuine alarm."
"Both sides have a duty to do all they can to minimise harm to patient care. Even at this late hour there is time to step back from the brink," he said. "History and the public will not be kind to any party who is not seen to have gone the extra mile to try and resolve this dispute, not least because as was seen earlier, the difference between the two sides is no longer vast. It is time to put aside pride, or short term political calculations."
Join our new commenting forum
Join thought-provoking conversations, follow other Independent readers and see their replies