Junior doctors' strike: Jeremy Hunt accused of lacking 'nerve to turn up' to answer MPs' questions on negotiations
The Health Secretary will answer questions in a seperate Commons session on Tuesday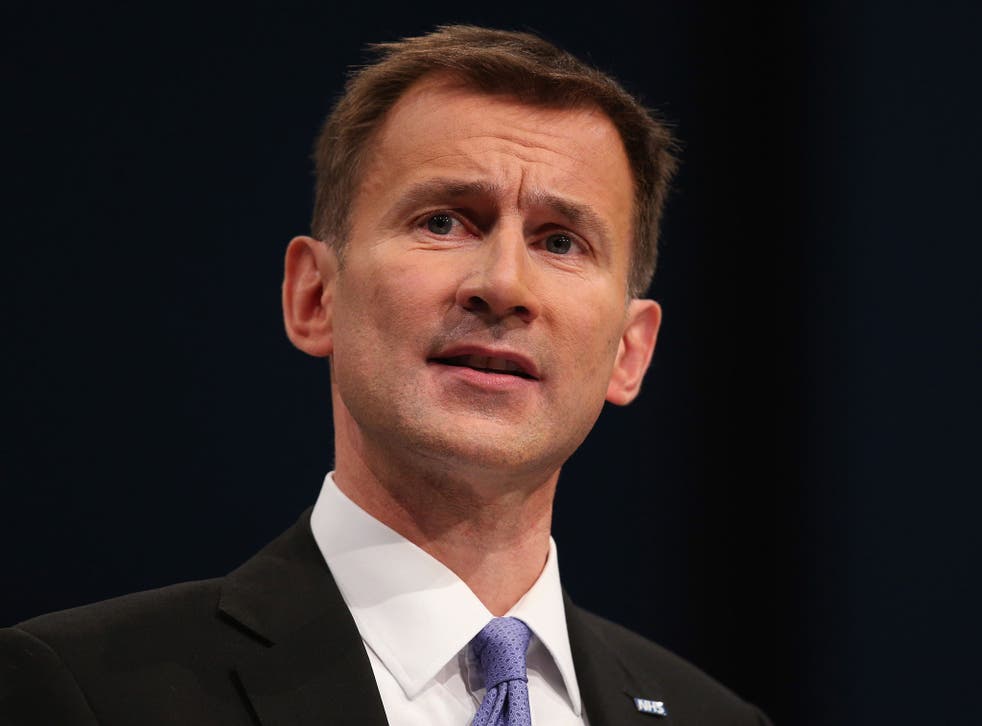 Jeremy Hunt has been criticised by MPs for failing to attend the House of Commons to answer an urgent question on junior doctors' contract negotiations.
Heidi Alexander, the shadow Health Secretary, called the debate on Monday as a strike loomed following another round of failed negotiations between the Government, NHS Employers and British Medical Association (BMA).
Her question was directed to Mr Hunt but she and other MPs were met by junior health minister Ben Gummer.
Without giving an explanation for his superior's absence, he said: "The Government are clear that our door remains open for further discussion, and we continue to urge the BMA to return to the table.
"Regrettably, the BMA is instead proceeding with strike action over a 24-hour period from 8am this Wednesday.
"Robust contingency planning has been taking place to try to minimise the risk of harm to the public."
Mr Gummer said an estimated 2,884 operations had been cancelled ahead of the second junior doctors' strike, over attempts to introduce new contracts making Saturdays a normal working day, lowering pay rates and changing working hours.
Ms Alexander, the Labour MP for Lewisham East, accused Mr Hunt of "insulting professionals' intelligence" in the dispute, adding: "If he was here, I would ask him whether he regrets the way he has handled this dispute, but he has not even got the nerve to turn up."
Andrew Marr reads junior doctors' letters to Jeremy Hunt
She said that although existing contracts for junior doctors - those below GP or consultant-level – are not perfect, the Government's strategy has " been an exercise in using a sledgehammer to crack a nut".
Dr Philippa Whitford, a Scottish National Party (SNP) MP and former consultant breast surgeon, said she was "disappointed" not to be able to question Mr Hunt directly, while Labour MP Ben Bradshaw called his absence "very odd", accusing him of "choosing to stay away" from questions.
"This would seem to indicate to me that it is the Secretary of State who has become the main obstacle to a sensible solution to this crisis," he added.
Liz McInnes, a Labour MP and former NHS biochemist, put the strike down to a failure of negotiation.
In pictures: Junior doctors protests in UK

Show all 10
"The Secretary of State's door may be open, but the inflammatory and insulting comments he made in the media this weekend do not exactly invite people to cross that threshold and talk to him," she added.
Labour MPs including Luciana Berger and Wes Streeting also joined those criticising Mr Hunt's absence on Twitter.
Mr Gummer said he would be in the Commons to answer oral Health questions on Tuesday and likened Labour's conduct in the debate to "an arsonist who pours petrol on a fire and then runs to offer help to put it out".
Johann Malawana, chair of the BMA's junior doctors' committee, said there was "no alternative" to industrial action but the Department of Health accused the union of "refusing to discuss unsocial hours pay".
The department has not yet responded to the Independent's request for a comment.
Register for free to continue reading
Registration is a free and easy way to support our truly independent journalism
By registering, you will also enjoy limited access to Premium articles, exclusive newsletters, commenting, and virtual events with our leading journalists
Already have an account? sign in
Register for free to continue reading
Registration is a free and easy way to support our truly independent journalism
By registering, you will also enjoy limited access to Premium articles, exclusive newsletters, commenting, and virtual events with our leading journalists
Already have an account? sign in
Join our new commenting forum
Join thought-provoking conversations, follow other Independent readers and see their replies