Junior doctors' strike: Registrar who confronted Jeremy Hunt says 'real danger is doctors leaving the NHS'
Dr Dagan Lonsdale warns the NHS faces the loss of staff who 'can't work' under the Health Secretary's new proposals
Victoria Richards
Wednesday 09 March 2016 09:15 Comments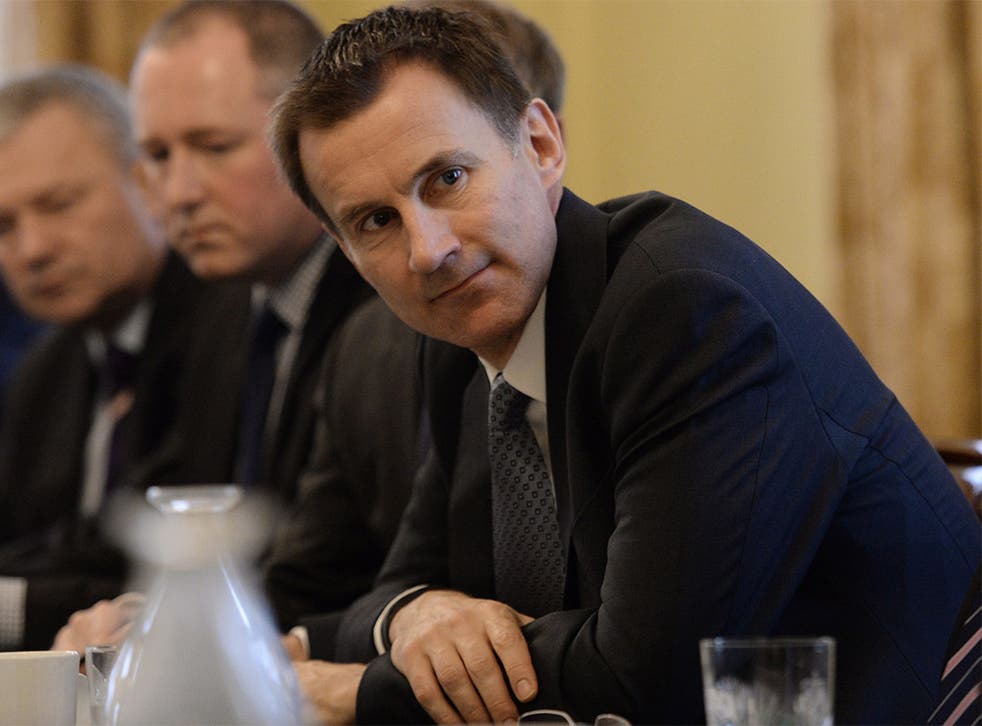 The doctor who confronted Jeremy Hunt in person when he spotted him in Westminster has warned that the "real danger" to patients comes from the risk of losing junior doctors who can't - or won't - work under the Health Secretary's new contract proposals.
Dr Dagan Lonsdale, a registrar at St George's Hospital in south London, apologised for the delays in treating patients during the 48-hour stoppage, which came into force from 8am Wednesday.
But he said that the long-term effects will be felt most keenly when the NHS loses a percentage of its workforce because junior doctors simply "can't work" under the enforced new conditions.
"I'm very sorry to any patients who have their care delayed," he told Sky News, shortly before the strike began on March 9. "No doctor wants to be on strike. We don't want to take industrial action – I'd much rather junior doctors sit down with David Cameron to talk. But the NHS is falling apart and he seems to be ignoring it."
Dr Lonsdale also said that while he acknowledged the inconvenience and concerns surrounding the walkout, the "real danger" the NHS faces is the loss of junior doctors who can't work under the new proposals.
"I don't think the danger for patients in the NHS is more strikes," he said. "The real danger is doctors leaving because they can't work in the current system."
Last month, Dr Lonsdale spotted the Health Secretary entering TV studios at Millbank, Westminster, and decided to confront him in person over "concerns over patient safety".
Video footage revealed Mr Hunt refusing to engage with the NHS worker, who chased the minister down a corridor, saying that he was "just on his way to do an interview".
But Dr Lonsdale said it showed that Hunt was "too scared to sit down and and talk to junior doctors".
Dr Lonsdale also told the Conservative minister, who wants junior NHS doctors to work a seven-day week, he was "taking a massive gamble with people in the NHS", and that he has "absolutely no evidence whatsoever that these changes will have a positive effect".
The latest walkout follows Mr Hunt's announcement that he would impose the new contract on junior doctors following the break down of talks with the British Medical Association (BMA).
The BMA claims the contract offers worse pay and conditions for doctors who already provide frontline services during the week and at weekends.
Thousands of junior doctors across England are expected to join the strike and more than 5,000 operations and procedures across England have been cancelled.
Mr Hunt has announced he will impose the contract on junior doctors - everyone up to consultant level - after months of talks with the British Medical Association (BMA) failed to reach a resolution.
Junior doctors will provide emergency care only on Wednesday and Thursday, with two further 48-hour strikes planned from 8am on April 8 and and April 26.
Sarah Williams, a junior doctor working at a south London hospital, told The Independent: "I hope the continued strikes highlight to the public what the government is actually doing to their NHS.
"The minutiae of the imposed doctors' contract is now almost irrelevant. This is a generalised attack on a public service that has provided for everyone since 1948. A service that is hailed as one of the best in the world.
"Yes, we need change, but that change should come in the way of more funding and more resources.
"The Government is sticking its head in the sand hoping we all just pipe down and go away.
"There is too much to lose for us to do that - for us, our patients, nursing colleagues, allied health professionals and the NHS as a publicly-run service. We will fight on."
New figures from NHS England from 228 organisations, of which 154 are acute hospital trusts, show that 2,077 inpatient procedures have been cancelled due to Wednesday and Thursday's industrial action alongside 3,187 day case operations and procedures.
Hundreds more routine clinics and appointments are likely to be affected.
Dr Anne Rainsberry, national incident director for NHS England, said: "This is clearly going to be a difficult couple of days. A 48-hour strike will put significantly more pressure on the NHS and the cumulative effect of these recurring strikes is likely to take a toll.
"The safety and care of patients is always our number one priority and staff across the NHS are doing all they can to minimise the impact on patients of the action.
"We will closely monitor events as they unfold to ensure plans to deal with the pressures are robust and people are ready to respond to any emerging difficulties."
Urgent and emergency care services will be available as normal but hospitals are expected to be under extra pressure, NHS England said.
Where possible, patients are being asked to contact their GP, seek advice from their local pharmacist, call 111 or check the NHS Choices website.
In an emergency, people should still call 999 or go to A&E.
The BMA is seeking a judicial review over imposition of the contract, which it says is not acceptable to junior doctors.
The major sticking point has been over weekend pay and whether Saturdays should attract extra "unsocial" payments.
Currently, 7pm to 7am Monday to Friday and the whole of Saturday and Sunday attracts a premium rate of pay for junior doctors.
But the Government wanted the Saturday day shift to be paid at a normal rate in return for a hike in basic pay.
The BMA rejected this and urged Mr Hunt to accept its proposal to reduce the 11% rise in basic pay offered by ministers and instead have better premium rates on Saturdays.
In pictures: Junior doctors protests in UK

Show all 10
The imposed contract, which is due to come in in August, has an increase in basic salary of 13.5%.
Under the new arrangements, Mr Hunt said no doctor working contracted hours would see a pay cut while too many night shifts and long shifts will also be limited.
Under the new contract, 7am to 5pm on Saturdays will be regarded as a normal working day.
Doctors working one in four or more Saturdays will receive a pay premium of 30%.
Additional reporting by PA
Register for free to continue reading
Registration is a free and easy way to support our truly independent journalism
By registering, you will also enjoy limited access to Premium articles, exclusive newsletters, commenting, and virtual events with our leading journalists
Already have an account? sign in
Join our new commenting forum
Join thought-provoking conversations, follow other Independent readers and see their replies