Junior doctors threaten permanent strike and mass resignation over Jeremy Hunt's imposed contract
'No decision has yet been made about future action but junior doctors will have to consider what options are open to them if the Government refuses to re-enter talks'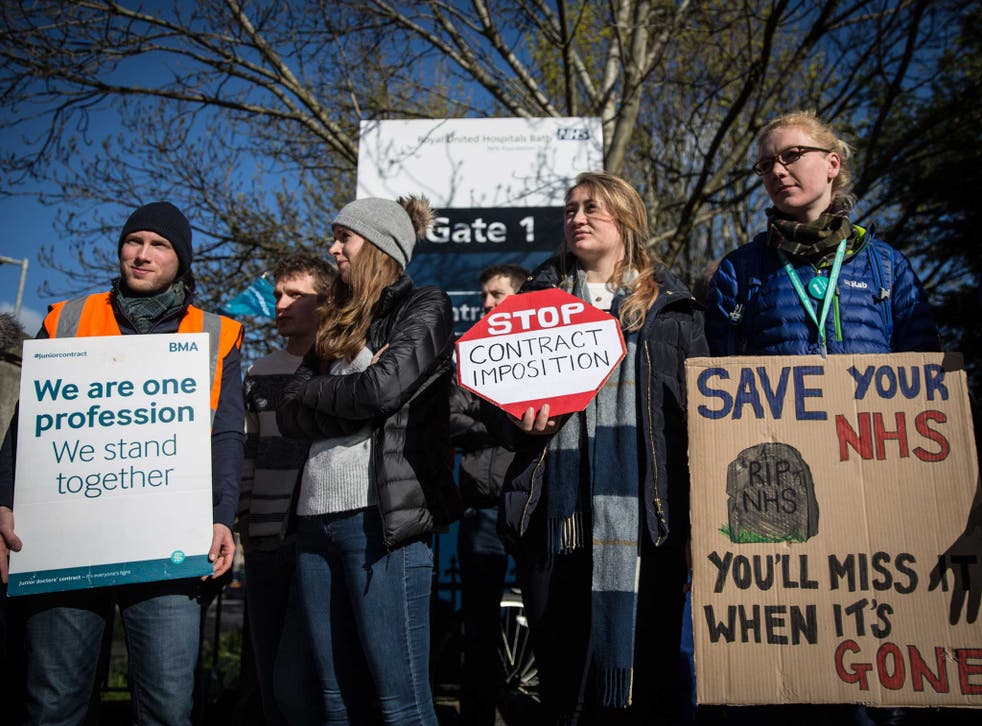 Junior doctors could launch indefinite strike action under plans put forward for consideration by senior members of the British Medical Association.
The proposal would mark a dramatic escalation of the BMA's dispute with the Government over the new junior doctor contract, which next week will see the first full-walkout of junior doctors in the history of the NHS.
An indefinite walkout would mean junior doctors going on strike without a set return date. It was one of several options put forward last week by the BMA's junior doctor chair Dr Johann Malawana in an email to colleagues seen by the Health Service Journal.
Other options set out to members of the BMA junior doctors committee (JDC) executive include a mass resignation of junior doctors, a recommendation for doctors to seek alternative employment, and a recommendation to consider careers outside of medicine. Accepting the Government's imposed contract, and offering to negotiate over the issue of Saturday pay, is another of the options suggested.
In his email, Dr Malawana states: "The main question I want you to think about is what happens after the next action…Therefore I have listed below the possible actions and want to discuss if there are further actions we consider and what we put to the JDC meeting in May."
Health minister Ben Gummer said the fact the union was considering such action showed "a regrettable disregard for patient care".
But responding to the leak, Dr Malawana said that whatever happened after next week's strike was "entirely down to the Government".
In pictures: Junior doctors protests in UK

Show all 10
"No decision has yet been made about future action but junior doctors will, of course, have to consider what options are open to them if the government refuses to re-enter talks," he said.
"The crucial message however is this; it is not too late to end this dispute and call off next week's action entirely. For the sake of patients as well as doctors, the government must listen to concerns from all sides calling on it to lift imposition, sit down with junior doctors and end this dispute through talks."
Earlier this week, Health Secretary Jeremy Hunt rejected a last-ditch offer from the BMA to cancel next week's strike in exchange for the Government halting its plans to impose the new contract from August. Mr Hunt said the offer was "not credible" and accused the BMA of refusing to negotiate over the issue of Saturday pay.
The new contract will require junior doctors to work more weekends for less pay on Saturdays. Basic pay will increase by 13.5 per cent to compensate. However, there is no additional funding being offered, so junior doctors fear the current workforce will be spread too thinly and rotas will be understaffed more often during the week, endangering patients.
There are also concerns over plans to drop automatic annual pay increases, which the Government's own impact assessment said would disproportionately impact on women doctors who take time off for maternity leave.
Register for free to continue reading
Registration is a free and easy way to support our truly independent journalism
By registering, you will also enjoy limited access to Premium articles, exclusive newsletters, commenting, and virtual events with our leading journalists
Already have an account? sign in
Register for free to continue reading
Registration is a free and easy way to support our truly independent journalism
By registering, you will also enjoy limited access to Premium articles, exclusive newsletters, commenting, and virtual events with our leading journalists
Already have an account? sign in
Join our new commenting forum
Join thought-provoking conversations, follow other Independent readers and see their replies