Justine Greening 'blocked' attempts to cut university tuition fees, says Theresa May's former aide
Former education secretary resigned from Government during Theresa May's chaotic reshuffle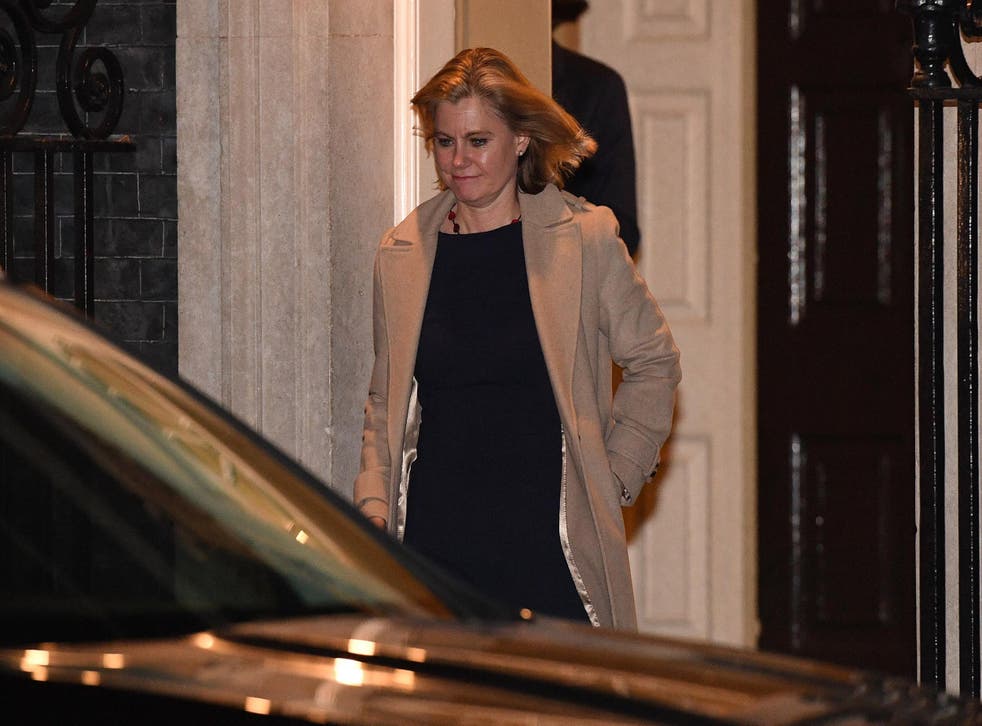 Justine Greening blocked proposals to cut tuition fees, according to one of Theresa May's former chiefs of staff.
The ex-education secretary dramatically resigned from the Government after refusing an offer from the Prime Minister to move to the Department for Work and Pensions in this week's Cabinet reshuffle.
Her departure was welcomed by Nick Timothy - a senior aide who left Number 10 after the election - who said Ms Greening had "put the brakes on policies that work" and made life difficult for civil servants during her time in Whitehall.
In a critical column, Mr Timothy also accused former universities minister Jo Johnson of opposing efforts to reform the university fees system, which would have allowed institutions to bid to charge different amounts.
Ms May announced lesser plans to freeze tuition fees at the £9,250 mark in a pre-conference interview in October, but the move received a lukewarm response and it was later put to one side.
Writing in The Telegraph, Mr Timothy said: "Greening blocked proposals to reduce tuition fees and refused to hold a proper review of tertiary education."
He tipped her successor Damian Hinds as a potential leader, adding: "[Damian] Hinds must be brave enough to do that, to ensure universities are better, fees are lower, and young people get the technical or academic education that suits them.
"He is already touted as a potential future prime minister - if he gets this right, he will be a convincing candidate for the job."
Young people who do not go to university are "neglected by a system guilty of institutionalised snobbery," he said and called for better choices for teenagers entering into higher education.
Mr Timothy said: "Right now, the incentives tell them to go to university. Many emerge with good degrees, but others come out with a costly qualification that makes little difference. On average, they will graduate with debts of £50,000, the highest in the world.
"Those who do not go to university – still more than half of young people – are neglected by a system guilty of institutionalised snobbery."
However Mr Johnson, who became a junior transport minister in the reshuffle, said the claims about Ms Greening's opposition were untrue and praised her record on university reform.
He posted on Twitter: "So wrong, this stuff re Justine Greening – she supported me in every single reform we undertook of our universities, was a terrific colleague and faultlessly loyal."
Higher education posed a problem for the Tories during the election campaign, as young people were drawn to Jeremy Corbyn's eye-catching pledge to scrap tuition fees entirely.
UK news in pictures

Show all 50
Ms Greening was one of the high-profile casualties of the new year's reshuffle, which descended into farce when the Conservatives' official Twitter account accidentally announced the wrong person as the new party chairman.
Transport Secretary Chris Grayling was named initially, before the job was given to former immigration minister Brandon Lewis.
The process also ran on late into the evening as several ministers, including Health Secretary Jeremy Hunt and Business Secretary Greg Clark, reportedly refused to move from their posts.
Ms Greening said she had decided to resign as "social mobility matters to me and our country more than my ministerial career".
Join our new commenting forum
Join thought-provoking conversations, follow other Independent readers and see their replies