Keir Starmer accuses Boris Johnson of letting down public over coronavirus
Also singled out chancellor Rishi Sunak
Kate Devlin
Whitehall Editor
Monday 02 November 2020 13:31 Comments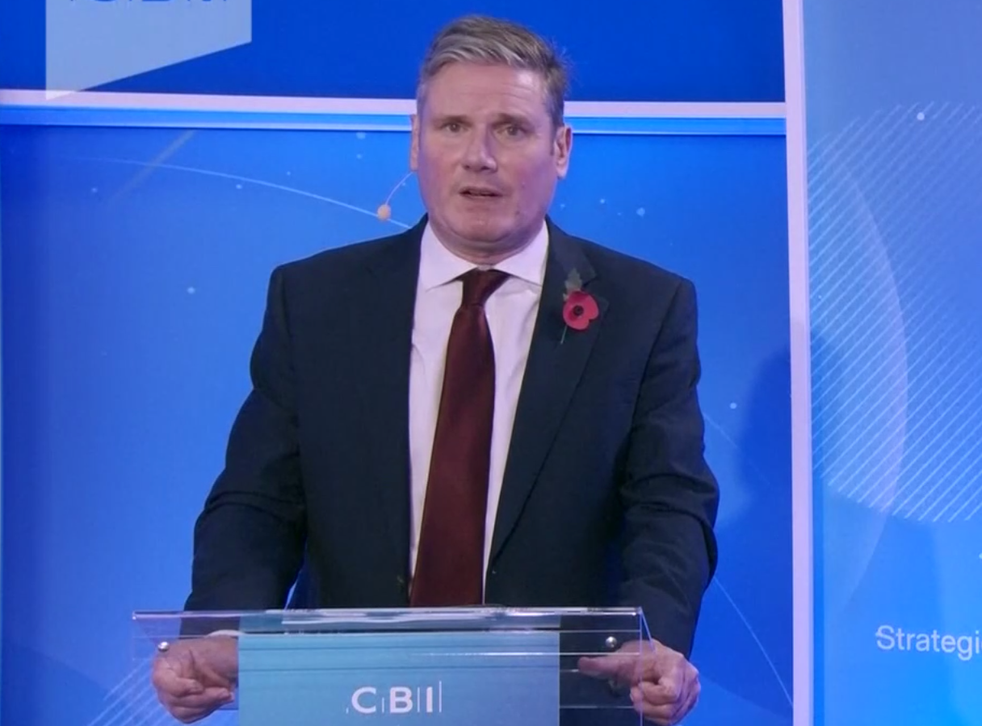 Labour leader Sir Keir Starmer has accused Boris Johnson of letting down the British people over the latest Covid lockdown and Brexit.
In a speech to the CBI the Labour leader also launched a strongly worded attack on the chancellor Rishi Sunak, accusing him of delaying the new restrictions and warning businesses would be harder hit as a result.
He told business leaders tuning in online to the organisation's annual conference: "The impact on business – and jobs – will be severe. Make no mistake, the Chancellor's name is all over this. His decision to block a circuit breaker... will mean businesses have to close for longer, more people will lose jobs, and the public finances will be worse than needed.
"It makes me so angry. And so frustrated that when the British people - and British businesses - have given so much and made so many sacrifices they have been let down so badly by the government."
He also accused Mr Johnson of indulging in unnecessary brinksmanship over the end of the Brexit transition period next month.
The UK risks leaving the EU without a deal on future trade with the bloc if no agreement is signed within weeks.
But seven months after he became Labour leader Sir Keir said he knew he had to rebuild trust with the business community, which balked at many of the ideas of his predecessor Jeremy Corbyn.
In a strong signal that Labour is now, in Sir Keir's own phrase, "under new management", he said that when it came to his party "I want us to do things with business not to business".
The move was welcomed by CBI director-general Dame Carolyn Fairbairn, who said Labour was going through which she described as a "reset".
Register for free to continue reading
Registration is a free and easy way to support our truly independent journalism
By registering, you will also enjoy limited access to Premium articles, exclusive newsletters, commenting, and virtual events with our leading journalists
Already have an account? sign in
Join our new commenting forum
Join thought-provoking conversations, follow other Independent readers and see their replies