PM's failure to 'get a grip' of lorry driver crisis could ruin Christmas, warns Keir Starmer
Labour leader demands recall of parliament to speed recruitment of drivers
Andrew Woodcock
Political Editor
Friday 01 October 2021 18:58 Comments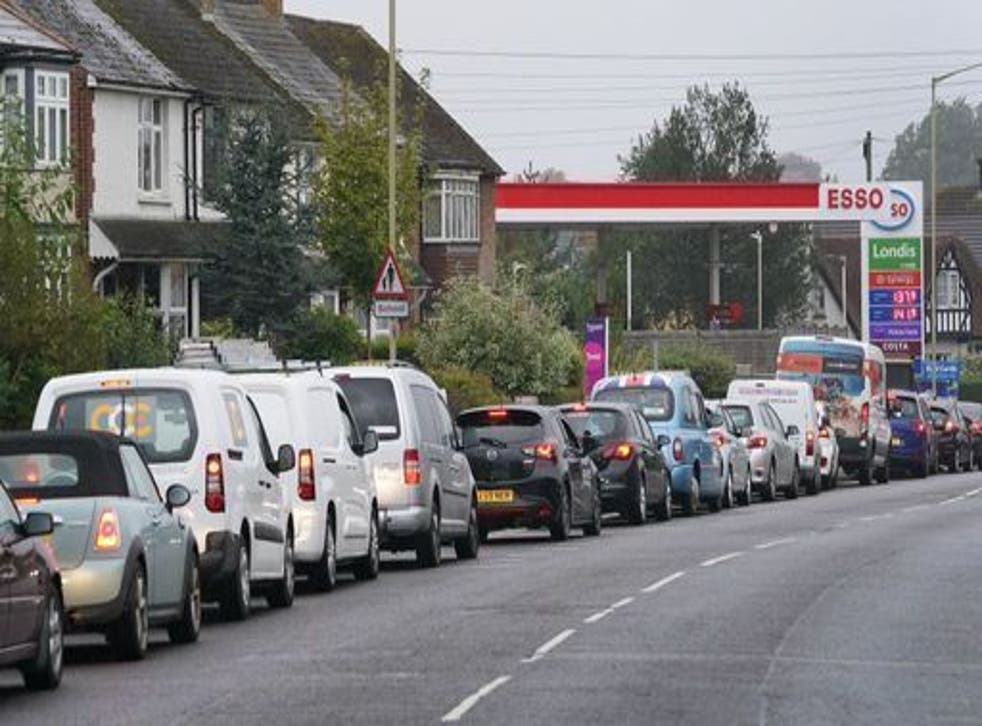 Keir Starmer has warned that Boris Johnson's failure to "get a grip" of the HGV driver shortage is threatening to ruin Christmas for a second year.
The Labour leader said the shortfall of lorry drivers - estimated at around 100,000 by road haulage bodies - was likely to hit more sectors of the economy in the coming months, causing further chaos of the kind seen in the current petrol crisis.
He demanded the immediate deployment of military drivers currently being trained to supply civilian service stations with fuel, as well as extended opening hours to ensure that NHS shift workers and other key staff can get petrol for their cars.
He called for an emergency summit involving ministers, hauliers, businesses, transport unions and training providers to address the issues of pay, terms, training, licensing and conditions behind the labour shortages.
And he said parliament should be recalled to authorise the immediate issue of new visas for overseas truck drivers. The offer of temporary three-month visas for 5,000 foreign drivers cannot take effect without a change to immigration rules which can only happen when the House of Commons is sitting, but MPs are not due to return to Westminster until 18 October, meaning overseas drivers could not start work until November, he said.
"We're going to see this driver shortage problem coming back again in different sectors," said Starmer." And I don't want people in this country to have another Christmas ruined by this prime minister's lack of planning.
"By the government's own admission, their scheme won't be up and running for weeks with the first HGV drivers not on the roads until November. This simply isn't good enough.
"Every day wasted is prolonging this crisis. The government has been talking about issuing visas but still hasn't done anything. Meanwhile our essential workers are struggling to get to work and families face a cost of living crisis.
"The prime minister should be taking emergency action today but yet again he's failed to grasp the seriousness of the crisis. If it needs legislation, then let's recall parliament to get these emergency measures through urgently."
Sir Keir added: "The Prime Minister promised to save Christmas last year and we all know that went disastrously wrong. Now he's making the same empty promises again.
"Boris Johnson was warned about this crisis and he did nothing about it. He had the chance to make a plan but ignored it. The prime minister needs to get a grip."
UK news in pictures

Show all 50
Business secretary Kwasi Kwarteng today said that recruitment issues in the haulage industry were part of the post-Brexit transition away from a "low-wage high-immigration" economic model.
Speaking to the ConservativeHome website, Mr Kwarteng said that some employers were trying to use public pressure over shortages to push the government into reopening the door to cheap migrant labour.
But he agreed that the government must "tough it out" and predicted the disruption caused by the expected move to a higher-wage economy would last no more than a year.
Mr Kwarteng said that supply issues at petrol stations were now "stabilising" after reaching "full-blown crisis" levels at the weekend.
The business department (BEIS) said that the number of forecourts which have run out of one or more types of fuel was down from around 1,800 at the weekend to 573 now. Shortages were more acute in London and the South-East, but all nations and regions of the UK were "heading in the right direction", said a source.
But the Petrol Retailers Association (PRA) said that more than a quarter (27 per cent) of the nation's service stations still have no fuel, and another 20 per cent have only one grade in stock, based on a survey of its members.
PRA executive director Gordon Balmer told Bloomberg Radio: "It will take a number of weeks to get it back to more normal running levels."
A source close to Mr Kwarteng dismissed Sir Keir's call for military drivers to be rushed into service getting fuel to petrol stations now.
"They are being asked to drive highly flammable liquid around the country," he said. "It's a complex job and they are being trained by commercial companies now and it would be wrong to deploy them before their training is complete. You can't just turn them on and off."
An initial 75 military drivers have been put on stand-by, with a further 75 available if needed. The Ministry of Defence said that training was ongoing but was unable to say when the first drivers would be ready to take up duties in civilian tankers.
Home Office minister Kit Malthouse suggestsed that shortages at the petrol pumps may persist for another "week or so" – but said no-one was to blame for the situation, which has seen fighting on forecourts and queues of an hour or more.
Apparently reluctant to blame the public for panic buying, Mr Malthouse asked on LBC radio: "Does it have to be somebody's fault?"
There were "complicated reasons about the stimulation of demand in a period which people are anxious", he added.
Register for free to continue reading
Registration is a free and easy way to support our truly independent journalism
By registering, you will also enjoy limited access to Premium articles, exclusive newsletters, commenting, and virtual events with our leading journalists
Already have an account? sign in
Join our new commenting forum
Join thought-provoking conversations, follow other Independent readers and see their replies